Mastering Pizza – The Baking Steel
September 16, 2018 by Jenny
Marc Vetri is the chef and founder of Philadelphia's critically acclaimed Vetri Family of Restaurants and the driving force behind the Vetri Community Partnership, a non-profit organization whose mission is to empower children and families through fresh food, hands-on experiences and education. In his spare time he writes cookbooks, great cookbooks.
Joining the Vetri library of Il Viaggio di Vetri: A Culinary Journey, Rustic Italian Food, and Mastering Pasta: The Art and Practice of Handmade Pasta, Gnocchi, and Risotto (all of which are on my bookshelf) is Mastering Pizza: The Art and Practice of Handmade Italian Pizza, Focaccia, and Calzone.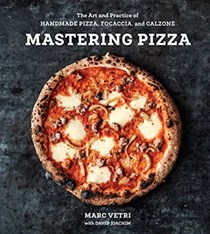 Mastering Pizza
written with David Joachim is a revolutionary guide to making pizza at home, offering a variety of base doughs so that your pizza will turn out perfect no matter what kind of oven or equipment you have. The author tackles the topic with his trademark precision, making pizza available to anyone. The recipes – gleaned from years spent researching recipes in Italy – have a variety of base doughs of different hydration levels, which allow home cooks to achieve the same results with a regular kitchen oven as they would with a professional pizza oven.
The book covers popular standards like Margherita and Carbonara while also featuring unexpected toppings such as mussels and truffles – and even a dessert pizza made with Nutella. With stunning photography from Italy and helpful step-by-step photos to demystify the pizza making process, this book is all you need.
Not one to mince words, I'm going to lay it all out here. I've been drowning in work, illness and issues with my son and the last thing I wanted to do was tackle an elaborate process to make a few recipes from this book. If you'll remember I'm just coming off a
bagel battle
. The devil on my shoulder whispered, "buy pre-made dough, no one will know." Note: I have only bought pre-made dough once in my life from a pizza shop in NY so I'm not sure where that devil gets off telling me that. But then the devil on my other shoulder, who looks and sounds remarkably like Julia Child said, "you'll know, make the dough" – I did, make the dough.
In all seriousness, Marc's recipes vary from a dough that requires several days to ferment to those that can be made the same day or in less time. With two batches of bagels down already by 7:30 a.m., I started the pizza dough on Thursday at 8 a.m. last week and by 5 pm that night I had spectacular pizza.
I made the Naples dough for one but doubled it so that I could make a Margherita pizza for Andrew and a meat lover's style for Jim. I whipped up Marc's marinara sauce and preheated my oven and the Baking Steel (more on this below) to 500 degrees. In less time than it takes to call for delivery, I had the Margherita pizza in the dining room waiting for a photo, while I put in the meat lovers. But then the phone rang and I ran to my office to pick it up, when I returned to the kitchen – I heard rumblings from the dining room. Andrew was devouring the Margherita pizza and saying it was the best I had ever made. I did grab a cropped shot of what was left before he finished it off. and even managed to steal a bite – it was crispy, flavorful and fresh.
When I finished up Jim's pizza, I took a photo of it and hid it from Andrew. It's like a constant state of camping mode in my home – I have to tie food up in a tree or hide it from the boy. I reheated my husband's pizza on the steel later when he came home. Jim is a pizza snob being a New Yorker raised on pizza, and he loved it.
Vetri is the master and his books are absolutely must haves. Just because I was not up to tackling what I thought would be something labor intensive or difficult, doesn't mean I wasn't jonesing for this book and excited to cook from it. I shared how I was feeling to let you know that even if you have many balls in the air and devils on your shoulder, you too can have a fresh ball of dough made quickly for a great dinner. Marc has a schedule of classes at his restaurant. I have uncovered a few events related to this book and have placed those on our calendar. I have recommended that this title be one of our monthly options in our Eat Your Books Cookbook Club later this year.
If you want to make perfect pizza at home you need Mastering Pizza, but you also need the Baking Steel which you can use for bread baking, bagels and so many other things.
Andris Lagsdin is the genius behind the Baking Steel and is the author of his own cookbook Baking with Steel: The Revolutionary New Approach to Perfect Pizza, Bread, and More (I'm working on getting this book indexed and would love to do a promotion for our members). I own a smaller Baking Steel and have been using it for my bagel baking, it has made all the difference. Andris sent me a larger size steel to review with Mastering Pizza. The smaller Baking Steel lives in my oven and now it has a roommate. Nothing I have used, makes a crust like the Baking Steel. I'm excited to use the product for other jobs – grilling for smashed burgers, cold stone type ice cream mash ups and more.

Special thanks to Andris and his team for providing me with a steel to use for this post as well as providing one in our giveaway below. If you buy a steel, be sure it is an original Baking Steel – it makes a difference.
Thanks goes out to Ten Speed Press for sharing the materials necessary for our
which takes you inside this title. The preview features the following
:
The publisher is offering three copies of Mastering Pizza to EYB Members in the US and Baking Steel will provide one steel to one Grand Prize winner out of those three. Two of the entry options is to answer the following questions in the comments section of this blog post.
Which recipe in the index would you try first?
Visit Baking Steel and tell us which product you would like to own.
Please note that you must be logged into the Rafflecopter contest before posting or your entry won't be counted. For more information on this process, please see our step-by-step help post. Be sure to check your spam filters to receive our email notifications. Prizes can take up to 6 weeks to arrive from the publishers. If you are not already a Member, you can join at no cost. The contest ends at midnight on November 2nd, 2018.