Now & Again – Julia Turshen – Promotion
September 27, 2018 by Jenny
Yesterday, I had the honor of attending a celebration of Julia Turshen's new book Now & Again: Go-To Recipes, Inspired Menus + Endless Ideas for Reinventing Leftovers. This event was held at Caroline Glover's Annette, a scratch-to-table restaurant housed in the Stanley Marketplace in Aurora, Colorado.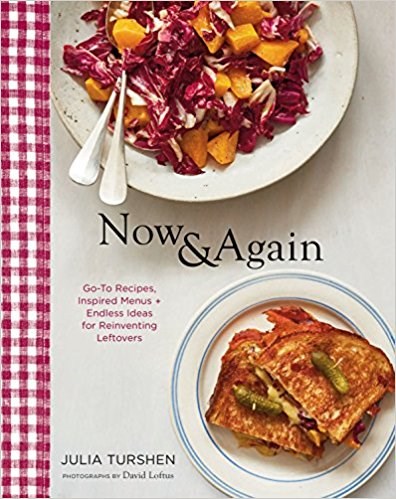 I want to share a little about the event and Caroline Glover, the chef and owner of Annette, before I start my accolades of Julia's newest title. Annette was founded in the Fall of 2016 and named for Caroline's feisty and brilliant great aunt Netsie. Photographs line the restaurant walls and a member of the restaurant's staff shared a small portion of Netsie's story with me as I studied them. Afterwards, I felt that Netsie was someone I would have enjoyed knowing. The photo below depicts Netsie and Caroline years ago.


Of course, I asked if Netsie influenced Caroline's passion for cooking, and the answer to that question was a resounding no. However, I did learn that Netsie made tamales and martinis like a rockstar. What Netsie did teach her great niece was to have an opinion, which has carried Caroline through many years in the restaurant industry from New York to Colorado. In 2017, Annette was named one of the 50 best new restaurants in the country by Bon Appétit magazine, and Caroline and her staff were nominated for two James Beard awards, in the best chef southwest and best new restaurant categories.

On Annette's website they invite diners to be their guest and feel at home. I felt the need to tell you Caroline's story so that you can understand how special this restaurant is and why Julia chose it for this intimate event, which in turn reflects upon the type of person Julia Turshen is.
As I am wont to do, I was early to the event and decided to sit in the outside seating area to write for a bit. Julia walked up about thirty minutes later, so I followed her inside and had a seat. I spoke to the staff, took some photos and then ended up chatting with Julia before anyone else arrived. Julia is the real deal, kind, smart, funny and truly cares about people. She made sure everyone was greeted and had personal conversations with all the attendees as well as had us all share a little about ourselves. Caroline's attentive staff made each guest feel at home – Julia made each of us feel as if we were important and family. It was one of the nicest experiences that I have had with complete strangers who felt like long-lost friends.
Community and caring for friends and family are very important to Julia. Feeding people is so much more than nourishment. Meal time is sacred. Sharing time listening to others, enjoying food and each other, builds relationships. Food is love and Julia loves food and people.

Her goals for this book were simple but profound. She wants us to learn that cooking isn't difficult and needn't be expensive, that leftovers can be fun, and to make sure we all have the tools needed to gather people around our table. Julia inspires us to cook, teaches us to trust ourselves, and build a set of skills to be comfortable in the kitchen. All this is conveyed with beautiful photographs, thoughtful recipes, and genuine heartfelt words.
Now & Again is seasonally organized by menus with ideas for reimagining leftovers, which in turn eliminates food waste. However, before you have a leftover you must have the original meal. Therefore, she shares dishes that are comforting and varied with myriad ideas to make leftovers (if any) fresh and exciting. This book like all her previous work is no small victory.

Julia is touring in support of her book and her schedule can be found on our calendar. Just a reminder, Now & Again is one of our Eat Your Books Cookbook Club's selections for January. Special thanks to Chronicle Books for sharing one of Julia's recipes complete with leftover inspiration with our members. Be sure to add these recipes to your bookshelf. After the recipe, read about our exciting giveaway.
*****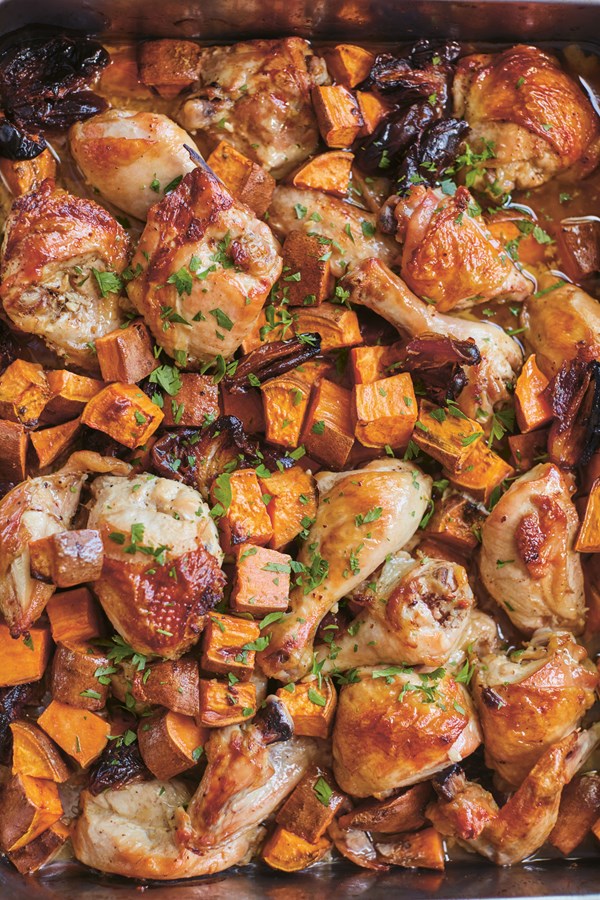 Celebration chicken with sweet potatoes + dates
Add this recipe to your Bookshelf (click the blue +Bookshelf button).
Serves 8 to 10
Rosh Hashanah celebrates the Jewish New Year. There are a lot of symbolic foods associated with the holiday, most of them sweet to help usher in a sweet new year. This chicken is a bit of a Rosh Hashanah riff on the famous Chicken Marbella from the The Silver Palate Cookbook by Sheila Lukins and Julee Rosso. Just like that extremely popular recipe, this chicken doesn't require much work and yields a crowd-pleasing, highly flavorful result. It calls for just one roasting pan, in which you both mix everything and cook. There are no extra bowls or pans, no browning chicken in batches, and definitely no fuss. You also get a two-for-one moment: the sweet potatoes and dates (sweet for Rosh Hashanah!) give you an instant side dish.
¼ cup [60 ml] apple cider vinegar
¼ cup [60 ml] olive oil
¼ cup [60 ml] water
8 garlic cloves, minced
1 Tbsp kosher salt
2 tsp freshly ground black pepper
Two 3- to 4-lb [1.4- to 1.8-kg] chickens, each cut into 10 pieces (2 wings, 2 legs, 2 thighs, and 2 breasts cut in half across the bone), backbone discarded (or saved for another use, like stock), at room temperature
3 large sweet potatoes, about 2 lb [910 g] total, unpeeled, scrubbed and cut into bite-size pieces
12 large dried dates (preferably Medjool), halved and pitted
A small handful of chopped fresh soft herbs (cilantro, parsley, dill, and/or chives all work well)
Preheat your oven to 425°F [220°C].
In a large roasting pan, whisk together the vinegar, olive oil, water, garlic, salt, and pepper (you want a pan that's big enough to hold all of the chicken pieces in a single layer; a disposable aluminum pan is good for this if your roasting pan isn't large enough). Add the chicken pieces, sweet potatoes, and dates. Use your hands to mix everything together and get the marinade on all of chicken, sweet potatoes, and dates. Warning: the following is a bit messy, but bear with me. Move everything around so the sweet potatoes and dates are in a single layer on the bottom of the pan and the chicken pieces, skin-side up, are in a single, even layer on top.
Roast until the sweet potatoes are tender (test with a fork or a paring knife) and the chicken pieces are firm to the touch and their exposed skin is nicely browned, about 1 hour. Let the chicken rest at room temperature for at least 15 minutes before serving.
To serve, transfer the chicken, sweet potatoes, and dates to a large serving platter and pour all of the cooking juices over the top (or serve directly from the roasting pan, giving everything a little mix first). Sprinkle with the herbs and serve warm.
Coronation chicken salad
Add this recipe to your Bookshelf (click the blue +Bookshelf button).
Shred whatever chicken you have left (discard the skin and bones) and roughly chop the leftover sweet potatoes and dates. Put all of that into a bowl, sprinkle with a generous amount of curry powder, and add a large spoonful of mango chutney (or apricot jam, or just leave it out if you've got enough sweet dates) and stir to mix. Add just enough mayonnaise (or plain Greek yogurt) to bind everything together and season to taste with salt and pepper. Fold in some thinly sliced scallions and, if you'd like a bit of crunch, some chopped roasted almonds. Serve on toast or in lettuce cups.
*****
Back to the event, after everyone had signed books and their OXO gift bags in hand, there were additional copies of Now & Again leftover (ironically, get it left over….Julia's book is somewhat about leftovers – I'm here all night, tip your wait staff). Julia autographed three of those books and sent them home with me to giveaway to our members!

But not only that, OXO who is sponsoring Julia's tour wants to share a few of their products with you as well: the On-the-Go Lunch Container and Small Citrus Juicer. I love OXO products and was so happy to see these two items in our bag last evening. My husband and son take their lunch everyday (and most times they are leftovers) so the lunch container will come in handy. The citrus juicer will be used a great deal in my kitchen because I am a lemon fanatic.

Special thanks to OXO for providing a set of these OXO products in our giveaway below, paired with autographed copies of Julia's book!
Thanks to Julia and Chronicle Books, we have three autographed copies of Now & Again and OXO is providing three sets of their products – the On-the-Go Lunch Container and Small Citrus Juicer – to EYB Members in the US. Two of the entry options is to answer the following questions in the comments section of this blog post.
Which recipe in the index would you try first?
What OXO product would you like to try?
Please note that you must be logged into the Rafflecopter contest before posting or your entry won't be counted. For more information on this process, please see our step-by-step help post. Be sure to check your spam filters to receive our email notifications. Prizes can take up to 6 weeks to arrive from the publishers. If you are not already a Member, you can join at no cost. The contest ends at midnight on November 16th, 2018.
Recipe reprinted from Now & Again by Julia Turshen with permission by Chronicle Books, 2018
Seen anything interesting?
Let us know
& we'll share it!