Jenny vs. Modernist Bread – Bagel Battle
September 4, 2018 by Jenny
Earlier this year, I purchased Modernist Cuisine from an author friend who was downsizing. Due to my obsessive nature, I couldn't have one set of the books without the other so I took the plunge and ordered Modernist Bread. I'm already saving up for set three, Modernist Pizza. I really don't need both kidneys and these books are worth every penny.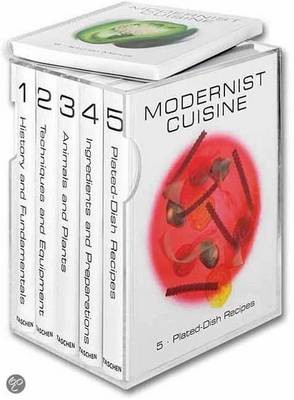 My goal is to work my way through the bread volumes first and then hopefully crack open Cuisine. unless I slide an advanced pastry project in between. In May, I shared my project plans with an Emile Henry giveaway and today I'm going to chronicle my first experience – bagels. I've tagged all of these related articles as #modernistbread for easy
reference.
For those who would like a look inside the Modernist sets, we have EYBD Previews set up as follows:  Cuisine 
and Bread
. Both sets of books are indexed: Modernist Cuisine has a whopping 714 recipes and Modernist Bread is indexed by volume number 1 through 5 with almost 1,000 recipes. Please note that the EYBD Preview for Bread is available on the library record for the set. Those who own Modernist Bread – please be sure you add the individual volumes to your bookshelf so you are able to search the index.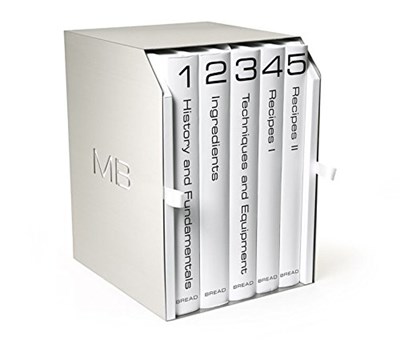 I wanted to start this Modernist Bread project after I was settled into our new home which has a large kitchen with a DIY baking island made from our old dining table – this allows me the space and organization to work efficiently. If I would have begun the project while packing, moving and working, I think my husband would have been a casualty of my too many projects. It would be a slam dunk case with bagel DNA embedded in the strangulation marks on his neck.
In early August after getting somewhat settled, I began experimenting with bagel recipes before tackling Modernist Bread's version. As you can see from my photographs below, I've come a long way – or at least I think I have. The first recipe I tried was King Arthur's recipe and I used the Leuke bagel molds which I found helped with the boiling portion. Using the molds provides a handle (the top of the cone) for the boiling portion without the need to use a spider that sometimes makes indentations in the dough. However, I didn't like the unnatural shape of the holes – too perfectly round
which happened when I used the molds to bake the bagels as well. I've read online reviews that recommend removing the molds before baking to avoid the cartoonish bagel look in picture 1 below of the collage.
I've always shied away from bagel and most bread baking thinking that it was just too much trouble – but I was wrong. Bagels are incredibly approachable. I've made ten batches since I began this project in the last five weeks and each time it has become easier. For the record, I have tried:
King Arthur's Bagel (I used the Asiago recipe but omitted the cheese) – good flavor, not easily rolled. Using the molds left them looking a bit odd and I believe I made them too small. I made the King Arthur version again without the molds.
Washington Post's Bagel  – better shape, but not as flavorful, using a steel or stone suggestion was great – but trust me you want a Baking Steel – it is worth every penny and then some. You can use it for breads, bagels, pizza. Using the Baking Steel made a huge difference.
Ruhlman's – found to be close to the other bagel recipes, don't need to brush egg on bagels for the toppings to stick because to me half the fun are crumbs of the everything mixture that are left on the plate to snack on after the bagel
Stella Parks – found to be close in texture and flavor to the above-mentioned recipes
My own adaption of King Arthur and Washington Post recipes – provided good results
Reinhart and Smitten Kitchen – the best tasting of all of the mentioned recipes – that is, until I made the Modernist Bread recipe
Modernist Bread (three times)
Update 2/6/2020 – see paragraph below regarding Dorie Greenspan's Bagels from Baking with Julia
All the bagel recipes produced results that were better than anything I could purchase here in Colorado and yes even better than those we could buy back home on Long Island. Deb Perelman's adaptation of Peter Reinhart's recipe is incredible and was the winner until I cracked open Modernist Bread.
After putting all these bagels to the test, I decided I was ready for Modernist Bread's version. To my great surprise and relief, Modernist's version was similar but different and yielded the easiest dough to work with, the best shape by far and absolutely the most perfect bagel ever. I did not, however, use the lye bath – but my combination of baking soda and malt powder. I don't need my bagels to be super dark and saw no reason to go to that length.
The Modernist bagel had a perfectly crisp crust (this is from the cold proofing), chewy interior and incredible New York bagel flavor. My son's bus driver and aid are from New York, they loved the Smitten Kitchen version – as did all the staff at the school – until they had the Modernist bagel. They agreed by far that Modernist's was the best tasting bagel of all the ones I shared with them.
Update 2/6/2020: This month one of our cookbook options in the Eat Your Books Cookbook Club is Baking with Julia. While looking through the book, I came across her recipe for bagels, I needed to make a batch so I decided to try Dorie's recipe. Dorie's instructions are detailed and helpful and it was easy to follow.
Here is what I did differently: I mixed all the ingredients on the dough cycle of my bread machine. I shaped the bagels and refrigerated them overnight. This morning, the bagels were boiled in a mixture of baking soda and honey and baked to Dorie's instructions. The dough was even easier to use than all the other recipes and the crust was amazing. The only thing I will do differently when I make these again is hand mix the yeast, sugar and a portion of the flour and water and allow it to ferment for two hours before adding the rest of the ingredients into the dough cycle. I think this step would even make Dorie's bagels tastier.
Now that I have exorcised myself from the surly bonds of Modernist Bread fear, I am ready to try my next recipe – brioche. I've made brioche before using Huckleberry's recipe (both the blueberry and simple brioche) but now I'm ready for the big guns.  (Note: I have made the brioche and have posted an article on this process.) I have worked on a few other recipes – but need to test more options before I can share my thoughts. It's just been super busy.
Disclaimer: I purchased the Modernist volumes myself. My opinion is 100 percent my own backed by a few trusted New Yorkers including my husband. What clinched my decision that this was the best recipe was based on the ease of working with the dough and the taste.
If you need me, I'll be in the kitchen starting my next batch of bagels.