Saveur Blog Award finalists announced
September 4, 2018 by Darcie
Saveur received over 20,000 nominations for its annual blog awards, and they have whittled the list down to 66 finalists (we missed the cut again this year, but thank you to everyone who nominated us!). There are eleven categories for the blog awards: travel, most inspired weeknight dinners, food Instagram, drinks, baking and sweets, entertaining, food videos, new voice, photography, food culture, and special interest.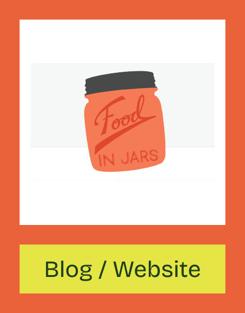 Most of the blogs weren't on my radar, but in the Special Interest category one named jumped out – Food in Jars by Marisa McClelland, which is indexed on EYB. It's one of the most popular blogs in the EYB Library, so it's no surprise to us that Marisa was nominated for an award.
You can read more about the nominees at the Saveur website and vote for your favorites. Voting is open now through September 12, and you can vote multiple times in each category. The winners will be announced on November 9th, at a special event hosted by Saveur in Memphis, Tennessee. Congratulations to the 2018 nominees and good luck!
Seen anything interesting?
Let us know
& we'll share it!