Milkwood – EYBD Promotion
January 12, 2019 by Jenny
Now with EYBDigital, if you buy a print book within the promotional period, for the first time you will have access to the full EYBD cookbook wherever you can access EYB – on vacation, at work, in the grocery store, etc. In addition to the digital book, all the features of EYB will be included in the access, at no cost to the book purchaser. For more information see our EYBD Page which has been updated recently with new titles for 2019.
• Recipe search
• Bookmarks
• Recipe ratings and reviews
• Photo upload (personal photos of dishes cooked)
• Shopping lists
We are pleased to share a promotion for our next EYBD Book, Milkwood: Real Skills for Down-to-Earth Living by Kirsten Bradley and Nick Ritar.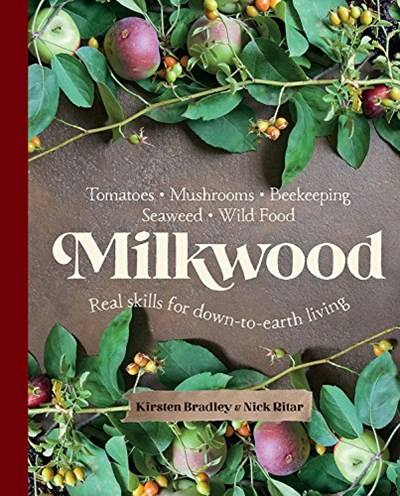 Kirsten and Nick live at Melliodora in southern Australia – a beautiful permaculture smallholding designed by David Holmgren, co-originator of permaculture. What is permaculture, you ask? Permaculture is an agricultural ecosystem intended to be sustainable and self-sufficient. Remember Matt Damon in Martian? Well this is same but different and far less life threatening.
With their team the authors teach everything from permaculture design to market gardening, natural building and mushroom cultivation, to help create resilient and abundant households and communities. More information on their courses can be found on their website and in their debut book, Milkwood.

This vibrant book is a valuable resource filled with the skills and facts to get you inspired and started on living a handmade, home-grown life. From growing your own vegetables to cultivating mushrooms, it is all here packed along with recipes and photographs that will guide you along the way.

I am looking forward to spring this year, armed with this book to start my garden in our new home. The last two years have been hectic with our move and other issues, that I missed out on planting a garden. This year I hope to do even more besides my usual tomatoes and herb selections and Milkwood will be there by my side.
Our
takes you inside this book and highlights the following
If you order this title before our promotional period ends, register here (be sure you have a photo of your receipt or screenshot from your online order ready to upload). Once your purchase has been verified, this button
will appear on the book on your Bookshelf next to the title and will take you to the digital access for this book.
Below are screenshots showing how these features will appear.
Special thanks to the publisher, for working with us to bring this exclusive incentive to our members as well as for providing three copies of in our giveaway below.
The publisher is offering three copies of this book to EYB Members in the US, UK, CA and AU. One of the entry options is to answer the following question in the comments section of this blog post.
Do you have a garden or dreams of creating one?
Please note that you must be logged into the Rafflecopter contest before posting or your entry won't be counted. For more information on this process, please see our step-by-step help post. Be sure to check your spam filters to receive our email notifications. Prizes can take up to 6 weeks to arrive from the publishers. If you are not already a Member, you can join at no cost. The contest ends at midnight on March 15th, 2019.
Seen anything interesting?
Let us know
& we'll share it!