Is aspic poised to make a comeback?
January 14, 2019 by Darcie
What do you think of when you hear the word aspic? For many of us, the term conjures up garish concoctions from the 1960s: think hot dogs and macaroni in aspic. However, those applications are only one late-stage interpretion of a culinary classic. The tradition of setting meats and vegetables in aspic – a savory meat gelatin made with stock and set in a mold – traces its origins all the way back to the 1300s.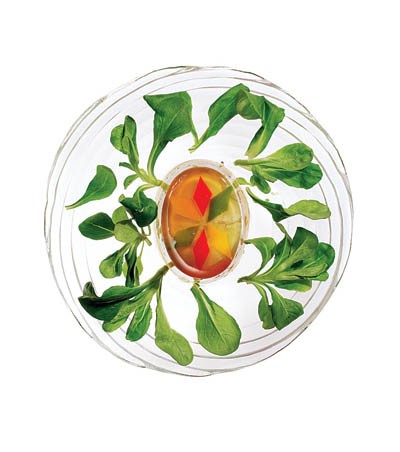 Aspic became popular at the end of the 19th century and remained a staple of fine dining well into the 20th century before rather unfortunate renditions caused it to fall out of favor. But if chef Harold Moore of Bistro Pierre Lapin in New York City has his way, aspic will experience a renaissance.
Moore isn't interested in merely copying classic French cuisine with his aspic; he infuses his with bolder flavors by incorporating pieces of Paris ham along with bits of the pork-hock meat from his consommé to the aspic jelly that surrounds a soft-boiled egg. Adding these non-traditional items gives the dish a more "bacony" flavor, because as the chef notes, "who doesn't love bacon and eggs?"
We may be on the cusp of an aspic renaissance; there have been rumblings about its resurgence for a couple of years now. The rise of bone broth – essentially the building block of aspic – and the Instagram-ready images that result when you suspend items in aspic both lend themselves to renewed interest in this age-old dish. Do you think aspic is poised to make a comeback, and more importantly, do you think it should?
Photo of Eggs in aspic (Oeufs en gelée) from Saveur Magazine
Seen anything interesting?
Let us know
& we'll share it!