A Very Serious Cookbook
January 7, 2019 by Jenny
A Very Serious Cookbook: Contra Wildair by Jeremiah Stone and Fabián von Hauske is a tale of two places beloved by chefs and foodies worldwide – Lower East Side tasting-menu restaurant Contra, and its more casual sister, Wildair. The chefs are known for their seasonal cooking style, boundary-pushing creativity, and love of natural wine. This book provides a snap shot of two New York restaurant chefs and what makes them tick.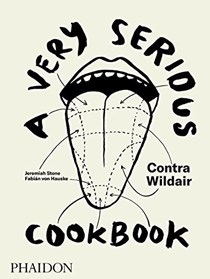 A Very Serious Cookbook
includes 85 recipes organized into the following chapters: Always (mainstay, non-seasonal); Sometimes (hyper-seasonal, guest chef collaborations, international travel inspiration); Never (dishes on the menu once, not existent yet, all important); and Pantry. Photographs of finished dishes, its locality, and travel bring the restaurant and its dishes to life.
These recipes are not for the faint of heart. They require some skill and planning. While more approachable than some high-end restaurant cookbooks, the dishes here are impressive and unlike any others that your dinner guests (or yourself) will experience. This is a book for the adventurous cook – the one who wants to push the envelope and expand their culinary horizons. All of the above is delivered with witty narrative, fun graphics and gorgeous photographs.
Our
takes you inside this title and features the following
Special thanks to Phaidon for providing us with the materials for our preview above as well as offering two copies of this book in our giveaway below.
The publisher is offering two copies of this book to EYB Members in the US, CA, UK and AU. One of the entry options is to answer the following question in the comments section of this blog post.
Which recipe in the index would you try first?
Please note that you must be logged into the Rafflecopter contest before posting or your entry won't be counted. For more information on this process, please see our step-by-step help post and this forum post. Once you log in and enter your member name you will be directed to the next entry option – the blog comment. After that, there are additional options that you can complete for more entries.

Be sure to check your spam filters to receive our email notifications. Prizes can take up to 6 weeks to arrive from the publishers. If you are not already a Member, you can join at no cost. The contest ends at midnight on April 15th, 2019. (Prizes may be delayed in sending awaiting re-printing).
Seen anything interesting?
Let us know
& we'll share it!