365 by Meike Peters Giveaway
October 24, 2019 by Jenny
Enter our giveaway to win a copy of Meike Peters' 365: A Year of Everyday Cooking and Baking open to the US and UK.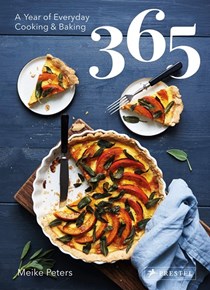 365: A Year of Everyday Cooking and Baking is filled with a year's worth of recipes and stunning photography. Meike's goal is to take the pressure off cooks and bakers with seasonal recipes that are approachable and provide variety. There are recipes such as the Roasted chicken with plums and fennel and Sautéed zucchini with melon and pecorino that can be thrown together rather easily. And then there are dishes that may require a bit more time such as Maltese egg and cheese-stuffed meat roulades with bell peppers or Plum dumplings with cinnamony breadcrumb butter. Whichever road you take with Meike, they will all lead to delicious results.
Meike won a James Beard award for her first cookbook Eat in My Kitchen: To Cook, to Bake, to Eat, and to Treat. Learn more about this title in my earlier review post. I have cooked so many recipes from her debut title and they were all outstanding. 365: A Year of Everyday Cooking and Baking is moving to my kitchen bookshelf with loads of bookmarks for dishes I can't wait to make (almost 365 of them)! Next Spring we need to have this book as one of our Cookbook Club options as we did with her first!
Our
takes you inside this beautiful book and features the following
Special thanks to Prestel Publishing for providing the materials needed for our EYBDigital preview and for offering copies in our giveaway below.
Thanks to the publisher (Prestel USA and Prestel UK) for providing six copies of the above-referenced title in our giveaway open to EYB Members in the US and UK. Three winners in the US and three in the UK will win a copy of this brilliant book. One of the entry options is to answer the following question in the comments section of this blog post.
Which recipe in the index would you try first?
Please note that you must be logged into the Rafflecopter contest before posting or your entry won't be counted. For more information on this process, please see our step-by-step help post and this forum post. Once you log in and enter your member name you will be directed to the next entry option – the blog comment. After that, there are additional options that you can complete for more entries. Be sure to check your spam filters to receive our email notifications. Prizes can take up to 6 weeks to arrive from the publishers. If you are not already a Member, you can join at no cost. The contest ends at midnight on January 6th, 2020.
a Rafflecopter giveaway