Bread on the Table – Cookbook Giveaway
November 9, 2019 by Jenny
Enter to win a copy of Bread on the Table: Recipes for Making and Enjoying Europe's Most Beloved Breads by David Norman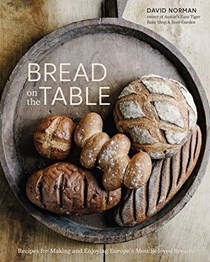 Bread on the Table: Recipes for Making and Enjoying Europe's Most Beloved Breads by David Norman, the owner of Austin's Easy Tiger Bake Shop & Beer Garden, features recipes from the author's time spent exploring bread traditions throughout Europe and North America.
The book is divided into five chapters: French, Scandinavian, German, Italian, and ending with bread in Central Texas. Besides sharing countless photographs, recipes for each loaf begin each chapter and menu ideas for incorporating those loaves into everyday meals end each chapter.
Recipes include Lefse, Julskinka (Swedish Christmas ham), Birotes salados (Mexican sourdough rolls) and Torta ahogada (sandwich from Guadalajara). What I particularly love is the detail that Norman shares for each recipe that immerses you in the bread-making/recipe process. This year we have a sea of great baking books and many that focus on bread baking and Bread on the Table is one of the standouts.
Our
takes you inside this beautiful book and shares the following
Thanks to the publisher for providing three copies of the above-referenced title in our giveaway open to EYB Members in the US. One of the entry options is to answer the following question in the comments section of this blog post.
Which recipe in the index would you try first?
Please note that you must be logged into the Rafflecopter contest before posting or your entry won't be counted. For more information on this process, please see our step-by-step help post and this forum post. Once you log in and enter your member name you will be directed to the next entry option – the blog comment. After that, there are additional options that you can complete for more entries. Be sure to check your spam filters to receive our email notifications. Prizes can take up to 6 weeks to arrive from the publishers. If you are not already a Member, you can join at no cost. The contest ends at midnight on December 26th, 2019.
a Rafflecopter giveaway
Seen anything interesting?
Let us know
& we'll share it!