Korean Soul Food
November 10, 2019 by Jenny
Enter our giveaway to win a copy of Korean Soul Food: Authentic Dishes and Modern Twists by Judy Joo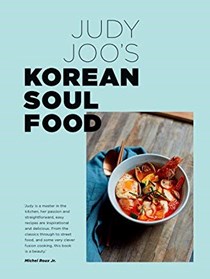 Korean Soul Food: Authentic Dishes and Modern Twists by Judy Joo, author of Korean Food Made Simple, is filled with recipes that will appeal to Korean food aficionados and those new to this cuisine. The book is filled with lovely photography and measurements for ingredients are both in weight and volume.
Kimchi cheese pretzel bites, Spam French fries, and Fish and mushy beans with kimchi tartare sauce are a few examples of the "fun" twists that Judy puts on recipes. There are chapters devoted to bread and dessert which is not a normal occurrence in Asian cookbooks. Joo states she has added these chapters as there has been an insurgence of French bakeries and Asian inspired breads and pastries being carried by larger food chains. So now we can make SuJeongGwa crème brûlée, Snickers Hotteok and Green tea monkey bread in our own kitchens.
Our
takes you inside this title and shares the following
Thanks to the publisher for providing three copies of the above-referenced title in our giveaway open to EYB Members in the US, CA. UK and AU. One of the entry options is to answer the following question in the comments section of this blog post.
Which recipe in the index would you try first?
Please note that you must be logged into the Rafflecopter contest before posting or your entry won't be counted. For more information on this process, please see our step-by-step help post and this forum post. Once you log in and enter your member name you will be directed to the next entry option – the blog comment. After that, there are additional options that you can complete for more entries. Be sure to check your spam filters to receive our email notifications. Prizes can take up to 6 weeks to arrive from the publishers. If you are not already a Member, you can join at no cost. The contest ends at midnight on December 29th, 2019.
a Rafflecopter giveaway
Seen anything interesting?
Let us know
& we'll share it!