Ideas for wrapping edible gifts
November 17, 2019 by Darcie
From quick breads to savory breads to cookies to candies, edible gifts are a wonderful way to make something from the heart for the holidays (plus they make the perfect hostess present). Most of us have our go-to recipes for this, whether it's a cherished family heirloom or something we spied on the internet. What we may not have are attractive packaging and presentation ideas. Eater has our backs with a guide on how to elegantly package edible gifts.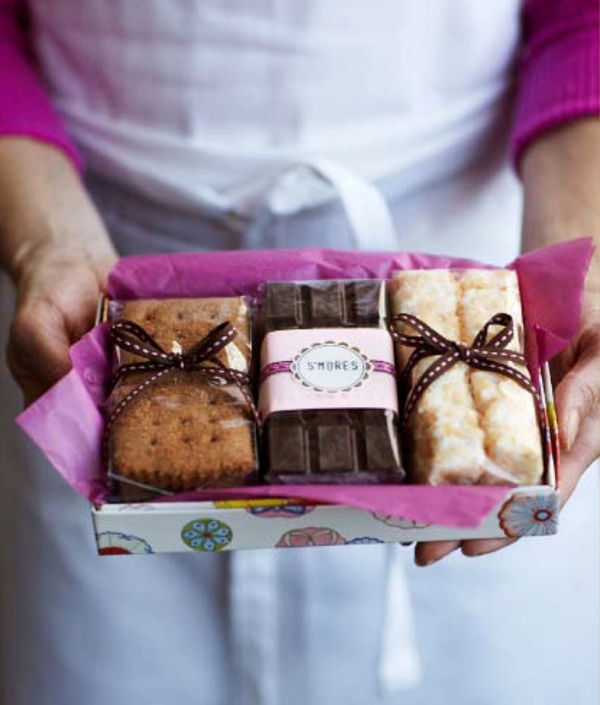 Baskets are probably the easiest way to package sturdy items like breads, rolls, or scones. While you can spend a ton of money on hand-woven items that will live on as a display, there's no shame in heading to the discount store or even the thrift store to find attractive baskets. Line them with a tea towel and you're all set.
If you don't want to find dozens of baskets, you can go with a less expensive route of colored parchment paper. You can find festive prints online or at craft/hobby stores (they have lots of baskets, too). One surprising source that I found for cute boxes, bags, and foil trays with holiday-themed lids came from the neighborhood children's school fundraiser. The article linked above had a few more interesting suggestions for ways to make your edible gifts shine. What's your favorite way to package homemade treats?
Photo of Cinnamon-coated graham crackers from Gifts Cooks Love: Recipes for Giving by Sur La Table and Diane Morgan
Seen anything interesting?
Let us know
& we'll share it!