Featured Cookbooks, Recipes, & the Latest EYBD Books & Previews
February 22, 2019 by Darcie
EYB wants to make your cooking life easier. Our main focus has always been indexing cookbooks and magazines so you can efficiently search your own collection instead of paging through individual indexes. We also aim to keep members up to date on the best new titles being published. Our new EYBDigital platform allows us to provide EYBDigital Previews (sample pages from cookbooks) and EYBDigital Books (complete digital cookbooks you gain access to when you buy a print book). More information can be found on our EYBD Page.

Below you'll find our latest EYBDigital Previews plus GIVEAWAYS and more!

(Note: Some members have been asking why they cannot add all EYBDigital Preview recipes to their Bookshelf. Please read this Help page for an explanation.)

The team at Eat Your Books
Our EYBD page has been updated with previews and registration pages and our 2019 Preview post has also been "topped" off this week!
The following giveaway is ending 2/24/2019 11:59pm EST
Heritage Baking by Ellen King (US/CA)
Member Photo of the Week:
Strawberry and lemon chiffon cake with honey-lemon glaze
from Marbled, Swirled and Layered by Irvin Lin.
Photo submitted by darcie_b
Have you uploaded any of your own photos yet? Learn more!

Featured Online Recipe: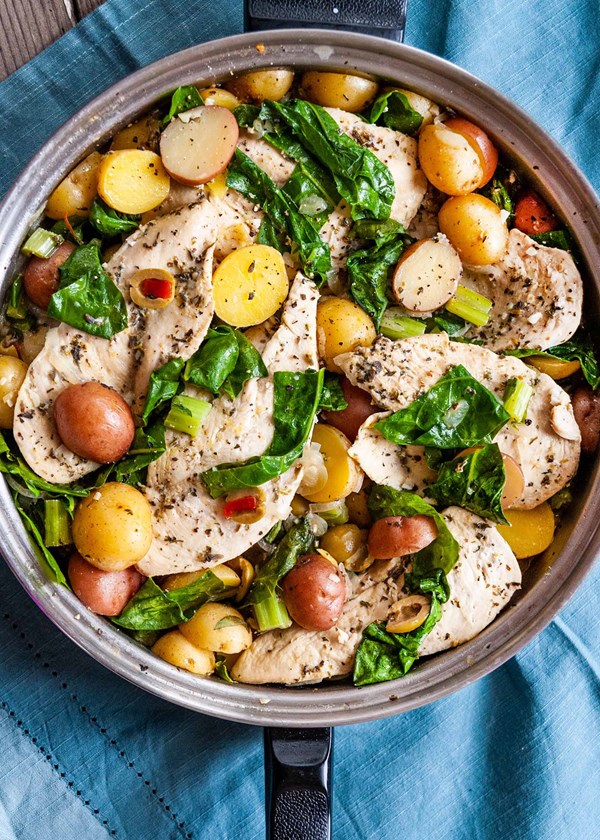 Herbes de Provence skillet chicken with potatoes and greens from indexed blog Simply Recipes by Elise Bauer and Summer Miller
More EYBDigital Titles Have Launched!
The next batch of EYBDigital Books is now available! If you order any of our EYBDtitles during the EYB promotion period, you will have access to a digital version on your EYB Bookshelf after signing up on our registration page (all available on the EYBD page). Click on the book cover or the link below each book for more specific information. Learn more about EYBDigital Books and see our list of upcoming titles here.
8 recipes from Carbs by Laura Goodman
Learn more about this title and enter our giveaway! (US, UK, AU & NZ)
12 recipes from The New 500 Low-Carb Recipes: 500 Updated Recipes for Doing Low-Carb Better and More Deliciously by Dana Carpender
More EYBDigital Previews :
A selection of full sample pages is available for the following cookbooks. Learn more about EYBDigital Previews.
3 recipes from Naturally Sweet Vegan Treats: Plant-Based Delights Free From Refined and Artificial Sweeteners by Marisa Alvarsson
3 recipes from Mastering the Art of Sous Vide Cooking: Unlock the Versatility of Precision Temperature Cooking by Justice Stewart
Cookbooks with GIVEAWAYS!
Each of these featured titles has a current giveaway. Click the photo or blue button for more information on how to enter. For titles that also have an EYBDigital Preview, click on the orange button to view the available full sample pages.
Win a dozen cookbooks from Page Street Publishing! All of the titles shown above are being offered in this fantastic giveaway.
Learn more about these titles and enter the WORLDWIDE giveaway!
3 recipes from The Beer Kitchen: The Art and Science of Cooking, & Pairing, with Beer by Melissa Cole
Learn more about this title and enter our giveaway for The Beer Kitchen! (US, UK, AU & NZ)
3 recipes from The German Cookbook by Alfons Schuhbeck
Learn more about this title and enter the giveaway for The German Cookbook! (US, CA, UK, & AU)
3 recipes from Eat at the Bar: Recipes Inspired by Travels in Spain, Portugal, Italy and Beyond by Matt McConnell and Jo Gamvros
Learn more about this title and enter the giveaway for Eat at the Bar! (US, UK, AU & NZ)
The giveaway for The Crock-Pot Ladies Big Book of Slow Cooker Dinners by Heidi Kennedy, Katie Handing and Sarah Ince (previewed last week) is now open!
Learn more about this title and enter our giveaway! (US & CA only)