Featured Cookbooks, Recipes, & the Latest EYBD Books & Previews
February 9, 2019 by Darcie
EYB wants to make your cooking life easier. Our main focus has always been indexing cookbooks and magazines so you can efficiently search your own collection instead of paging through individual indexes. We also aim to keep members up to date on the best new titles being published. Our new EYBDigital platform allows us to provide EYBDigital Previews (sample pages from cookbooks) and EYBDigital Books (complete digital cookbooks you gain access to when you buy a print book). More information can be found on our EYBD Page which has recently been updated.

Below you'll find our latest EYBDigital Previews plus GIVEAWAYS and more!

(Note: Some members have been asking why they cannot add all EYBDigital Preview recipes to their Bookshelf. Please read this Help page for an explanation.)
In case you missed it!
February 2019 Cookbook Giveaway Roundup
February 2019 Cookbook Preview
Member Photo of the Week
Baked eggs with yoghurt and chilli from Plenty by Yotam Ottolenghi
Photo submitted by our very own Jane
There are now over 5,000 Member-added photos in the EYB Library!
Have you uploaded any of your own photos yet? Learn more!
Featured online recipe: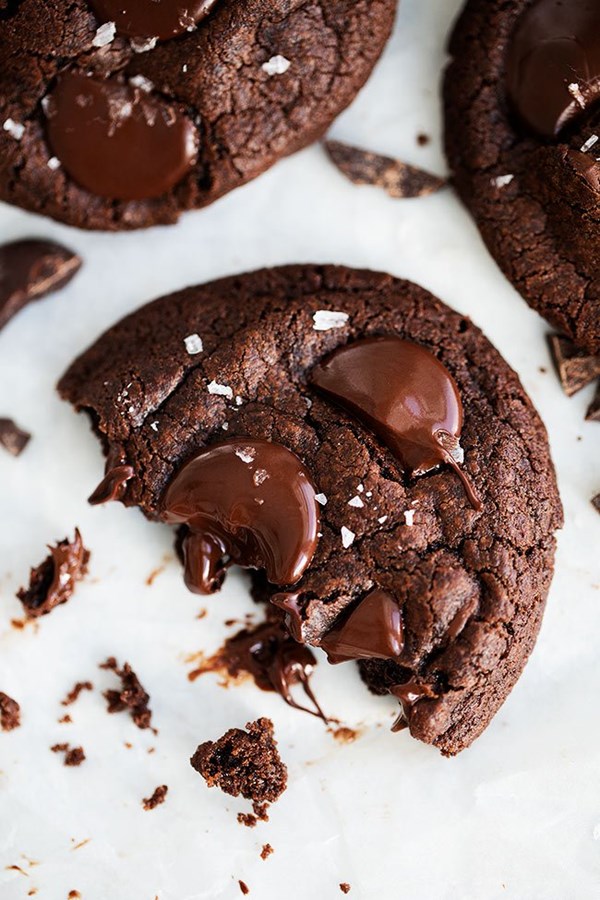 Ultimate chocolate cookies from indexed blog Two Peas and Their Pod by Maria Lichty & Josh Lichty
More EYBDigital Titles Have Launched!
The next batch of EYBDigital Books is now available! If you order The Little Pizza Cookbook, Wholefood Thermo Cooked, Double Awesome Chinese Food (giveaway) or A New Way to Food (giveaway) during the EYB promotion period, you will have access to a digital version on your EYB Bookshelf after signing up on our registration page. Click on the book cover or the link below for more specific information. Learn more about EYBDigital Books and see our list of upcoming titles here.
3 recipes from The Little Pizza Cookbook by Murdoch Books Test Kitchen
3 recipes from Whole Food Thermo Cooked by Tracey Pattison

4 recipes from A New Way to Food by Maggie Battista
EYBDigital Book information + GIVEAWAY! (US & CA only)

Please note that the promotional periods for Extra Helping and Nightmare Before Dinner are expiring soon. See our EYBD page for more information.
EYBDigital Previews for Pre-Release Titles:
A selection of full sample pages is available for the following cookbooks soon to be published. Click on the photo or orange EYBDigital Preview button to view.
Learn more about EYBDigital Previews.
3 recipes from My Bangladesh Kitchen by Saira Hamilton
Available for pre-order. Release date: March 5, 2019

Cookbooks with GIVEAWAYS!
Each of these featured titles has a current giveaway. Click the photo or blue button for more information on how to enter. For titles that also have an EYBDigital Preview, click on the orange button to view the available full sample pages.
1 recipe from Heritage Baking by Ellen King
Enter the Heritage Baking GIVEAWAY! (US & CA only)
2 recipesfrom Rich Table by Sarah & Evan Rich
<Enter the Rich Table GIVEAWAY! (US & CA only)
3 recipes from Bread & Butter by Richard Snapes, Grant Harrington, and Eve Hemingway
Enter the Bread & Butter GIVEAWAY! (US, UK, AU & NZ only)
3 recipes from A Very Serious Cookbook by Jeremiah Stone and Fabián von Hauske
Enter A Very Serious Cookbook GIVEAWAY! (US, CA, UK & AU only)
1 recipe from Estelaby Ignacio Mattos
Enter the Estela GIVEAWAY! (US & CA only)
These giveaways are expiring soon:
Sweet Street (EYBD Title) Open to US/CA/UK/AU
Annie Rigg's Pies & Tarts Open to US/UK/AU/NZ
Holiday Breads and a Zojirushi Bread Machine Open to US only
On Boards and Savor Entertaining Package
(Books open to US/CA) Board and Knife to US only
Seen anything interesting?
Let us know
& we'll share it!