Recipes that break the rules
March 11, 2019 by Darcie
Ask anyone who bakes well the secret to their success and you are likely to get an answer that involves being precise and following the rules. You will also likely hear the old saying that cooking is closer to art while baking is more akin to science. While it is true that for many baked goods success hinges on adding just the right amount of leavening or having exactly the right proportion of ingredients, sometimes the best results come when you break the rules altogether.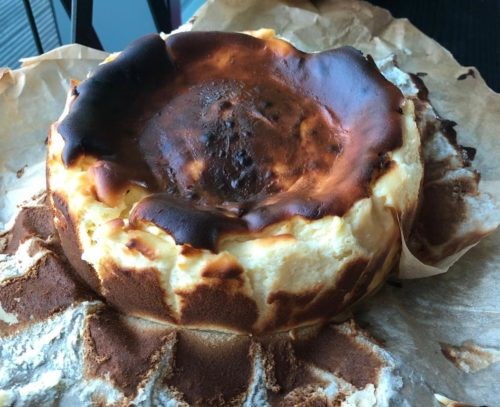 That is the case with the famous burnt cheesecake from Spain made famous by restaurant La Viña in San Sebastián. The top of it is blackened while the interior ranges from firm at the edges to ultra creamy in the center. It defies the standard of fluffy New York-style or creamy and dense traditional cheesecake to become the stuff of legend. Chef Santiago Rivera invented the unusual dessert in the 1990s, and it has wowed diners ever since.
I recently stumbled across another dessert recipe that breaks the rules to delicious effect, the rose custard from Elizabeth Falkner's Demolition Desserts. You cook the custard for a long time, until it completely breaks. Then, through the magic of a high-speed immersion blender, the goopy, greasy mess is transformed into a silken custard that is even richer than a traditional one because more of the moisture is cooked from it. I admit that I was skeptical when I read the instructions, but followed through after reading Chef Falkner's reassurance that it would, indeed, work out splendidly. It did, and I have added the entire dessert (Rosebud: rose custard, caramel crisps, saffron pistachio cookies) to my arsenal.
What are your favorite recipes that break the rules?
Photo of Basque cheesecake from Taste by Daniela Galarza