Bottom of the Pot
March 14, 2019 by Jenny
Bottom of the Pot: Persian Recipes and Stories by Naz Deravian, author of the award-winning culinary blog, Bottom of the Pot, made my best books of 2018 list. Naz was born in Iran, has lived in Italy and Canada, and now lives in Los Angeles with her husband and two children with an acting career as well.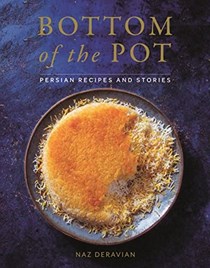 Bottom of the Pot is a triumph. The author's narrative is captivating, the photographs are vibrantly stunning and her dishes intrigue and inspire. Persian cuisine is a tapestry of jeweled colored dishes packed with spices, herbs and varying textures. Naz does an amazing job of making these recipes approachable.
Last October, I made the Chicken drumettes kabab which were amazing. I admit to complacency, at times, when throwing chicken on the grill or making a simple rice pilaf is the answer. But what I am reminded of here, is that with just a few extra moments of prep time, I can create a flavor-packed dish that is also a memory and a lesson in another's culture. Now that I've taken the time to go through this title again, I have several recipes bookmarked: Potato Kookoo, Armenian sweet bread and the Baghlava cake are just a few. Explore Persian cuisine through Naz' eyes and you will fall in love deeply and completely.
Flatiron Books is sharing the following recipe with our members and providing one copy of this title (US/CA) in our giveaway below. Eat Your Books will provide one copy worldwide.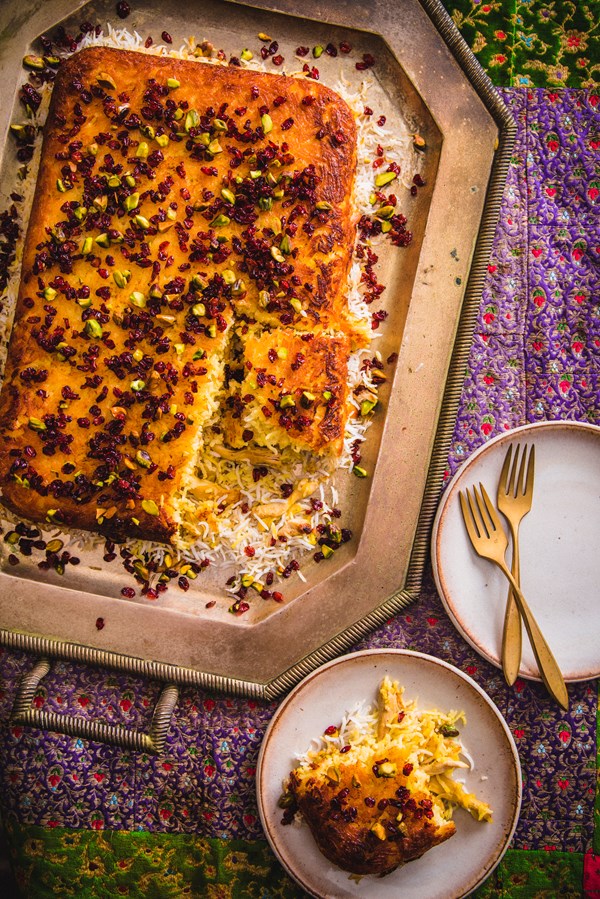 Tahcheen-e Morgh
Baked Saffron Yogurt Rice with Chicken
Add this recipe to your Bookshelf (click the blue +Bookshelf button)
Tahcheen means "arranged on the bottom," and it is a beauty of a dish. Juicy pieces of saffron chicken are arranged on a thick yogurt-and-egg tahdig and topped with basmati rice.
Tahcheen can be made on the stovetop or in the oven. I prefer baking it in the oven because it can all be assembled ahead of time and then simply slipped into the oven. Use an oven-safe 9 x 13 x 2-inch clear glass casserole dish if possible. The glass dish allows you to spy on the tahdig and check on its progress. If you don't have a glass dish any appropriate-sized baking dish will work. Tahcheen is equally spectacular to entertain with or enjoy with family on a quiet and cozy evening. Serve with a side of yogurt and Sabzi Khordan (page 32).
SERVES 8
3 cups white basmati rice
3 tablespoons olive oil
1 large yellow onion, sliced into ¼-inch-thick half-moons
Kosher salt
4 cloves garlic, chopped
10 skinless, boneless chicken thighs, cut in half
¼ teaspoon ground black pepper
¼ cup fresh lemon juice (plus more as needed)
¼ teaspoon ground saffron, steeped in
2 tablespoons hot water (see page 17)
1 cup Greek yogurt
1 large egg
Ground saffron for sprinkling
5 tablespoons butter, divided
TOPPING
1 tablespoon butter
½ cup barberries, (see page 358), picked through and soaked for 15 minutes, drained
1 teaspoon sugar
Handful of raw pistachios, roughly chopped (optional)
Parboil the rice chelo-style (page 104 Steamed Persian rice with tahdig (Chelo ba tahdig) up to the end of Step 2). Set aside to drain.
In a large pan, heat the oil over medium heat. Add the onion, sprinkle with a little salt, and cook, stirring occasionally, until soft and golden, about 8 minutes. Add the garlic and cook for 2 minutes. Add the chicken, 23/4 teaspoons salt, and the pepper, and cook until the chicken takes on a little color, about 3 minutes on each side. Add the lemon juice and the saffron water, turn the chicken pieces well in the bright orange sauce to coat all sides, and reduce the heat to medium-low. Partially cover and simmer, turning once in a while, until the chicken is tender and just cooked through, about 25 to 30 minutes. Taste and add more salt and lemon juice, if needed. Cut the chicken into ½-inch-long pieces and set aside in its juices.
Preheat the oven to 400°F with the rack set in the lowest position.
In a medium bowl, combine the yogurt, egg, and a tiny sprinkle of ground saffron. Fold in half of the parboiled rice, and set aside.
Place 3 tablespoons of the butter in the baking dish and place in the oven to melt, about 3 minutes. Swirl or brush the melted butter all over and up the sides of the dish. Spread the yogurt-rice mixture evenly on the bottom of the dish, pressing it down firmly. Add a layer of the chicken pieces evenly over the rice, top with a layer of the plain rice, drizzle with 2 tablespoons of chicken juices, smooth the top, and dot with the remaining 2 tablespoons butter. Cover tightly with foil and bake for about 1 hour 20 minutes. Check the bottom of the dish (if using a glass dish) to see if it is golden and crisp. Bake for an extra 5 to 10 minutes if necessary, but take care not to burn it. Take the tahcheen out of the oven, and let it rest for 5 minutes.
While the tahcheen rests prepare the barberry topping. In a small pan, melt the butter over medium heat. Add the barberries, sugar, and pistachios, give a quick stir to plump up the barberries, and cook for about 2 minutes. Take off the heat. Run a knife along the sides of the tahcheen to help release it. Place a large rectangular serving platter, baking tray, or cutting board over the tahcheen, take a deep breath, and flip. Garnish with the barberry topping, pour yourself something tasty for a job well done, and gather around the table with friends and family. Cut the tahcheen in 8 or more pieces and dig in.
Make Ahead: The entire dish can be assembled a few hours in advance and stored in the fridge, covered. Bring to room temperature before placing in the oven.
Prep Ahead: The rice can be parboiled, drained, and set aside a few hours in advance until ready to use.
Excerpted BOTTOM OF THE POT: Persian Recipes and Stories by Naz Deravian. Copyright © 2018 by Naz Deravian. Reprinted with permission from Flatiron Books. All rights reserved. Photography by Eric Wolfinger.
The publisher is offering one copy of this book to EYB Members in the US and EYB is offering one copy worldwide. One of the entry options is to answer the following question in the comments section of this blog post.
Which recipe in the index would you try first?
Please note that you must be logged into the Rafflecopter contest before posting or your entry won't be counted. For more information on this process, please see our step-by-step help post and this forum post. Once you log in and enter your member name you will be directed to the next entry option – the blog comment. After that, there are additional options that you can complete for more entries.

Be sure to check your spam filters to receive our email notifications. Prizes can take up to 6 weeks to arrive from the publishers. If you are not already a Member, you can join at no cost. The contest ends at midnight on May 5th, 2019.
Seen anything interesting?
Let us know
& we'll share it!