Understanding 'the Ottolenghi effect'
March 19, 2019 by Darcie
Why has Yotam Ottolenghi become a worldwide sensation? That is the question that Good Food (AU) attempts to answer in a recent article about Ottolenghi's current book tour in the land down under. Of course trying to understand a phenomenon like this is a challenge, but the theories raised here convincingly explain how Ottolenghi (you know he's famous because he's referred to by just one name) skyrocketed from cook to superstar.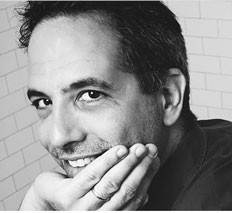 Just for Australia alone, Ottolenghi's book sales are impressive. Over the last decade, he's sold over 400,000 books, with his most recent release, Ottolenghi Simple, likely to break Australian records..This despite being, as Jane Morrow of Murdoch Books notes, an unlikely best seller in that country. "The author isn't local, and most Australians won't get to taste his food from his London restaurants and delis," she says adding that when his books first appeared in 2008, "Middle Eastern food was not a cuisine the mainstream was familiar with. And his recipes generally require a long list of ingredients, some of which are obscure."
Some culinary celebrities come to prominence because of their outsize personalities (think Gordon Ramsay). That's not the path that Ottolenghi followed. By all accounts, he is exceedingly pleasant, considerate, and humble. Helen Goh, who co-authored Sweet, thinks the "Ottolenghi Effect" has to do with the "feel-good" state people experience when using his recipes. " 'People will forget what you said, people will forget what you did but people will never forget how you made them feel'?" she says. She believes that the recipes he creates help people feel a sense of "generosity and love" when they serve them.
Add to that the fact that we are fascinated by celebrity and that Ottolenghi shares all of his culinary secrets with this audience, and you have the perfect storm to explain the "Ottolenghi effect." Ottolenghi refers to this transparency as being part of what attracts people to his work. "The days of chefs hiding their secrets are long gone," he says. "If you held anything back, you'd get busted. We are all slaves now to this transparency."