Italian mayor spouts off on spaghetti bolognese
March 3, 2019 by Darcie
Millions of people around the world have tucked into a hearty dish of spaghetti bolognese over the years. But according to the mayor of Bologna, Italy, the dish that bears the name of his city has nothing to do with the dish. Not only does he disavow spaghetti bolognese, he's recently started an online campaign to raise awareness of the fact that the citizens of Bologna don't eat spagetti bolognese.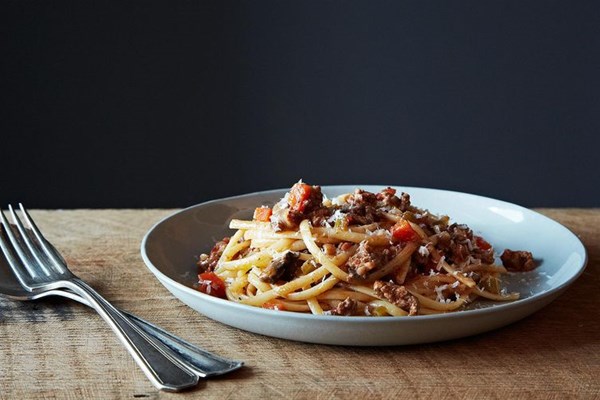 After Mayor Virginio Merola posted a rant about foreign restaurants serving the dish (he claims the accompanying photo was taken in London), he asked others to share their photos, calling the dish "fake news." Thousands of images poured in of various dishes claiming the name – but none from Bologna, where you are far more likely to find a dish called Tagliatelle al Ragù. Waiters in Bologna tend to roll their eyes at tourists who order spaghetti bolognese before gently pointing out the tagliatelle dish.
Merola plans to collect the images of these 'imposter' dishes and create a display for Bologna's FICO Eataly World. "It is strange to be famous all over the world for a dish that isn't ours," he told the Telegraph (UK). "Of course we are happy that it draws attention to our city, but we would prefer to be known for the quality food that is part of our culinary tradition."
Photo of A really good spaghetti Bolognese from The Kitchen Diaries by Nigel Slater
Seen anything interesting?
Let us know
& we'll share it!