Great news – Samin Nosrat is working on a new book
March 5, 2019 by Darcie
EYB Members embraced Samin Nosrat's debut cookbook Salt, Fat, Acid, Heat: Mastering the Elements of Good Cooking. It ranks in the top 75 cookbooks as measured by number of Bookshelves in the EYB Library, even beating Ottolenghi's recent book by a couple of places. If you count yourself as a fan of Nosrat's writing or her Netflix program, you'll be excited to learn that the talented chef has just announced that she is working on another cookbook.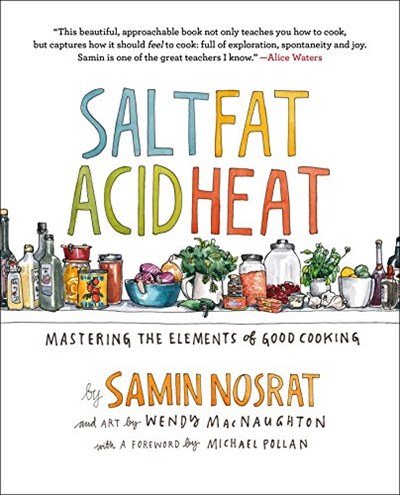 Nosrat alerted followers via an Instagram post earlier today. She wrote that the book is tentatively titled WHAT TO COOK and promised that it will "help you decide, well, what to cook! My creative collaboration with the wonderful, inimitable @wendymac will happily continue, meaning that this book will be filled with the same sorts of beautiful, instructive, and funny illustrations and infographics that make #saltfatacidheat so special."
Ten Speed Press will be publishing the book. Nosrat asked fans to sign up for her mailing list to get updates and to sign on as a recipe tester later in the process. As to when we can expect to see WHAT TO COOK, Nosrat said this: "We all know I am a painfully slow writer, so please do not write to ask me when the book is coming. I promise everyone will know when I know!" We can't wait! To tide us over until the new book is released, we can delight in a new book of prints from Salt, Fat, Acid, Heat. Twenty of the spectacular illustrations from the bestselling book are collected as beautiful 8 x 10 prints. Nosrat is also editing this years edition of The Best American Food Writing (due in October).