Asma's Indian Kitchen
April 1, 2019 by Jenny
Darjeeling Express
, the popular London restaurant founded by Asma Khan, started as a dinner for a dozen guests in a home where Indian food was lovingly cooked from family recipes going back generations. The pop-up in Soho was wildly successful and led to a permanent restaurant location at Kingly Court, Carnaby in London. The kitchen at Darjeeling Express is run by an all-women team and features home-style food cooked with passion. The restaurant champions females as a portion of the profits from the restaurant go to the
Second Daughter's Fund
. You can read more about this charity and donate at the link provided.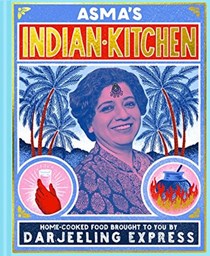 Asma's debut cookbook,
Asma's Indian Kitchen: Home-Cooked Food Brought to You by Darjeeling Express
pays homage to the author's royal Mughlai ancestry and the busy streets of Kolkata, where she grew up. Winner of a World Gourmand award in the Indian Food Category UK, this title has made many best book lists in 2018. The author's bio is impressive. After completing her law degree she went on to earn a PhD in British Constitutional Law at Kings College London. Cooking was always her passion which spurred Asma to register for a food business. As mentioned above, Asma is a staunch advocate for social change and will be the first British Chef to star in Netflix's award-winning series
Chef's Table
.
Asma's Indian Kitchen
was published in the US in February of this year by Interlink Books (and in the UK by Pavilion in October 2018). It is beautifully photographed with chapters organized as follows heavily focusing on feasts: Feasts for Two, Family Feasts, Feasting with Friends, and Celebratory Feasts. The book ends with menu suggestions to guide the reader in preparing an Indian spread. The dishes here are approachable with ingredients available at most major markets. There are recipes that I haven't come across myself before in an Indian cookery book. Those dishes include
Chicken chaap
(a unique dish from Bengal), Spicy roast beef, and Broccoli with nigella seeds and egg. We have a number of
Asma's recipes indexed from various publications
that you can try now, as well as three from this particular book:
Asma is a force of nature and while I have never met her and likely never will – I want to be her friend. Her drive and compassion inspire me. Many thanks to Pavilion and Interlink for supplying copies of this brilliant title in our giveaway below.
Pavilion is offering 1 copy of this book to EYB Members in the UK and Interlink is offering 2 copies to members in the US. One of the entry options is to answer the following question in the comments section of this blog post.
Which recipe in the index would you try first?
Please note that you must be logged into the Rafflecopter contest before posting or your entry won't be counted. For more information on this process, please see our step-by-step help post and this forum post. Once you log in and enter your member name you will be directed to the next entry option – the blog comment. After that, there are additional options that you can complete for more entries. Be sure to check your spam filters to receive our email notifications. Prizes can take up to 6 weeks to arrive from the publishers. If you are not already a Member, you can join at no cost. The contest ends at midnight on June 1st, 2019.