Madhur Jaffrey – Too Legit To Quit
April 5, 2019 by Darcie
Madhur Jaffrey reigns as royalty among authors of cookbooks devoted to Indian cuisine. Next month, she releases another tome destined to be an instant classic, Madhur Jaffrey's Essential Indian Instant Pot Cookbook. In addition to being a treasured source of cooking knowledge, Jaffrey can now post a new skill on her lengthy resume – being a rap artist.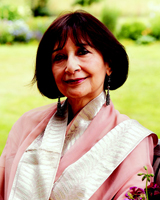 You may be saying to yourself "Wait, what?!" However, it is not a complete surprise as the 85-years-young Jaffrey is already known as an actress with an impressive portfolio, including playing the fiesty grandmother on NBC's 'I Feel Bad'. Now the cooking guru has kicked it up a notch with a fun rap video for a spicy song titled 'Nani'. If you just watched the video without knowing it was her, you likely would not recognize Jaffrey, who sports a bold look:
Without giving too much away, let's just say that the video is far from sedate. Jaffrey's Nani is fierce, sexy, and definitely not putting up with your crap. Be warned that there is adult language in the video, so if you are at work while listening, be sure to use your headphones.