Mother's Day recipes that take the cake
May 10, 2019 by Darcie
My mother lives several hundred miles away, which means I do not get to see her very often. When Mother's Day rolls around, this distance also means she gets plants or something that can be shipped, not a homemade treat. I enjoy baking for special occasions, whether for a birthday, holiday, or other event, so it makes me a bit sad that I don't often get to make a cake, pie or tart for – or better yet, with – my mom, who is a great baker.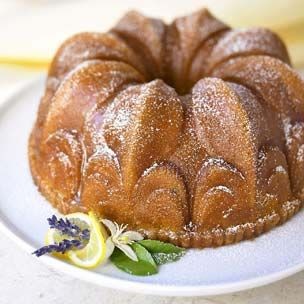 The other day I got a surprise that made up for missing these baking adventures. The neighbor's two young kids came bounding across the yard. With a conspiratorial grin, the youngest (age 4) said that he had a great idea: I could help him and his sister bake their mom a cake for Mother's Day. Who could resist such an adorable command? His sister (age 10) quickly made sure to let me know that it was a request and not a demand, although by that time I was already gathering the ingredients.
They both helped me measure the ingredients (they were fascinated with using the scale), crack the eggs (into a separate bowl due to the inevitable pieces of shell that I had to dig out), and operate the mixer. Then they helped me candy a few violets for decoration, although after about four flowers were done they became bored and went back outside to play while the cake baked and cooled (and I finished making the floral decorations).
Seeing their beaming faces as they proudly carried the cake to their mom made me feel better about not being able to bake for my own family. The next time I make the long drive to see my mom I will take a cake with me, even though there is no way I will be as happy as those two kids carrying their prize across the lawn.
Maybe now you feel like baking a cake for your mom, or for someone else you love. If so, here are a few great recipes to get you started: