The Backyard Fire – EYBD Promotion
May 14, 2019 by Jenny
Now with
EYBDigital
, if you buy a print book within the promotional period, for the first time you will have access to the full EYBD cookbook wherever you can access EYB – on vacation, at work, in the grocery store, etc. In addition to the digital book, all the features of EYB will be included in the access, at no cost to the book purchaser. For more information see our
EYBD Page
.
• Recipe search
• Bookmarks
• Recipe ratings and reviews
• Photo upload (personal photos of dishes cooked)
• Shopping lists
We are pleased to share a promotion for our next EYBD Book,
The Backyard Fire Cookbook: Get Outside and Master Ember Roasting, Charcoal Grilling, Cast-Iron Cooking, and Live-Fire Feasting
by Linda Ly, the author of
several cookbooks
and voice behind the
Garden Betty
blog.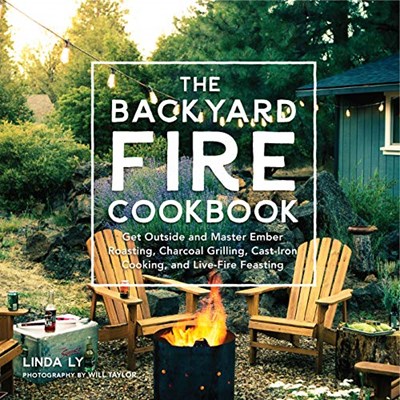 Whether an outdoor enthusiast or not, most of us can agree that we love a cook out. When my husband says those magic words "I can grill something", I'm elated. Grilling means less mess in the kitchen and less work for me, not to mention our family loves barbecue everything! Linda Ly encourages us to take back the great outdoors and approach our backyard as another kitchen. She starts off with instructions for creating an outdoor pantry, building an outdoor fire pit, and provides details on how to make the most of cooking outdoors. What follows are tips for success and over 80 recipes that range from ember-roasted salads, caveman steaks, cornbread, stews and soups to plank grilling. Who wants to heat up the kitchen on a sorching day when we can relax in the shade and let our grill or fire pit do the work? Not me. Our
takes you inside this title and features the following
If you order this title before our promotional period ends, register
here
(be sure you have a photo of your receipt or screenshot from your online order ready to upload). Once your purchase has been verified, this button
will appear on the book on your Bookshelf next to the title and will take you to the digital access for this book. Below are screenshots showing how these features will appear.
Special thanks to the publisher, for working with us to bring this exclusive incentive to our members as well as for providing three copies of The Backyard Fire Cookbook in our giveaway below.
The publisher is offering 3 copies of this book to EYB Members in the US and Canada. One of the entry options is to answer the following question in the comments section of this blog post.
Which recipe in the index would you try first?
Please note that you must be logged into the Rafflecopter contest before posting or your entry won't be counted. For more information on this process, please see our step-by-step help post. Be sure to check your spam filters to receive our email notifications. Prizes can take up to 6 weeks to arrive from the publishers. If you are not already a Member, you can join at no cost. The contest ends at midnight on July 21st, 2019.