Don't let pronunciation stop you
June 12, 2019 by Darcie
Have you ever been too intimidated by the name of a food to make it? I must confess that I've held back from making certain items to share with others because I did not want to attempt pronouncing the name when someone asked what it was. In my case most of these items are French pastries like millefeuille. Therefore I was happy to receive email from Australian Gourmet Traveller Magazine about the pastry that included an instruction on how to pronounce millefeuille in the subject line.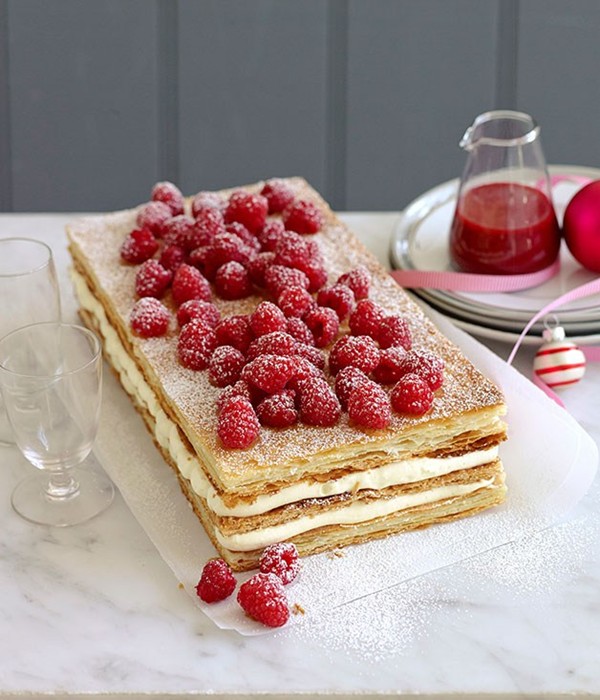 The magazine says that it is pronounced 'meel-foy'. I'm sure there are native French speakers who will cringe at that, but if it allows me to make the multi-layered dessert and share it with others without feeling self-conscious about the name, I am all in. Layers of puff pastry sandwiched around pastry cream and topped with fresh fruit sounds dreamy to me.
Some people try to get around the pronunciation issue by referring to this pastry as a Napoleon, although they are not one and the same. Napoleons generally have almond paste between the layers while millefeuille uses pastry cream instead. Then there are those who dispense with tradition altogether, as in this Grilled pistachio and chocolate millefeuille by Neil Perry that swaps tempered chocolate squares for the puff pastry.
You can't go wrong with the more traditional versions of this classic dessert. The EYB Library offers dozens of options, including these Member favorites: