Beat the heat with refreshing cold soups
June 28, 2019 by Darcie
Much of Europe is currently baking in extreme heat conditions, and parts of the US are pretty steamy as well. When the temperature and humidity spike, cooking can become a dreaded chore. I know that my south-facing kitchen, with its large window, becomes unbearable once it hits the mid-80s. That's when I turn to refreshing cold soups that serve to cool the palate and keep the kitchen from becoming a sauna.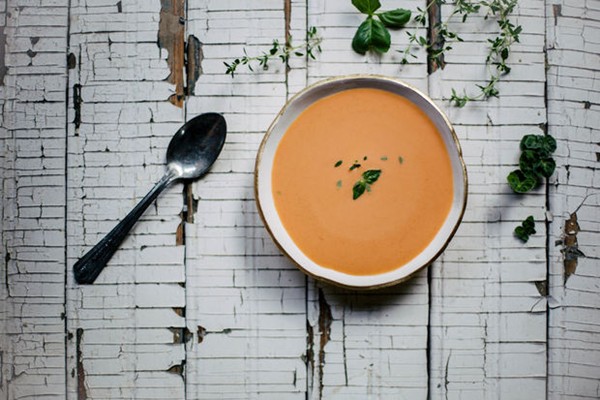 Gazpacho is the reigning king of cold soups in our household, but there's a world of options beyond this zingy tomato-based soup. Food52 brings us seventeen different cold soups, charmingly arranged by color. With options like Justin Burdett's chilled English pea soup with garlic cream & pickled ramps and Chilled tomato peach soup (pictured above), you are sure to find a winning option for lunch or dinner. My current favorite chilled soup is the Cantaloupe gazpacho with crispy prosciutto from Serious Eats (I often omit the prosciutto which makes it vegan).
The EYB Library adds hundreds more options to the table. Search for cold soup or chilled soup to find great recipes like these:
Seen anything interesting?
Let us know
& we'll share it!