Gloriously Gluten Free – EYBD Promotion
June 4, 2019 by Jenny
EYBD Title:
Gloriously Gluten Free: Sweet Treats, Cakes, Tarts and Desserts
Author
: Frederique Jules
About the author
: Frederique Jules is one of the three chefs behind Noglu, a bakery with locations in France and New York. The team develops recipes for their clientele who seek guaranteed gluten-free food that is also delicious. Her first book was co-authored with her partners
Good Without Gluten
(which I just ordered).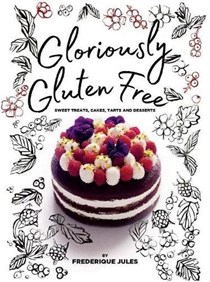 Our
takes you inside this gorgeous title and features the following
What's to love:
80 recipes for decadent cakes and pastries, all gluten-free with stunning photography.

Frederique is a well respected pastry chef with shops in Paris and New York City and makes gluten-free desserts even more tempting than their gluten counterparts.
Measurements are in weight and volume, temperatures in both Farenheit and Celcius.
Instructions are concise and not complicated. The novice will appreciate this book that delivers high-end results as well as the experienced baker looking to make gluten-free recipes.
What is EYBD: With EYBDigital, if you buy this title before December 31, 2019 you will have access to the full EYBD cookbook wherever you can access EYB after registering. To register visit this title's Registration Page (be sure you have a photo of your receipt or screenshot from your online order ready to upload). Once your purchase has been verified, this button
will appear on the book on your Bookshelf next to the title and will take you to the digital access for this gorgeous book. For more information see our EYBD Page. How the EYBDigital features appear:
Special thanks to the publisher for providing the materials for our preview above and for offering three copies of this book to EYB Members in the US/UK/CA/AU. One of the entry options is to answer the following question in the comments section of this blog post. Which recipe in the index would you try first? Please note that you must be logged into the Rafflecopter contest before posting or your entry won't be counted. For more information on this process, please see our step-by-step help post. Be sure to check your spam filters to receive our email notifications. Prizes can take up to 6 weeks to arrive from the publishers. If you are not already a Member, you can join at no cost. The contest ends at midnight on July 22nd, 2019.