Buttermilk & Bourbon
July 18, 2019 by Jenny
Title:
Buttermilk & Bourbon: New Orleans Recipes with a Modern Flair
Author:
Jason Santos
About the author
: Santos fell in love with cooking in a very relatable way: experimenting in his grandmother's kitchen and watching Julia Child on television. After culinary school, stints at hot spots and a run on
Hell's Kitchen
, the chef now owns three restaurants in Boston. For more information, see our
bio page
.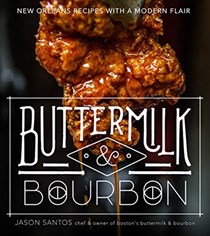 Our
takes you inside this title and features the following
What's to love
:
Santos brings New Orleans to the dishes he serves up in one of his Boston eateries, Buttermilk & Bourbon.
Any cookbook with fried chicken on the cover, had me at hello. But putting the fried chicken aside, I love a restaurant cookbook that mixes a comfort food with refinement.
Recipes run the spectrum from Baby spinach salad, Fresh fried beignets, Honey and hoisin-glazed duck confit, Chicken and waffle tacos to Flamin' hot Cheeto mac and cheese.
Striking photographs are shared throughout.
The publisher is offering 3 copies of this book to EYB Members in the US. One of the entry options is to answer the following question in the comments section of this blog post.
Which recipe in the index would you try first?
Please note that you must be logged into the Rafflecopter contest before posting or your entry won't be counted. For more information on this process, please see our step-by-step help post and this forum post. Once you log in and enter your member name you will be directed to the next entry option – the blog comment. After that, there are additional options that you can complete for more entries. Be sure to check your spam filters to receive our email notifications. Prizes can take up to 6 weeks to arrive from the publishers. If you are not already a Member, you can join at no cost. The contest ends at midnight on September 3rd, 2019. a Rafflecopter giveaway