Saffron in the Souks
July 2, 2019 by Jenny
Title: Saffron in the Souks: Vibrant Recipes from the Heart of Lebanon
Author: John Gregory-Smith
About the author: John is a master of spice and has written a number of books that capture the beauty of specific regions. His next title Fire & Spice will be released this October which shares recipes from two of his titles Mighty Spice and Mighty Spice Express.
What's to love:
As with all of the author's books, it is beautifully filled with dishes that inspire cooks to experience new cuisines
Stunning photography of the landscape, people and recipes are
plentiful
Recipes are approachable with ingredients that can be found in most major markets, ethnic groceries or online
The shawarma recipe below will fulfill every street cart craving one may have (I miss the streets of New York City where this dish could be a cheap and tasty lunch)
Add this recipe to your Bookshelf (click the blue +Bookshelf
button).

I am a man who likes routine and on arrival to Beirut I have a very set agenda: head to my rented apartment in Mar Mikhaël-I always choose one in this neighborhood, it's so fun-and then walk down the road to Makhlouf, a tiny kebab shop in the Armenian neighborhood, Bourj Hammoud, for the best chicken shawarma in the world. The meat, which is one of those slightly mad-looking bulbous things spinning in the shop front, is so well spiced and juicy. It's wrapped up with masses of garlic sauce, chili, salad, and pickles. But the best bit is the fries. I mean, fries in a wrap. Double carbs. So wrong it's right. They are kept warm in a tray under the chicken, soaking up all the meaty juices and adding the most amazing flavor to the shawarma. For my version, I roast the fries together with the chicken and then get wrapping. If you can't find Lebanese garlic sauce, just mix a little mashed garlic with mayonnaise.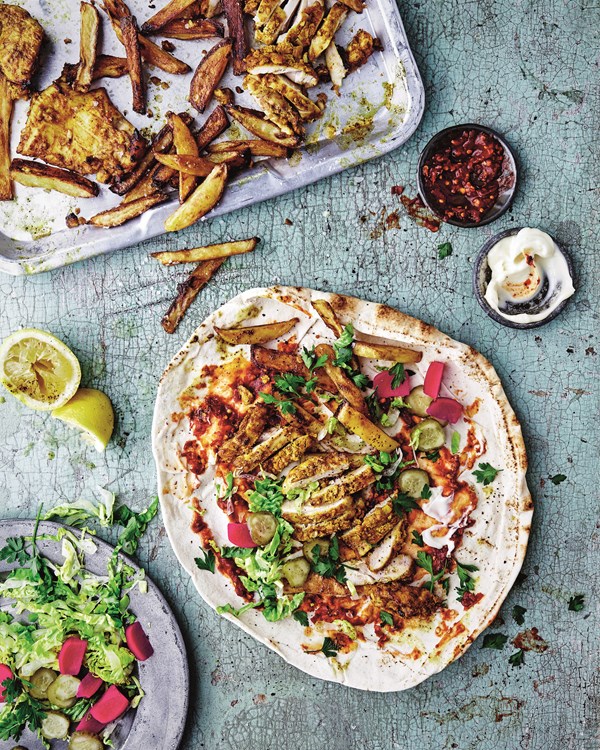 Serves 4
For the marinade
1 teaspoon ground cumin
½ teaspoon ground cilantro
½ teaspoon Lebanese 7 spice or baharat
½ teaspoon paprika
¼ teaspoon turmeric
1½ teaspoons cider vinegar
1 tablespoon olive oil
4 garlic cloves, crushed
¼ cup Greek yogurt
sea salt and freshly ground 
black pepper
For the kebab
18 ounces skinless boneless chicken thigh fillets
10½ ounces potatoes, peeled 
and cut into fries
1 tablespoon olive oil
juice of ½ lemon
sea salt
To serve
Lebanese garlic sauce
4 large flatbreads
2 Little Gem lettuce, shredded
2 large handfuls of parsley leaves
sliced gherkins and pickled turnips
chili sauce
1. Mix all the ingredients for the marinade together in a large mixing bowl, along with a good pinch of salt and pepper. Add the chicken and mix well. Cover and refrigerate overnight.
2. The following day, when you are ready to cook, preheat the oven to 425°F. Put the potatoes into a mixing bowl. Cover with cold water and soak for 5 minutes. Drain and pat dry with paper towels. Transfer to a roasting pan. Drizzle over the olive oil and season with salt. Mix well and roast for 12 minutes so that the fries start to soften.
3. Remove the chicken from the refrigerator and lay the fillets on a grilling rack. Remove the fries from the oven and turn. Place the grilling rack with the chicken over the fries and return both to the oven. Cook for 18-20 minutes or until the chicken is cooked through and beautifully tender. Slice the chicken into thin strips and squeeze over the lemon. Toss together.
4. To serve, spread loads of the garlic sauce over the flatbreads. Top with the lettuce, parsley, gherkins, chicken, and those incredibly soggy fries. Drizzle over chili sauce to taste, roll up and devour.
The publisher is offering 3 copies of this book to EYB Members in the US and EYB is offering one copy worldwide. One of the entry options is to answer the following question in the comments section of this blog post.
Which recipe in the index would you try first?
Please note that you must be logged into the Rafflecopter contest before posting or your entry won't be counted. For more information on this process, please see our step-by-step help post and this forum post. Once you log in and enter your member name you will be directed to the next entry option – the blog comment. After that, there are additional options that you can complete for more entries. Be sure to check your spam filters to receive our email notifications. Prizes can take up to 6 weeks to arrive from the publishers. If you are not already a Member, you can join at no cost. The contest ends at midnight on September 4th, 2019.
Recipe excerpt used with permission of Kyle Books from Saffron in the Souks, 2019. Food photography credit: Nassima Rothacker