Dappled by Nicole Rucker
July 3, 2019 by Jenny
Title:
Dappled: Baking Recipes for Fruit Lovers
Author:
Nicole Rucker
About the author:
Nicole Rucker is a chef from Los Angeles. Formerly the pastry chef of the Gjelina Group (including G.T.A. and Gjusta), Rucker is known internationally for her rustic desserts and has won several awards for her homespun pies. In 2012, she won blue ribbons in the National Pie Championship, KCRW Good Food Pie contest and a Star Chef award for baking. She is currently chef and co-owner of Fiona and Cofax Coffee.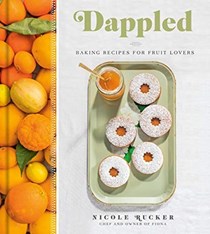 What's to love
:
From the opening pages detailing how to choose fruit to the ending recipes for pastry creams and glazes everything about this book reaches out to the baker in me.
Measurements are given in weight and volume.
The Fermented banana cake, Sweet corn pudding with blackberries and Isabel's lemon birthday cake – are standouts in a book filled with standout recipes.
The first recipe I made was the Sour lemon cakes (pictured below). They were so easy to put together and extremely impressive.
Summer pudding and The lime pie that saved us are linked online for you to try now.
This book will definitely make my best books of 2019 (best books of 2019, part 1 covered January – June releases)
The publisher is offering three copies of this book to EYB Members in the US and Canada. One of the entry options is to answer the following question in the comments section of this blog post.
Which recipe in the index would you try first?
Please note that you must be logged into the Rafflecopter contest before posting or your entry won't be counted. For more information on this process, please see our step-by-step help post and this forum post. Once you log in and enter your member name you will be directed to the next entry option – the blog comment. After that, there are additional options that you can complete for more entries.
Be sure to check your spam filters to receive our email notifications. Prizes can take up to 6 weeks to arrive from the publishers. If you are not already a Member,
you can join at no cost
. The contest ends at midnight on
September 4th, 2019.
a Rafflecopter giveaway
Seen anything interesting?
Let us know
& we'll share it!