Uses for leftover hot dog buns
July 4, 2019 by Darcie
I firmly believe there is a conspiracy afoot between hot dog makers and hot dog bun manufacturers. How else can you explain that hot dogs generally come in packages of 10 but the buns are sold in 8-packs? This means you have to buy an extra package of buns to make sure there is a bun for every dog, which leads to one outcome: leftover buns.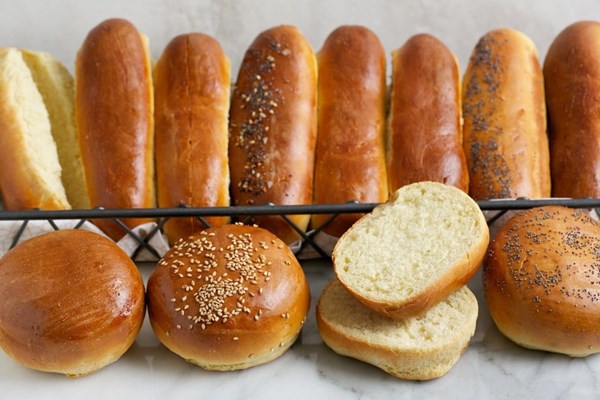 It's likely that millions of us in the United States will face this situation during the next few days, as our 4th of July holiday is the leading hot dog consumption day. The National Hot Dog and Sausage Council estimates that 155 million hot dogs will be consumed on July 4th, with hundreds of millions more throughout the summer. Per capita consumption of hot dogs in the US tops 60 dogs per person each year!
Due to the uneven hot dog/bun packaging ratio we will end up with a lot of extra buns, which brings us the dilemma of what to do with them. Indexed magazine Food and Wine has our answer – they have come up with 10 great ways to use up leftover hot dog buns.
The first item on their list is to make homemade croutons. What could be easier than dicing up the buns, tossing with oil, herbs, or spices, and baking for a few minutes? They will keep for several days in a sealed container. In a similar vein, you can use the buns to make garlic bread sticks. They are even easier as you don't have to dice them; just slather with butter and/or oil, garlic, and bake.
One more unusual way to use up the leftovers is to make a breakfast bake with them. You can use them in place of bread for an easy breakfast casserole. The article links to a few recipes, including one that can be made in an Instant Pot so you don't have to heat up your kitchen by using the oven. And while I'm not certain that I would employ leftover buns in tiramisu, Food and Wine says that you can.
Another way out of the bun/dog mismatch is to make homemade buns, like the Cookout burger and hot dog buns by Cathy Barrow pictured above. You can scale the recipe to make the right number of buns for your hot dogs.
Seen anything interesting?
Let us know
& we'll share it!