Mealthy MultiPot and This Old Gal's Pressure Cooker Cookbook
July 6, 2019 by Jenny
There is a new multipot on the scene and so far, I am impressed. The 
Mealthy MultiPot 9-in-1 Programmable Pressure Cooker
 is a 6 quart workhorse with a stainless steel pot, steamer basket that pressure cooks, slow cooks, sautés, cooks rice, makes yogurt and steams – all combined with instant access to the Mealthy recipe app. For more details, see the
Mealthy website
.
Not only does this Multipot cover all of the above functions, but Mealthy's newest and most innovative product,
the CrispLid
, converts any electric pressure cooker into an air fryer. Broil, crisp, and air fry directly in the steel pot of your electric pressure cooker and it is compatible with both 6 and 8 quart electric pressure cookers.
Prime Day 
is just around the corner and Mealthy will be giving away one of these CrispLids here at Eat Your Books. See Mealthy's
website for more details
.
Today, we have a combined promotion. Mealthy is providing one winner in the US or Canada, a chance to win a 
Mealthy MultiPot 9-in-1 Programmable Pressure Cooker
 and a copy of 
This Old Gal's Pressure Cooker Cookbook: 120 Easy and Delicious Recipes for Your Instant Pot and Pressure Cooker
 (on 
sale for 2.99 Kindle
) by Jill Selkowitz.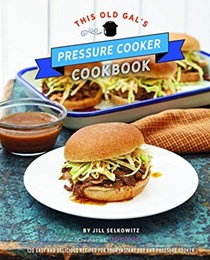 This Old Gal's Pressure Cooker Cookbook
 contains recipes and tips to cover every meal. I picked up a
Kindle copy for 2.99
as the review copy hasn't made it to me yet and I am pleased. As I have said before, I am a huge fan of international dishes and this title includes recipes that cover cuisines such as Chinese, Indian, and Vietnamese. Her tested tips for creative pressure cooking are shared and Jill shares her recipes for spice blends and sauces before delivering 120 other dishes! I tested the Mealthy Multipot's rice function and pressure cooker setting this week and am very happy with the results. I could tell no difference in the quality of the pot itself or food prepared in that of other big name multicookers. In fact, I may have a new favorite appliance. Yesterday, I experimented with the CrispLid (remember this lid can be used on any 6 or 8 quart multicooker) and made boneless fried chicken thighs. You can judge for yourself my results:
Granted the photo above represents the most perfect piece and sometimes with an air fryer you lose some of that crispy crust but for the health benefits and lack of an oily mess this chicken was a winner. I do recommend buying these 
air fryer liners 
to help make cleanup of the metal liner easier.
Special thanks to Mealthy for sending me their Multipot and CrispLid to review as well as for providing the product and cookbook in the giveaway below. Come back soon for a giveaway of the CrispLid.
Mealthy is offering one EYB member in the US or Canada a Mealthy multipot and a copy of This Old Gal's Pressure Cooker Cookbook. One of the entry options is to answer the following question in the comments section of this blog post
What is your favorite dish to make in a pressure cooker?
Please note that you must be logged into the Rafflecopter contest before posting or your entry won't be counted. For more information on this process, please see our step-by-step help post and this forum post. Once you log in and enter your member name you will be directed to the next entry option – the blog comment. After that, there are additional options that you can complete for more entries.
Be sure to check your spam filters to receive our email notifications. Prizes can take up to 6 weeks to arrive from the publishers. If you are not already a Member,
you can join at no cost
. The contest ends at midnight on
September 5th, 2019.
a Rafflecopter giveaway
Seen anything interesting?
Let us know
& we'll share it!