Food news antipasto
July 7, 2019 by Darcie
Alton Brown's new show Good Eats: The Return debuts in August, and earlier this week Brown gave his fans topics that will be covered in the first season. Via social media, he said that we could expect to see the following this fall: "steak tartare, latkes, chicken parm, ancient grains, Oyster Poor Boy, Immersion Circulator cooking (sous vide), Shakshuka, Sauces part 2, Sourdough, Icebox cakes, Dates, low ABV cocktails for the holidays, and a one hour turkey special."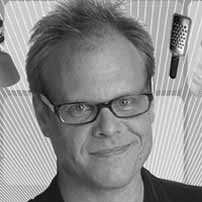 The Nashville-style hot chicken sandwich craze has spawned a hot fish sandwich trend that adds a kick to the classic fried fish on a bun. Bolton's Spicy Chicken & Fish in Nashville, Tenn., serves four versions of the sandwich made with various types of fish, while Strfsh in Santa Monica, Calif., serves its own take made with beer-battered cod dressed up with hot spice, lettuce and tartar sauce.
The Washington Post is highlighting a wave of immigrant cookbooks that celebrate diversity in the United States and England. Several of the books are ones we have highlighted here at EYB, including Heirloom Kitchen, We Are La Cocina, and Together: Our Community Cookbook, which features 50 recipes by women who cooked in the aftermath of the devastating Grenfell Tower fire in London in 2017. These cookbooks "are welcome reminders, during a time of anti-immigrant rhetoric and government policies, of the rich cultural and culinary variety immigrants bring."
What's the latest craze in chef fashion? Custom sneakers. A handful of chefs have collaborated with shoe designers to create custom kicks. One of these chefs is Dominique Ansel, who partnered with Koio to create shoes that feature shiny, golden croissant clasps on the laces. For $348 USD, one would hope to get a dozen cronuts too, but sadly that is not the case.
Seen anything interesting?
Let us know
& we'll share it!