Steak and Cake – Elizabeth Karmel & Carthage. Co Stoneware Cake Pan
August 5, 2019 by Jenny
Title:
Steak and Cake: More Than 100 Recipes for the Best Meal Ever
Author:
Elizabeth Karmel, a.k.a. Grill Girl is a cookbook author, restaurant owner and has a resume that would consume this post. To find out more about Elizabeth and her cookbooks, see our
bio page
.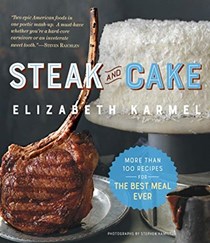 This book is the best of both worlds where meat meets sweets with over 100 plus recipes that takes the guess work out of dinner and dessert! I have made 
Anthony's grandmother's "earthquake cake"
 (don't judge this cake from my photo – it was stellar and disappeared!) and the steak recipe that we are sharing below. This version is basically what I have been doing for many years but Elizabeth perfects the technique. My husband and son are devout steak-addicts and we never say no to cake so this book is one that will be sought out repeatedly in my kitchen. The
Tex-Mex Chocolate Sheet Cake
I made this week and it was one of the best Texas sheet cakes I've tried.
Thanks to Workman Publishing for sharing the following recipes with our members and providing copies of this gorgeous book in our giveaway below which includes a grand prize of a
Carthage. Co Stoneware Cake Pan
 (see more after the recipes).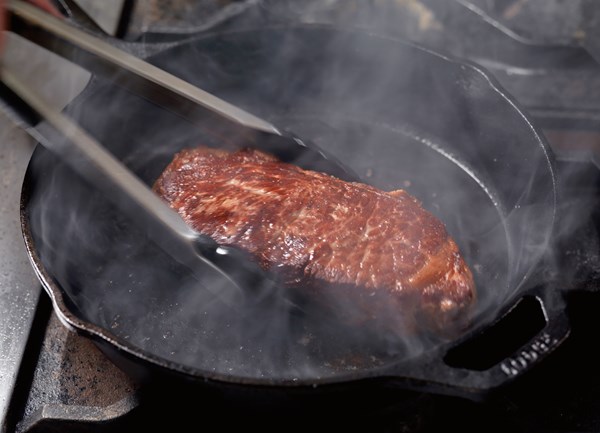 Red-Hot Cast-Iron Steak with Perfect Crust Add this recipe to your Bookshelf (click the blue +Bookshelf button).
The Steak If you make this steak according to my directions, I can guarantee you two things: Your kitchen will get very smoky, and your steak will be very crusty-in all the right ways! This stovetop method is like an extreme culinary sport since the pan is preheated over high heat for about 5 minutes before the steak is cooked. When the smoke clears, you are left with a gorgeous caramelized crust that covers the steak from end to end. For that reason, I prefer a
flat-bottomed cast-iron
or
carbon steel skillet
instead of one with raised "grill" ridges. Note: This technique is best suited to a boneless steak served rare. Serves 1 or 2
1 boneless New York strip or ribeye steak (16 to 20 ounces and 1 to 2 inches thick)
Coarse kosher salt or Maldon sea salt Freshly ground black pepper (optional)
Pan:
10 1/2-inch cast-iron
or
carbon steel skillet
Method: Stovetop
Preheat the oven to 325°F (optional; see Note).
Wrap the steak in paper towels to rid it of excess moisture. Replace the paper towels as needed.
Meanwhile, place a dry cast-iron skillet on the stove and preheat over high heat until a drop of water sprinkled on the surface "dances" and evaporates instantly.
Just before cooking, scatter the salt lightly but evenly over the pan. Place the steak at the top edge of the pan. Let the steak cook and sizzle for 1 minute, then, using tongs, flip it so the raw side of the steak is at the bottom edge of the pan. This placement is important because the cooking process cools down the temperature of the cast iron and you want each side of the meat to be exposed to the same hot surface.
Press down gently to ensure even contact between the steak and the pan. Let the steak cook and sizzle until there is a nice even crust, 1 minute more. Using tongs, hold the steak vertically and brown the fat on the edges. This also allows the pan to heat up again.
Repeat cooking the first side of the steak at the top edge of the pan for another minute. Flip the steak and place the second side at the bottom edge of the pan for 1 minute more. Repeat browning the edges if necessary, about 30 seconds on each edge.
At this point, the steak should look done and have a deep-brown caramelized crust on each side. Check for doneness: The meat should feel tight and slightly springy, not raw and mushy, to the touch. If using an instant-read thermometer, insert it horizontally (through the thickness) into the center. Rare is 125°F, and that is the temperature that I prefer. Medium-rare is 135°F. If you want your steak cooked more in the center, once it has the crust on it slip the cast-iron pan into the preheated oven (see Note on page 10).
Remove the steak to a wire cooling rack set on a sheet pan and let rest for 10 minutes. You can tent it lightly with aluminum foil but not so tightly that the steak will begin to steam. Slice and serve with freshly ground pepper if desired-you shouldn't need to add any salt.
Note: I have found that if you put the steak in the preheated oven when it reaches 100°F on an instant-read thermometer, it will reach about 130°F after 15 minutes. Once you take the steak out and let it rest, it will continue cooking, ending at 135°F. This is not a rule, but rather a guideline based on my experience.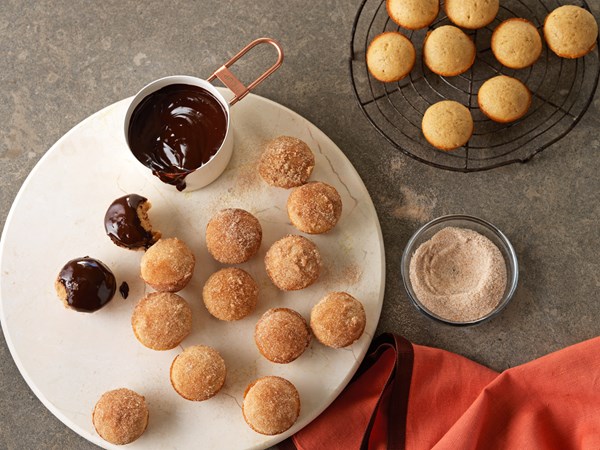 Baked Cinnamon-Sugar Doughnut Puffs with Dark Chocolate Bourbon Dipping Sauce Add this recipe to your Bookshelf (click the blue +Bookshelf button).
The Cake When I lived on the Upper East Side of New York, I frequented a fantastic bakery called Yura. As a cook myself, I loved the setup as much as the pastries. It was an open commissary kitchen for several restaurants with a walk-up counter for ordering. As you waited in line, you could watch the bakers make cakes and pies and all manner of homespun baked goods. Among the array of deliciousness displayed on the counter, there was one very small item that looked like a mini muffin coated in cinnamon and sugar. The texture of the crumb inside was less dense and more like a cake than a muffin, and it had the telltale cinnamon flavor and a pop of nutmeg as well. It was called a "puff," or at least that is what my friends and I called it. A puff with a double-shot cappuccino was morning heaven! Once you try these baked doughnut puffs, I guarantee that they will replace your fried doughnut craving with a new one! They are so good that I often make them for dessert with a dark chocolate dipping sauce, because even doughnuts are better with a little chocolate! Makes about 33 minis For the Puffs Baking spray, for preparing the pan
2 cups all-purpose flour
1 1/2 cups granulated white sugar
2 teaspoons baking powder
1 generous teaspoon ground cinnamon
1 scant teaspoon freshly grated or ground nutmeg
Pinch of ground cardamom
1/2 teaspoon fine sea salt
2 large eggs, lightly beaten
1 cup whole milk
3 tablespoons unsalted butter, melted
2 teaspoons pure vanilla extract
For the Topping
1/2 cup granulated white sugar
1 teaspoon ground cinnamon
1/8 teaspoon fine sea salt
8 tablespoons (1 stick) unsalted butter, melted
Dark Chocolate Bourbon Dipping Sauce
(optional; recipe follows) Pan:
Mini cupcake tin
(If you use a standard mini cupcake tin, the yield will be about 33 puffs. If you use an extra-mini cupcake tin, as we did at the photo shoot, the yield will be about twice as many and the baking time will be reduced to about 12 minutes.)
Position a rack in the center of the oven and preheat the oven to 350°F. Spray the pan with baking spray.
Make the puffs: Whisk the flour, 1 1/2 cups sugar, baking powder, 1 teaspoon cinnamon, nutmeg, pinch of cardamom, and 1/2 teaspoon salt together in a large bowl. In a second bowl, whisk together the eggs, milk, 3 tablespoons butter, and vanilla. Add the egg mixture to the flour mixture a little at a time, stirring well after each addition.
Transfer the batter (which is fairly thin) to a liquid measuring cup and pour it into the cupcake cups, filling them about three-quarters full.
Bake until the tops of the puffs look dry and a little nubby and a toothpick inserted in the center of a puff comes out clean, 16 to 18 minutes.
Meanwhile, make the topping: Mix the 1/2 cup sugar, 1 teaspoon cinnamon, and 1/8 teaspoon salt together in a shallow bowl.
Let the puffs cool on a wire cooling rack for 2 to 3 minutes, then remove them from the tin and let cool on the rack for 1 minute more.
While the puffs are still warm, dip the tops in the 8 tablespoons melted butter and swirl them all over in the cinnamon-sugar mixture. Place the puffs back on the wire rack to cool completely. Eat when cool, with or without the chocolate dipping sauce, and place any leftovers in an airtight container. They will keep for 3 days.
Dark Chocolate Bourbon Dipping Sauce
Add this recipe to your Bookshelf (click the blue +Bookshelf button).
The bourbon is optional, but I think it makes a big difference. It doesn't taste boozy; it just deepens the flavor and marries the doughnuts and the chocolate. You can make the chocolate sauce up to 2 days in advance. Gently warm just before serving. Makes about 2/3 cup dipping sauce
1/3 cup heavy (whipping) cream
6 ounces bittersweet or semisweet chocolate (chips or block chocolate, chopped)
1 tablespoon bourbon (optional)
1/2 teaspoon pure vanilla extract
1 to 2 tablespoons granulated white sugar (optional)
Place the cream in a small saucepan and heat over medium-low heat to almost boiling. Remove the pan from the heat and add the chocolate. Stir until it's melted and well combined. Add the bourbon, if using, and vanilla, while stirring continuously. Taste, and if you like it a little sweeter, add the sugar; otherwise leave it as is. The puffs are covered in cinnamon sugar, so I like the chocolate sauce without any added sweetening.
Carthage. Co Stoneware
 brings handcrafted Tunisian ceramics with a rich history in the making to our table. When I was contacted by the company, I had an incredibly difficult time trying to pick out which item I would like to review and share with our members and I settled on the above-pictured pale jade 
cake pan
. Their ceramics are ethnically sourced while they empower Tunisian artisans and create jobs in the U.S. Not only is this company doing great work, but their products are stunning and reasonably priced.
I received the 
cake pan
 today and had to put it to work. The stoneware is of high-quality and looks amazing when you present your baked goods to your guests. My 15 year old boy attacked the cake in my photo to the left – he leaves no cake behind. Carthage. Co is generously offering one of these pans to a grand prize winner in our giveaway below. It's a beauty and will be a welcome addition to your kitchen bakeware.
The publisher is offering three copies of this book to EYB Members in the US and one grand prize winner will receive a Carthage. Co Stoneware Cake Pan. One of the entry options is to answer the following questions in the comments section of this blog post.
Which recipe in the index would you try first?
Which product at Carthage. Co would you like to own?
Please note that you must be logged into the Rafflecopter contest before posting or your entry won't be counted. For more information on this process, please see our step-by-step help post and this forum post. Once you log in and enter your member name you will be directed to the next entry option – the blog comment. After that, there are additional options that you can complete for more entries.
Be sure to check your spam filters to receive our email notifications. Prizes can take up to 6 weeks to arrive from the publishers. If you are not already a Member,
you can join at no cost
. The contest ends at midnight on
October 4th, 2019.
a Rafflecopter giveaway