New World Sourdough – Cookbook Giveaway
June 17, 2020 by Jenny
Enter our US/CA/UK/AU giveaway to win one of three copies of Bryan Ford's New World Sourdough: With Recipes for Creative Homemade Fermented Breads.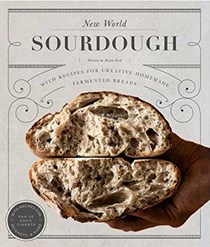 Bryan Ford is the voice behind the blog Artisan Bryan where he shares beautiful recipes in both English and Spanish. His blog won the 2019 Saveur Editors' Choice Award for Best Baking and Sweets.
In his debut cookbook, Bryan puts less emphasis on perfecting crumb structure or obsessive temperature monitoring but focuses on the tips and techniques he's developed in his own practice, inspired by his Honduran roots and New Orleans upbringing, to ensure your success and a good return on your time and effort. The book is more technique-driven with only 37 recipes but doesn't disappoint. I am all about a cookbook that digs deep into a subject instead of one that is filled with 800 recipes and no substance. Quality over quantity any day.
Ford's recipes include step-by-step instructions and photographs of all of the mixing, shaping, and baking techniques you'll need to know, with special attention paid to developing flavor as well as your own instincts. And the photographs of the finished products are stunning. Each recipe includes modifications for both instant yeast and a sourdough starter.
In addition, Ford includes a brief history of bread, with an emphasis on the often-overlooked grains, techniques, and traditions of Latin American baking. And, even if you don't think you're curious about Latin American bakers or baking, New World Sourdough offers practical accessible techniques, and enticing, creative recipes you'll want to return to again and again. The beignets are calling my name.
Our
takes you inside this beautiful book and features the following
Special thanks to Quarto Knows for offering three copies of this title in our giveaway open to US/CA/UK/AU. Entry options include answering the following question in the comments section of this blog post.
Which recipe in the index would you try first?
Please note that you must be logged into the Rafflecopter contest before posting or your entry won't be counted. For more information on this process, please see our step-by-step help post and this forum post. Once you log in and enter your member name you will be directed to the next entry option – the blog comment. After that, there are additional options that you can complete for more entries. Be sure to check your spam filters to receive our email notifications. Prizes can take up to 6 weeks to arrive from the publishers. If you are not already a Member, you can join at no cost. The contest ends at midnight on January 27th, 2021.
a Rafflecopter giveaway