Oaxaca & Smithey Cast Iron Griddle – Giveaway
June 23, 2020 by Jenny
Enter our US/CA giveaway to win one of three copies of Oaxaca: Home Cooking from the Heart of Mexico by Bricia Lopez and Javier Cabral with one grand prize winner in the US receiving a Smithey 12 inch griddle.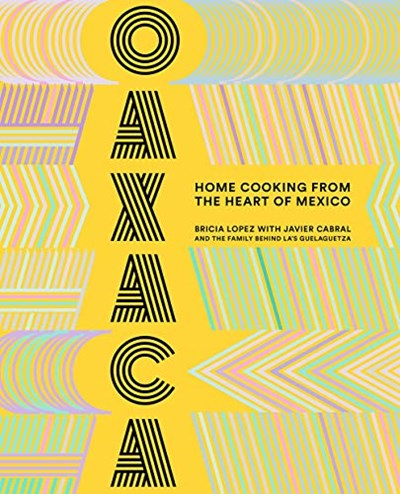 Oaxaca, located in southwestern Mexico, is the culinary heart of Mexico. Since opening its doors in 1994, Guelaguetza has been the center of life for the Oaxacan community in Los Angeles. Founded by the Lopez family, Guelaguetza has been offering traditional Oaxacan food for 25 years.
The first true introduction to Oaxacan cuisine by a native family, each dish articulates their story, from Oaxaca to the streets of Los Angeles and beyond. Showcasing the "soul food" of Mexico, Oaxaca, the cookbook written by Bricia Lopez and the family behind the famed restaurant with Javier Cabral, offers authentic, yet accessible recipes using some of the purest pre-Hispanic and indigenous ingredients available. From their signature pink horchata to the formula for the Lopez's award-winning mole negro, this beautiful cookbook demystifies this essential cuisine.
Filled with step-by-step photographs to guide the reader in folding tamales, making tortillas, and stunning final dish imagery that will inspire even the most novice cook, this book is a must-have for anyone who wishes to master this cuisine. Techniques are covered from preparing chiles to using a molcajete.
Abrams has provided the following recipe for our members to try now.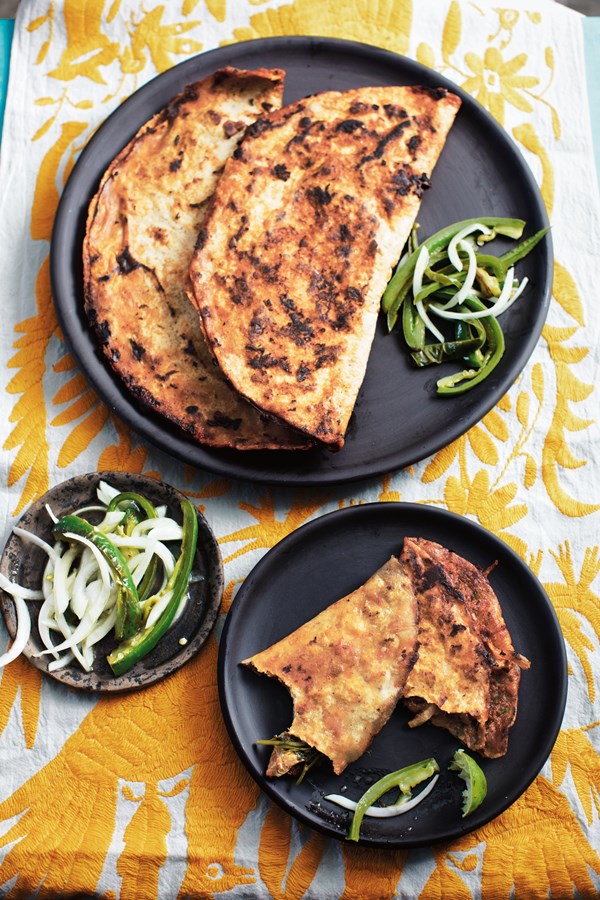 Griddled crispy empanadas stuffed with yellow mole and chicken (Empanadas de San Antonio)
Add this recipe to your Bookshelf (click the blue +Bookshelf button).
Makes 16 empanadas
Every time I visit Oaxaca, my sister demands that I bring her at least half a dozen of these special empanadas back from every trip. When we finally nailed the recipe at the restaurant and successfully re-created it, it was as if she had won the lottery, because that meant she can finally enjoy them at home. She really can't get enough. This empanada is completely different from any other because of its cooking process. The rich yellow mole is slowly cooked inside the tortilla over the comal, making it ooze out a bit and pierce through the masa to develop an attractive reddish color from the mole. It takes a bit longer for it to cook than the rest of the empanadas, because it needs to slowly crisp up on the comal. (I leave it on even longer, because I like it almost burnt.) They're great served at room temperature, too, so they are perfect for a picnic. I like to serve these empanadas with a few chiles toreados on the side to give them that much-needed acid punch. It's the perfect bite of Oaxacan flavors.
Ingredients:
For the mole amarillo filling:
• 2 pounds (910 g) guajillo chiles, stems and seeds removed
• 3 1⁄4 cups (350 g) roughly chopped onions
• 6 cloves garlic (45 g), peeled
• 1/2 teaspoon cumin seeds
• 10 whole cloves
• 10 black peppercorns
• 1/2-inch (2.5 cm) cinnamon stick, broken into pieces
• 1 1/2 tablespoons dried oregano
• 2 bay leaves
• 1/2 teaspoon dried thyme
• 1 pound (455 g) fresh masa (recipe below)
• 1/2 pound (227 g) lard, melted
• 2 teaspoons sea salt
• 1 pound (455 g) chicken breast, cooked and shredded
• 20 sprigs of fresh cilantro
For the empanadas:
• 2 1/4 pounds (1 kg) fresh masa (recipe below)
For the garnishes:
• Limes, quartered
• Pickled onions
• Chopped jalapeños
• Chopped serranos chiles
Directions:
Make the filling. In a 2-quart (2 L) saucepan over medium-high heat, bring 2 cups (480 ml) of water to a boil. Turn off the heat add the chiles. Cover and let sit in the hot water for 30 minutes or until the chiles have softened.
Meanwhile, in a large cast-iron skillet over medium heat, add the chopped onions and turn once or twice so the onions are cooked and lightly charred, about 12 minutes. Remove from the skillet and set aside.
Repeat with the garlic until the garlic is roasted and slightly charred as well. Remove and set aside.
Lastly, in batches, bring down the heat to low and toast the cumin seeds, cloves, peppercorns, cinnamon, oregano, bay leaves, and thyme in the skillet until aromatic, about 2 minutes. Transfer the toasted spices to a molcajete or spice grinder and grind until finely ground. Set aside.
When the chiles have softened, remove them from the soaking water and add them to a blender with 3 cups (720 ml) of water, along with the onions and garlic. Blend until smooth and set aside.
In batches, add half of the chile mixture with half of the masa to the blender and blend until smooth to make a slurry. Empty out the blender and do the same with the other half of the masa and the chile mixture.
Place the lard in a large skillet over medium heat. Once it is melted, add the masa-chile mixture and ground spices to the skillet. Stir well with a wooden spatula to combine. Season to taste, about 1 1/2 tablespoons of salt.
Make the empanadas: To assemble and cook the empanadas, make balls of masa that are about 3⁄4 cup (about 125 g) each. With a tortilla press, press down to make a round tortilla.
As each tortilla is pressed and ready, in a comal or nonstick griddle over medium heat, carefully place the tortilla on the grill and cook one side. Turn over after 1 minute. Add 1 to 2 tablespoons (30 ml) of yellow mole, a fat pinch of shredded chicken, and a sprig of cilantro.
Fold over like a quesadilla and cook on the edges of the comal where it's not as hot. The mole will cook inside the empanada and requires a longer cooking time on top of the comal than a traditional quesadilla. The tortilla will turn a reddish color after all of the filling's juices have expanded inside the masa. Continue until all the masa, chicken, and mole are gone.
Cook until the masa is fully cooked, about 15 minutes in total, about 5 minutes on each side. The outside crust should be crispy and the interior creamy.
Serve hot, with lime, pickled onions, chopped jalapeños, and serranos.
Masa
Add this recipe to your Bookshelf (click the blue +Bookshelf button).
Ingredients:
• 1⁄2 cup (56 g) pickling lime
• 4.4 pounds (2 kg) white field corn
Directions:
In the largest heavy-bottomed pot you have, dissolve the pickling lime in 5 1⁄4 quarts (5 L) water. Once all the powder has dissolved, add the corn. The corn should be completely submerged in water. If not, add more water so there is at least 2 inches (5 cm) of water above the corn.
Place the pot over low-medium heat and gently simmer for 1 hour.
When the nixtamal changes from white to yellow and the corn easily peels away from its skin, turn off the heat. Let sit for at least 16 hours or more.
The next morning, dump the pot into a colander on top of your sink and discard the water. Rinse until the water comes out clear. You'll know the corn is ready for masa when it is tender to the bite. It should be al dente like pasta.
If using a tabletop wet stone grinder, carefully add about 1⁄2 cup (120 ml) of water in batches to grind a pound (450 g) of cooked nixtamal. Smooth masa for tortillas takes about 40 minutes, and masa quebrajada for tamales and atole takes about half that time. Repeat until you've gone through all the masa. Make sure to follow the instructions and safety guidelines of your grinder.
Using your hands, work the masa until a dough forms. When all the dough has stuck together and a putty has formed, it is ready.
---
Every kitchen needs quality cast iron cookware and a griddle is not only the perfect tool for making breakfast but for dozens of other jobs as well including making tortillas, pizza, or bread. Earlier this year, I shared a promotion for a beautiful 14-inch double-handled skillet (which is still active due to the pandemic situation).
Smithey Ironware is made in the US with a glassy-smooth surface that is naturally non-stick and simple to clean but also very beautiful. Smithey sent a 12-inch skillet along with the griddle which doubles as a lid for me to test out. I have had the set for a few days and have used it several times.
Last weekend, I fried potatoes in the skillet while using the griddle as a lid as shown in the photo below. Then while looking for a spot to keep my tortillas warm, I found the perfect spot for that job – on top of the griddle lid. So while my potatoes were frying, my tortillas were kept toasty on top of the griddle. Later, I was able to put the pan with the griddle lid into a warm oven to hold until dinner was ready to be served. Space is always a premium when making a large meal and this set will be used a great deal in my kitchen. Plus clean up was a breeze!
Smithey is offering one of our members in the US one of their 12 inch griddles in our giveaway below.
Special thanks to Abrams Books for providing three copies of Oaxaca in our giveaway open to US/CA and to Smithey Ironworks who is offering one 12 inch griddle to one grand prize winner in the US. Entry options include answering the following question in the comments section of this blog post.
Which recipe in the index would you try first?
Which product at Smithey would you like to have in your kitchen?
Please note that you must be logged into the Rafflecopter contest before posting or your entry won't be counted. For more information on this process, please see our step-by-step help post and this forum post. Once you log in and enter your member name you will be directed to the next entry option – the blog comment. After that, there are additional options that you can complete for more entries. Be sure to check your spam filters to receive our email notifications. Prizes can take up to 6 weeks to arrive from the publishers. If you are not already a Member, you can join at no cost. The contest ends at midnight on October 7th, 2020.
a Rafflecopter giveaway
Seen anything interesting?
Let us know
& we'll share it!