Rising: The Book of Challah – Cookbook Giveaway
September 6, 2020 by Jenny
Enter our worldwide giveaway to win an autographed copy of Rising: The Book of Challah by Rochie Pinson.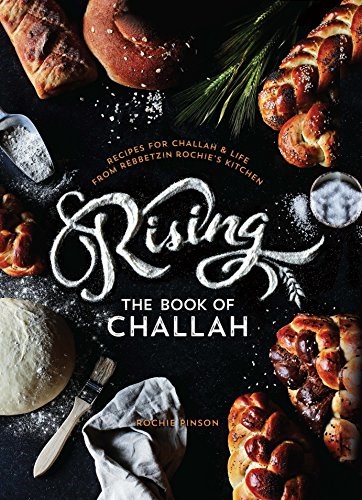 Usually, I play the role of the pied piper – in a purely positive manner – of cookbooks in my group of social media friends. Earlier this year my friend Laurel posted a photo of Rising: The Book of Challah and I ordered a copy immediately. The day I received it in the mail I made Challah bread and cinnamon rolls.
I reached out to Rochie who graciously sent me an autographed copy for myself and another copy to give away. I was able to gift the copy I ordered to a friend. See our giveaway below.
Rochie Pinson is a mother, artist, author, avid baker, and Rebbetzin of a large and growing community in Carroll Gardens, Brooklyn. You can learn more about this talented woman in her bio.
In this gorgeous book, the story of Challah is shared within the first 65 pages, the second section of the book delivers everything one needs to understand and make Challah and the book finishes with the laws and customs of Challah. Beautiful photographs accompany the recipes along with detailed instructions including illustrated guides to braiding from a three-strand classic braid to a twelve-strand octopus braid, basket weaves, wreaths and so much more. Photographs of Yemenite Kubaneh and Persian Barbari Challah from the Challahs Around the World chapter below.
With Rosh Hashanah approaching, I thought this would be the perfect time to feature this book that every baker should have in their collection.
Rochie has several zoom classes set up for next week. You can direct message her on Instagram to find out more.
Our
takes you inside this beautiful book and shares recipes and samples of the stunning imagery. Be sure to visit The Rising Life for more recipes from Rochie.
Special thanks to the author for offering one autographed copy of her book in our worldwide giveaway. Entry options include answering the following questions in the comments section of this blog post.
Have you ever made challah?
Please note that you must be logged into the Rafflecopter contest before posting or your entry won't be counted. For more information on this process, please see our step-by-step help post and this forum post. Once you log in and enter your member name you will be directed to the next entry option – the blog comment. After that, there are additional options that you can complete for more entries. Be sure to check your spam filters to receive our email notifications. Prizes can take up to 6 weeks to arrive from the publishers. If you are not already a Member, you can join at no cost. The contest ends at midnight on October 31st, 2020.
a Rafflecopter giveaway