A Year of Simple Family Food – Cookbook Giveaway
October 11, 2020 by Jenny
Enter our US/AU/NZ giveaway to win a copy of A Year of Simple Family Food: Delicious Recipes to Feed Your Family Through the Seasons by Julia Busuttil Nishimura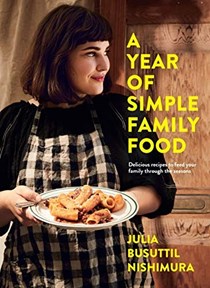 Julia's first book Ostro: The Pleasure That Comes from Slowing Down and Cooking with Simple Ingredients was reviewed by myself here. Julia has a way of making every dish no matter how simple or how complex into something elegant and special.
Her latest cookbook focuses on the meals she creates for her family. The recipes are organized by season and cover all meals from breakfast to desserts. Julia's books are dreamy with beautiful imagery. Her food is approachable and appeals to everyone. I've made the Miso roast chicken shared below and it is so tasty and I making it again this week so that I can get a nice picture to share here at EYB.
Our
takes you inside this beautiful book and features the following
Special thanks to the publisher who is offering two copies of this book one in the US and one copy in AU/NZ. Entry options include answering the following question in the comments section of this blog post.
Which recipe in the index would you try first?
Please note that you must be logged into the Rafflecopter contest before posting or your entry won't be counted. For more information on this process, please see our step-by-step help post and this forum post. Once you log in and enter your member name you will be directed to the next entry option – the blog comment. After that, there are additional options that you can complete for more entries. Be sure to check your spam filters to receive our email notifications. Prizes can take up to 6 weeks to arrive from the publishers. If you are not already a Member, you can join at no cost. The contest ends at midnight on March 28th, 2021.
a Rafflecopter giveaway