The Wicked Baker – Cookbook Giveaway
October 29, 2020 by Jenny
Enter our US/UK/NZ/AU giveaway to win one of three copies of The Wicked Baker: Cakes and Treats to Die For by Helena Garcia.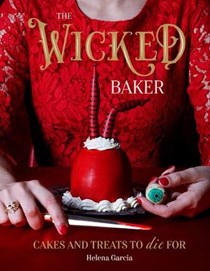 Wicked by definition means evil, extremely unpleasant. Wicked in the state of Maine usually precedes "good" as in "wicked good chowdah". In Helena Garcia's debut cookbook wicked leans more toward the "wicked good" slang used in Maine but with a deliciously spooky sense of the macabre.
Eye love you truffles, Yummy mummy éclairs, and Vanilla coffin cakes will bring new life to your Day of the Dead celebrations. Most of the recipes are perfect for Halloween treats with a few Christmas recipes thrown in: Gingerbread twins (think The Shining) and the Creepmas wreath cookies.
The recipes also could be altered. For instance, let's say the Vanilla coffin cakes don't fit in with your bridal shower theme (even though my husband thinks marriage is a slow form of death, thanks honey), use Helena's vanilla sponge cake recipe and either cut the layers into simple squares or rectangles or serve the cake whole. There is a world of possibilities in this fun little book from our favorite wicked good GBBO baker.
Our
takes you inside this beautiful book and features the following
Special thanks to Quadrille for providing the materials for our EYBD Preview and for offering three copies of this totally cool cookbook in our giveaway below.
Special thanks to the publisher who is offering three copies of this book to members in the US/UK/AU/NZ. Entry options include answering the following question in the comments section of this blog post.
Which recipe in the index would you try first?
Please note that you must be logged into the Rafflecopter contest before posting or your entry won't be counted. For more information on this process, please see our step-by-step help post and this forum post. Once you log in and enter your member name you will be directed to the next entry option – the blog comment. After that, there are additional options that you can complete for more entries. Be sure to check your spam filters to receive our email notifications. Prizes can take up to 6 weeks to arrive from the publishers. If you are not already a Member, you can join at no cost. The contest ends at midnight on January 29th, 2021
a Rafflecopter giveaway