101 Greatest Cookies Cookbook Giveaway
December 8, 2020 by Jenny
Enter our giveaway (2 copies US) of 101 Greatest Cookies on the Planet by Erin Mylroie.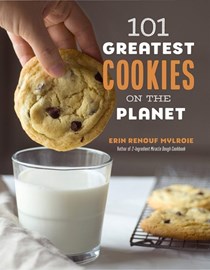 101 Greatest Cookies on the Planet by Erin Mylroie is loaded with recipes from a play on the famous Levain cookie, Utah style pink frosted cookie, Lemon meatballs, to French toast cookies with maple glaze. This is an ideal book to add to your cookie baking arsenal or to gift to that special cookie maker in your life.
I know what some of you are thinking – do we really need another cookie book? To which I answer YES! There are so many fantastic baking books this year and I really tried to find one that I wasn't happy with but I failed. I have a confession to make. I have even bought duplicates of several outstanding baking books because I want a copy to remain perfect and the other I can beat the heck out of in the kitchen. There has to be a 12 step program out there for me somewhere.
Our
takes you inside this beautiful book and features the following
Erin has 110 recipes in this book (despite the title, there are a few variations) and you will want to add some of them to your rotation. Surprise your cookie tray recipients with some new offerings such as White chocolate-dipped ginger crinkles, Brûlée sea salt caramel oatmeal bars, or Grasshopper meringues.
Special thanks to Page Street Publishing for providing the materials for our EYBD Preview and for offering three copies of this great book in our giveaway below.
This giveaway is open to EYB members. Entry options include answering the following questions in the comments section of this blog post.
Which recipe in the index of this title would you make first?
Please note that you must be logged into the Rafflecopter contest before posting or your entry won't be counted. For more information on this process, please see our step-by-step help post and this forum post. Once you log in and enter your member name you will be directed to the next entry option – the blog comment. After that, there are additional options that you can complete for more entries. Be sure to check your spam filters to receive our email notifications. Prizes can take up to 6 weeks to arrive from the publishers. If you are not already a Member, you can join at no cost. The contest ends at midnight on May 26th, 2021.
a Rafflecopter giveaway