The Chicken Soup Manifesto Cookbook Giveaway
December 10, 2020 by Jenny
Enter our US/UK/AU/NZ contest to win one of three copies of The Chicken Soup Manifesto: Recipes from Around the World by Jenn Louis.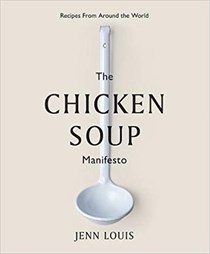 There is nothing better than a steaming bowl of soup when the outside temperature turns brisk or when you are feeling under the weather. In The Chicken Soup Manifesto: Recipes from Around the World, Jenn Louis, Top Chef alumni, delivers a plethora of globally inspired chicken soup. From a Panamanian soup made with starchy vegetables and cilantro called Sancocho to the Persian soup Morgh Zaferani enriched with saffron, barberries, and parsley.
Our
takes you inside this book and features the following
This is not only a cookbook of chicken soup recipes it is a valuable guide to how the world approaches chicken soup which as the author reminds us is the ultimate gesture of love. The recipes here will make you the Florence Nightingale of soup when someone you care about is down for the count.
Special thanks to Hardie Grant for providing the materials for our EYBD Preview and offering three copies of this book in our giveaway below.
This giveaway is open to EYB members in the US/UK/AU/NZ. Entry options include answering the following questions in the comments section of this blog post.
Which recipe in the index of this title would you make first?
Please note that you must be logged into the Rafflecopter contest before posting or your entry won't be counted. For more information on this process, please see our step-by-step help post and this forum post. Once you log in and enter your member name you will be directed to the next entry option – the blog comment. After that, there are additional options that you can complete for more entries. Be sure to check your spam filters to receive our email notifications. Prizes can take up to 6 weeks to arrive from the publishers. If you are not already a Member, you can join at no cost. The contest ends at midnight on March 10th, 2021.
a Rafflecopter giveaway