Red Sands by Caroline Eden Cookbook Giveaway
December 29, 2020 by Jenny
Enter our US/UK/AU/NZ giveaway to win one of three copies of Red Sands: Reportage and Recipes Through Central Asia, from Hinterland to Heartland by Caroline Eden.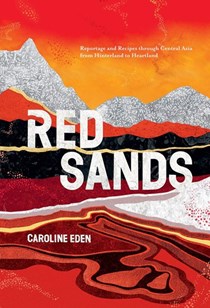 Wanderlust: noun a strong desire to travel
For most of my life, Ive tried to be a glass is half full kind of person with spatterings of why is this glass half empty for good measure. The same can be said for my wanderlust. I long to travel and see the world just as much as I wish to nurture my introvert tendencies while safely escounsed at home. I treat my bouts of wanderlust with heavy doses of cookbooks that ease the ache of traveling especially when it isn't possible due to personal reasons, finances or travel restrictions. Caroline Eden's books are just the right antidote to alleviate my symptoms.
Through the author's thoughtful narrative I am taken on a trip through Central Asia and gifted with beautiful photography and dishes that make me feel as I am along with her on this journey. Most of this book is a travelogue peppered with history and rich with imagery with enough recipes (41) to still fulfill my cookbook addiction.
Our
takes you inside this beautiful book and features the following
Caroline has a way of making the reader fall in love with whatever region of the world she is exploring. Treat yourself to this title and her other books Black Sea: Dispatches and Recipes, Through Darkness and Light and Samarkand: Recipes & Stories from Central Asia & The Caucasus. You will be all the richer for it.
This giveaway is open to EYB members in the US/UK/AU/NZ. Entry options include answering the following question in the comments section of this blog post.
Which recipe in the index of this title would you make first?
Please note that you must be logged into the Rafflecopter contest before posting or your entry won't be counted. For more information on this process, please see our step-by-step help post and this forum post. Once you log in and enter your member name you will be directed to the next entry option – the blog comment. After that, there are additional options that you can complete for more entries. Be sure to check your spam filters to receive our email notifications. Prizes can take up to 6 weeks to arrive from the publishers. If you are not already a Member, you can join at no cost. The contest ends at midnight on May 26th, 2021.
a Rafflecopter giveaway