Croatian Desserts – Worldwide Giveaway
January 13, 2021 by Jenny
Enter our worldwide giveaway to win a copy of Croatian Desserts: 50 Authentic Recipes To Make At Home by Andrea Pisac.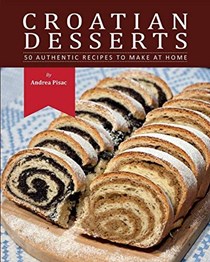 On January 1st, I wrote about a new-to-me dessert cookbook that I found myself enamored with – Croatian Desserts: 50 Authentic Recipes To Make At Home. Over the last two weeks, I have spent a great deal of time reading Andrea's book and stalking her blog (where you will find some wonderful looking recipes).
Andrea and I corresponded and discussed doing a preview of her book and a promotion. This was delayed a bit as Croatia experienced several earthquakes in the last two weeks. I am hoping that things are settling down there and people are recovering and rebuilding.
Our
takes you inside this interesting title and shares three recipes you can try now: Sweet cheese pie, Water-proofed crescent rolls, and Walnut meringue slices. Note: The preview recipe for the Sweet cheese pies has a small typo – Step 2 of 6 is listed as Step 6 of 6 but they are steps are shown in the correct order and the print copy of the book is correct. Update: the preview now shares the Table of Contents along with photographs of each recipe.
Chapters in this book include: Lazy Morning, Sunday Sweets, Special Occasions, Cakes, Christmas Sweets and Easter Sweets. Andrea provides great instructions, multiple photographs and valuable details about each recipe and Croatian culture overall.
The recipes remind me so much of childhood, growing up in a small town in Illinois with a heavy eastern European population. The walnut and poppy seed rolls depicted on the book cover are instant tickets back to my youth and parties at the Polish Hall where desserts like these were served. When I was a teen, I couldn't wait to escape that small town and now I find myself longing for a visit and the community shared at those hall events.
I recommend going to Andrea's site and signing up to receive a free recipe, the Table of Contents (includes photographs of the dishes) and more details about Croatian ingredients. I have volunteered to index Croatian Desserts so come back soon to check out the index. Our BUY BOOK button takes you directly to Andrea's site if you wish to purchase.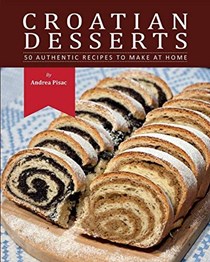 Special thanks to the author for offering one copy of this title to our members worldwide. Entry options include answering the following question in the comments section of this blog post.
Visit Andrea's site and leave a comment about a recipe you would like to try. There are five recipes shared in the second column of articles.
Please note that you must be logged into the Rafflecopter contest before posting or your entry won't be counted. For more information on this process, please see our step-by-step help post and this forum post. Once you log in and enter your member name you will be directed to the next entry option – the blog comment. After that, there are additional options that you can complete for more entries. Be sure to check your spam filters to receive our email notifications. Prizes can take up to 6 weeks to arrive from the publishers. If you are not already a Member, you can join at no cost. The contest ends at midnight on May 30th, 2021.
a Rafflecopter giveaway