Great British Chefs Hacks Electronic Cookbook Giveaway
January 19, 2021 by Jenny
Enter our worldwide contest to win one of five electronic copies of Great British Chefs: Hacks: How Chefs Make Dishes Go from Good to Great.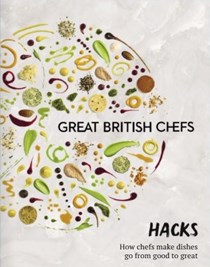 In my prior promotions on Great British Chef titles, I shared the following information regarding the Great British Chefs (GBC) website: Search by recipe name or recipe type or find all the recipes of your favorite chef. Our EYB Library has indexed Great British Chefs – Chef Recipes and Great British Chefs – Blog Recipes from the GBC site, so you can also search through their recipes on EYB.
The GBC site offers over 10,000 recipes at the free membership level and two additional levels provide even more benefits including masterchef videos! See this page for more details on membership.
GBC's latest title is Great British Chefs: Hacks: How Chefs Make Dishes Go from Good to Great. This beautiful book teaches us how to harness the powers of purées, oils, marinades and more with 48 'micro' recipes that'll take our home cooking to the next level, before taking a look at 25 full dish recipes that showcase these culinary hacks – straight from the minds of some of the best chefs cooking in the UK today.
Our
takes you inside this beautiful book and features the following
– photos above:
Our friends at GBC are offering our members ten percent off of their two latest books: for the ebook purchase of Hacks use: EYBHACKS10 and for the ebook purchase of Vegetables use: EYBVEG10.
We've extended our two other GBC giveaways until the 22nd to give you a chance to enter in case you missed them!
Special thanks to Great British Chefs for offering 5 electronic copies of this book in our giveaway open to our members worldwide. Entry options include answering the following question in the comments section of this blog post.
Which recipe in the index would you try first?
Please note that you must be logged into the Rafflecopter contest before posting or your entry won't be counted. For more information on this process, please see our step-by-step help post and this forum post. Once you log in and enter your member name you will be directed to the next entry option – the blog comment. After that, there are additional options that you can complete for more entries. Be sure to check your spam filters to receive our email notifications. Prizes can take up to 6 weeks to arrive from the publishers. If you are not already a Member, you can join at no cost. The contest ends at midnight on May 29th, 2020.
a Rafflecopter giveaway