Simply Julia – Cookbook Giveaway
March 2, 2021 by Jenny
Happy Publication Day to Julia Turshen! Enter our US/worldwide giveaway to win one of two copies of Simply Julia: 110 Easy Recipes for Healthy Comfort Food by Julia Turshen (two copies US from the publisher and EYB will provide one copy worldwide). Be sure to check out our Calendar – Julia has a full schedule of virtual events planned.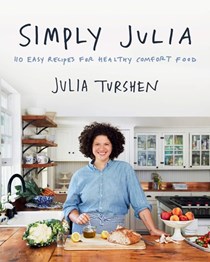 Julia Turshen is our generation's culinary icon and her latest book showcases her laid-back style and modern approach to cooking. The book begins with simple, concise lists giving a peek into Julia's kitchen staples. A few of the things you'll learn are the five things that are always in her refrigerator, five tools you must have, and five spices that are always in her spice drawer. The book's chapters are similarly organized including 11 weeknight go-tos and 11 vegan one-pot meals for everyone. Recipes are healthy and delicious, interesting and approachable and will be loved by all. Enjoy Sesame rice bowls with tofu, Quickles and peanut sauce, Swedish turkey meatballs and Shredded pork in the spirit of Cochinita Pibil.
We were excited to announce last week that Simply Julia was EYB's 10,000th cookbook indexed!
Hardcover Cook is featuring Simply Julia as this quarter's Omnivore Box selection. Find out more here and remember EYB members can use the code EYB10 for a discount!
Our
takes you inside this beautiful book and features the following
Julia reminded us today on social media to please leave a review on Amazon (even if you bought the book elsewhere) as these reviews help sales everywhere. Julia's books are treasures and I can't wait to get busy and try some of her recipes soon.
This giveaway is open to EYB members in the US/worldwide. Entry options include answering the following question in the comments section of this blog post.
Which recipe in the index of this title would you make first?
Please note that you must be logged into the Rafflecopter contest before posting or your entry won't be counted. For more information on this process, please see our step-by-step help post and this forum post. Once you log in and enter your member name you will be directed to the next entry option – the blog comment. After that, there are additional options that you can complete for more entries. Be sure to check your spam filters to receive our email notifications. Prizes can take up to 6 weeks to arrive from the publishers. If you are not already a Member, you can join at no cost. The contest ends at midnight on June 8th, 2021.
a Rafflecopter giveaway