Jew-ish Cookbook Review/Giveaway with a Quick Bites with Jake Cohen
March 9, 2021 by Jenny
Happy Publication Day to Jake Cohen for Jew-ish: A Cookbook: Reinvented Recipes from a Modern Mensch! Enter our US/Canada giveaway to win one of three copies of this amazing book!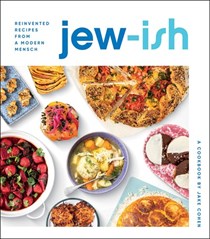 Jew-ish: A Cookbook: Reinvented Recipes from a Modern Mensch is everything you would expect from Jake (follow him on Instagram and see for yourself). This debut offering from a culinary (and love of life) powerhouse of energy contains craveable recipes, gorgeous photos, step-by-step process images for braiding challah and other techniques. You've heard of Persian rice tahdig – Jake takes tahdig to new levels – potatoes, sweet potatoes, latkes – and more – this is just one example of his genius!
I have almost every recipe in this volume tagged to try. I have made the Kubaneh cinnamon rolls already – photo above before glazing (click on link for the glazed version). The dough was the easiest dough I have worked with yet and the flavor was outstanding. Those rolls called to me in the night – Jenny, Jenny come and get me Jenny – one of my favorite scenes from the cheesy movie Mannequin.
My older son is coming to visit today with his new wife for a few days and I am preparing a huge brisket and a wheelbarrow full of latkes using recipes from Jew-ish. Don't worry – you don't need to own a wheelbarrow to make the recipes – I just know what my son can put away.
There are several online recipes that you can try now:
---
Jake was kind enough to answer some questions for our members – he is an absolute joy and makes me smile everytime I check Instagram and watch him cook while doing his matchmaker videos. It is almost enough to wish I were single again.
Jake Cohen is a cookbook author and nice Jewish boy from NYC. A former food staffer at Saveur, food editor of Tasting Table, restaurant critic of Time Out New York, and editorial director of the Feedfeed, Jake wrote his first book, Jew-ish, about his love of modern Jewish cooking and baking. When he isn't writing for publications including Food52 and Food & Wine, he's posting challah-braiding videos and recipes on his Instagram and TikTok. He lives in NYC with his husband, Alex.
Q: What first triggered your interest in cooking? Your first cooking memory?
I was obsessed with the Food Network. I'd come home every day and do my homework with Ina and Giada in the background. I started printing out recipes and throwing little amateur – and let me tell you, they were amateur – dinner parties for friends. The second I got a taste of cooking for others and the power of food for community building, I was hooked.
My first cooking memory would be frying latkes with my mother. She made the best latkes (I say made because I've taken over frying duties). She never measured anything, always eyeballing each ingredient. My sister and I would help her grate potatoes and then wait patiently for them to come out of the oil so we could immediately shove them into ice-cold apple sauce to protect our fingers.
Q: If you had to describe your cooking style, what would it be?
Intricately lazy. I love simple cooking with recipes that sport short ingredient lists, but require attention to technique. I'm always looking to put spins on classics and introducing potentially foreign ingredients to dishes you wouldn't expect. Most importantly, I love cooking that can pivot easily and be tweaked for endless variations.
Q: Are you a cookbook collector?
It continues to grow! I have around 200 cookbooks divided into sections: CIA textbooks/Modernist Cuisine, Jewish food, single subject, a section for books written by friends of mine, and then everything else. I don't have a favorite genre, I just love to learn. I think there's something super magical when an author can properly convey a technique with words. I'm always reading and learning how to better write recipes.
When it comes to what I look for in a cookbook, it's as simple voice. The power of demonstrating passion and inspiring the reader is a difficult task but it's everything me. I want to learn about the author and a perspective that's different than mine and be moved to dive deeper.
Q: What is the best part of your job? Do you sometimes feel like working with food all day keeps you from wanting to get creative in the kitchen?
Seeing people cook my recipes for themselves and loved ones. The act of breaking bread with others and extending hospitality drives everything I do. Helping others in the kitchen feels like the ultimate mitzvah.
I get creative fatigue all the time. I don't fight it. I order in. I make some old favorites. I give myself the time and permission to recharge, typically accompanied by a little social media break. There's an expectation to always me "on" but that's just not possible.
Q: What is your go to for a quick dinner?
Spicy rigatoni alla vodka. Always a fan favorite… sometimes I'll even add frozen peas if I'm feeling wild! 😉
Q: What projects are you working on besides promoting Jew-ish?
A lot more video work is coming which I love, but since this is my first book I'm really trying to slow down everything else and be present for this launch. I want to give it my all and learn from it for hopefully many more books to come!
Follow Jake on Instagram, Tiktok, Twitter and Facebook – his energy is infectious!
Special thanks to the publisher for providing three copies of this title in our promotion. Entry options include answering the following question in the comments section of this blog post.
Which recipe in the index would you like to try first?
Please note that you must be logged into the Rafflecopter contest before posting or your entry won't be counted. For more information on this process, please see our step-by-step help post and this forum post. Once you log in and enter your member name you will be directed to the next entry option – the blog comment. After that, there are additional options that you can complete for more entries. Be sure to check your spam filters to receive our email notifications. Prizes can take up to 6 weeks to arrive from the publishers. If you are not already a Member, you can join at no cost. The contest ends at midnight on June 9th, 2021.
a Rafflecopter giveaway