My Shanghai Cookbook Review & Giveaway
March 15, 2021 by Jenny
Enter our US giveaway to win one of two copies of My Shanghai: Recipes and Stories from a City on the Water by Betty Liu.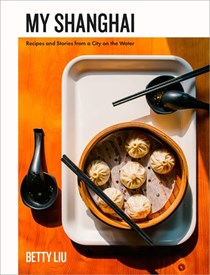 "The two Chinese characters in the city's name are 上 (shàng/zan, "upon") and 海 (hǎi/hae, "sea"), together meaning "Upon the Sea"
Betty Liu is a woman who has worn many hats including that of a food photographer, workshop/retreat teacher, blogger, and wedding photographer, but these days she spends most of her time as a general surgery resident training in Boston. She still feeds her passion for cooking as a creative outlet and recently her debut cookbook was born of that passion.
My Shanghai: Recipes and Stories from a City on the Water was written to share the story of her family's cooking, with roots from the Jiangsu and Zhejiang regions, the two regions that border Shanghai. Betty states that Shanghainese cuisine is not like any other in China and that the recipe and flavor profiles in her book are more typical of the Jiangsu region than Zhejiang.
Chinese cuisine is made up of 10 regional styles of cooking with Shanghai being the youngest. This region of cooking is characterized by greater use of soy sauce, sugar, rice wine, and rice vinegar (compared to other regional cuisines). Betty tells us that most refer to Shanghainese cooking as "sweet" but she feels that is too simple of a description. Her cuisine is "light and refreshing. The food has purity, with plenty of depth in flavor, and is bright and well rounded…" Shanghai cooking is most famous for "red-cooking," in which food is gently braised in a flavorful soy sauce-based liquid with sugar and spices such as five-spice powder which imparts a reddish-brown color to the dish.
In this book she brings her family's recipes, through her lens as a modern home cook born and raised in America. A few of her favorite recipes include: her mother's lion's head meatballs, her father-in-law's pride and joy, the Nanjing salted duck; the classic red-braised pork belly (as well as a riff to turn them into gua bao); and core basics like high stock, wontons, and fried rice. In this book which is also part travelogue, the author takes us to discover where hairy crabs are farmed, how bamboo is foraged, and the traditions of Chinese holidays, with as much stunning photography as she could fit into the book.
My favorite chapter here is the Street Food section which shares gorgeous recipes and imagery for Scallion flower buns, Chinese fried crullers, and Soup dumplings. That being said the entire volume is impressive and shares a deep dive into the beautiful world of Shanghai cuisine.
Our
takes you inside this beautiful book and features the following
Special thanks to Harper Design for providing a review copy to me of this title, approval of our EYBD Preview and for offering two copies of My Shanghai in our giveaway below.
Special thanks to the publisher for providing two copies of this title in our promotion. Entry options include answering the following question in the comments section of this blog post.
Which recipe in the index would you like to try first?
Please note that you must be logged into the Rafflecopter contest before posting or your entry won't be counted. For more information on this process, please see our step-by-step help post and this forum post. Once you log in and enter your member name you will be directed to the next entry option – the blog comment. After that, there are additional options that you can complete for more entries. Be sure to check your spam filters to receive our email notifications. Prizes can take up to 6 weeks to arrive from the publishers. If you are not already a Member, you can join at no cost. The contest ends at midnight on July 1st, 2021.
a Rafflecopter giveaway