Asian Green – Cookbook Giveaway
April 8, 2021 by Jenny
Enter our US giveaway to win one of three copies of Asian Green: Everyday Plant-Based Recipes Inspired by the East by Ching-He Huang. EYB is providing one additional copy worldwide.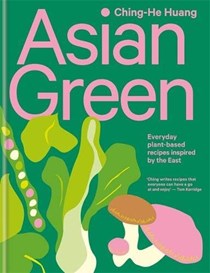 Asian Green: Everyday Plant-Based Recipes Inspired by the East by Ching-He Huang is full of inspiring, quick and simple recipes, perfect for vegetarians, vegans and people looking to reduce the amount of meat in their diets.
Asian food has always included a variety of meat- and dairy-free recipes. Focusing entirely on these plant-based dishes in this title, Ching draws inspiration from across Asia to create simple, everyday, healthy home cooking that features protein-rich ingredients such as tofu, seitan, pulses, beans and grains.
The inspiration behind the book is Ching's husband, Jamie. From birth, he suffered from asthma and eczema but three and a half years ago, three months after adopting a vegan diet, he was cured. Ching has always believed in the age-old Chinese maxim that "food is medicine", and having experienced first-hand the transformation of her husband's health, she firmly believes in the healing power of plants to reduce inflammation, to restore, nourish and replenish.
I have always been a fan of Ching-He. Her books make Asian cooking very approachable and every recipe I have tried has been fantastic.
The top four Kindle deals at this link represent three of her titles as well as a sample of 20 recipes from Eat Clean – try her books out at a steal! (Further down that page the full version of Eat Clean is only 5.99 as is Stir Crazy).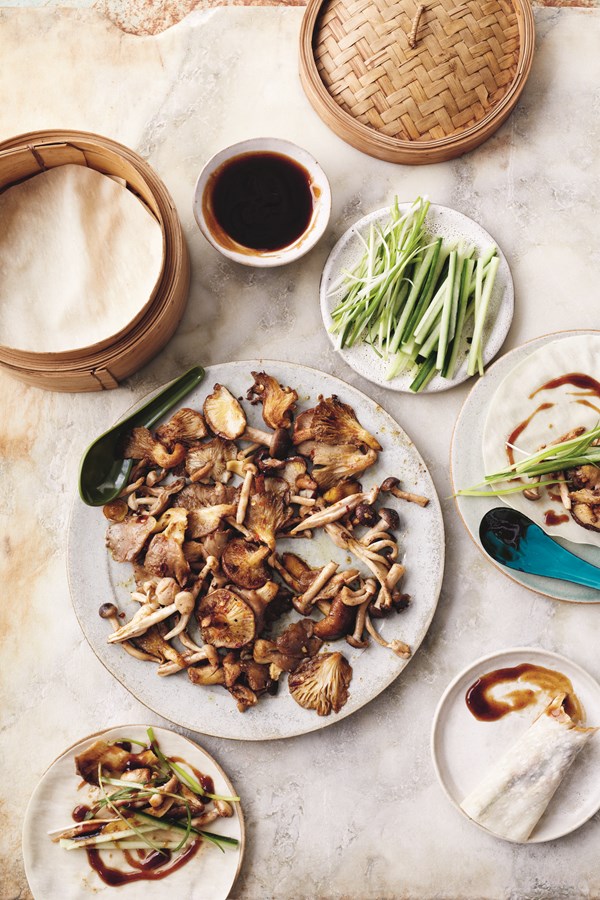 Peking mushroom pancakes
Add this recipe to your Bookshelf (click the blue +Bookshelf button).
Nutritional Information: kcal — 268 carbs — 34.8g protein — 6.4g fat — 11.4g
Serves 4 to share

These are an easy and tasty alternative to Peking duck pancakes. Instead of duck, I have used an array of mushrooms. If you are not a fan of mushrooms, you can use seitan, smoked tofu, cauliflower or courgettes, but the mushrooms really do work well – they provide a bold umami flavour and take on the Chinese five spice brilliantly.
500g (1lb 2oz) mixed mushrooms – I used shiitake, oyster, king trumpet and shimeji mushrooms
1 tbsp Chinese five spice
large pinch of dried chilli flakes
pinch of sea salt
1 tbsp tamari or low-sodium light soy sauce
3 tbsp rapeseed oil
To serve:
16–18 shop-bought wheat-flour pancakes (or use washed little gem lettuce leaves)
5 tbsp hoisin sauce
2 spring onions, trimmed and sliced into julienne strips
1 cucumber, deseeded and sliced into julienne strips
Preheat the oven to 180°C/160°C fan/350°F/Gas Mark 4.
Place all the mushrooms on a roasting tray. Sprinkle over the Chinese five spice, chilli flakes and sea salt, and drizzle over the tamari or light soy sauce and rapeseed oil. Roast in the oven for 10–12 minutes.
Meanwhile, place the pancakes in a small bamboo steamer set up over a wok half-filled with water. Steam the pancakes for 8 minutes, then take off the heat and set aside.
To serve, transfer the mushrooms to a serving plate, and place the hoisin sauce, spring onions and cucumber in small, individual dishes. Place the steamer basket of pancakes on the table and let everyone help themselves.
Recipe used with permission of Kyle Books.
---
Special thanks to the publisher for providing three copies of this title to members in the US and EYB is providing one additional copy worldwide. Entry options include answering the following question in the comments section of this blog post.
Which recipe in the index would you like to try first?
Please note that you must be logged into the Rafflecopter contest before posting or your entry won't be counted. For more information on this process, please see our step-by-step help post and this forum post. Once you log in and enter your member name you will be directed to the next entry option – the blog comment. After that, there are additional options that you can complete for more entries. Be sure to check your spam filters to receive our email notifications. Prizes can take up to 6 weeks to arrive from the publishers. If you are not already a Member, you can join at no cost. The contest ends at midnight on July 8th, 2021.
a Rafflecopter giveaway