Milk Street Tuesday Nights Mediterranean Cookbook Giveaway
April 13, 2021 by Jenny
Enter our US giveaway to win one of two copies of Milk Street: Tuesday Nights Mediterranean: 125 Simple Weeknight Recipes from the World's Healthiest Cuisine by Christopher Kimball.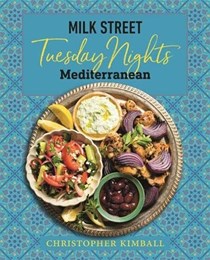 From the James Beard award-winning Milk Street team comes Milk Street: Tuesday Nights Mediterranean with 125 easy weeknight dinners that bring the flavors of the Mediterranean into your home. Each dish is promised to be quick and easy with most meals ready in under 45 minutes and many just take 20 minutes from start to finish.
The recipes are organized by how you cook, with some chapters focused on time: Fast (45 minutes), Faster (35 minutes), and Fastest (under 25 minutes). Others are organized by themes such as Hearty Vegetable Mains, Supper Soups, and Flat and Folded – including pizza, flatbreads, pita sandwiches, and panini. Many of the recipes require only one piece of cookware, and they all are built from pantry staples.
I have never had a Milk Street recipe fail and I particularly love the Tuesday Nights books because they represent doable meals that most of us can accomplish on any busy night. The first title Milk Street: Tuesday Nights: More Than 200 Simple Weeknight Suppers that Deliver Bold Flavor, Fast is one of my favorite go-tos for quick meal inspiration. I am looking forward to more titles in this series!
I have a confession to make: I have been in a "do not feel like cooking rut". Typically, I cook at least five days a week and with leftovers we are good for at least one additional meal. But the last month or so, I have not been as productive with regard to cooking.
Last week I picked up takeout and it was so bad, we ended throwing it away. Most times takeout is disappointing and expensive so this weekend I decided that I need to making more of our meals again and just be better prepared. So far this week, I have stuck to my plan and I am headed to meal plan for the remainder of the week and taking the Tuesday Nights titles with me. Beef and rice meatballs with lemon-olive oil sauce and Greek chicken and potato traybake are on the list for certain as they both seem quick and easy and look delicious. My grocery list awaits.
Update: I made the Pan-fried beef-filled pita with yogurt dipping sauce and they were absolutely delicious. You can see my photo and notes on the recipe record.
Update: Our
takes you inside this beautiful book and features the following
which includes the two recipes below and the following:
Two recipes which are part of our EYBD Preview above:
Chicken souvlaki with tzatziki
Add this recipe to your Bookshelf (click the blue +Bookshelf button).
Start to finish 40 minutes.
Serves 4
1 English cucumber, halved, seeded and shredded on the large holes of a box grater
Kosher salt and ground black pepper
4 tablespoons extra-virgin olive oil, divided
4 teaspoons lemon juice, divided, plus lemon wedges to serve
3 medium garlic cloves, finely grated
2 tablespoons minced fresh oregano, divided
2 pounds boneless, skinless chicken thighs, halved lengthwise
1 medium red onion, root end intact, cut into 8 wedges
¾ cup plain whole-milk Greek yogurt
2 tablespoons finely chopped fresh dill
1 ripe tomato, cored and cut into 8 wedges
Pita bread, to serve
Souvlaki translates from the Greek as "skewer," but for this easy weeknight rendition, we forgo the skewers and cook individual pieces of chicken. And instead of firing up the grill, we simply turn on the broiler. A quick marinade of olive oil, garlic, lemon and oregano seasons boneless, skinless thighs while the oven heats. Souvlaki wouldn't be complete without tzatziki, a cooling cucumber- yogurt condiment; for ours, we shred then salt an English cucumber and add fresh dill for bright herbal notes. To eat as a wrap, squeeze fresh lemon juice over the chicken, then spread tzatziki on the pita and tuck in the meat and veggies.
Don't bother peeling the cucumber before shredding it. The skin on English cucumbers is thin and doesn't require removal. Also, make sure to squeeze the salted cucumber before adding it to the yogurt mixture. This removes excess water that otherwise would dilute the tzatziki.
In a colander set over a bowl, toss the shredded cucumber with 1 teaspoon salt. Set aside to drain for at least 10 minutes. Meanwhile, in a large bowl, whisk together 2 tablespoons of oil, 2 teaspoons of lemon juice, two-thirds of the garlic, 1 tablespoon of oregano, 2 teaspoons salt and ¾ teaspoon pepper. Add the chicken and toss to coat; let stand at room temperature while the broiler heats.
Heat the broiler with a rack 4 inches from the element. Line a rimmed baking sheet with foil and set a wire rack on top. Arrange the chicken in a single layer on the center of the rack, then place the onion wedges around the outer edges. Broil until the chicken is lightly charred on both sides, about 12 minutes, flipping the pieces halfway through (there's no need to flip the onions).
While the chicken cooks, in a medium bowl, whisk together the yogurt, the remaining 2 tablespoons oil, the remaining 2 teaspoons lemon juice, the remaining garlic and the dill. A handful at a time, squeeze the shredded cucumber to remove as much moisture as possible, then stir into the yogurt mixture; set aside.
Transfer the chicken and onion to a serving platter, then sprinkle with the remaining 1 tablespoon oregano. Place the tomato and lemon wedges on the platter and serve with the tzatziki.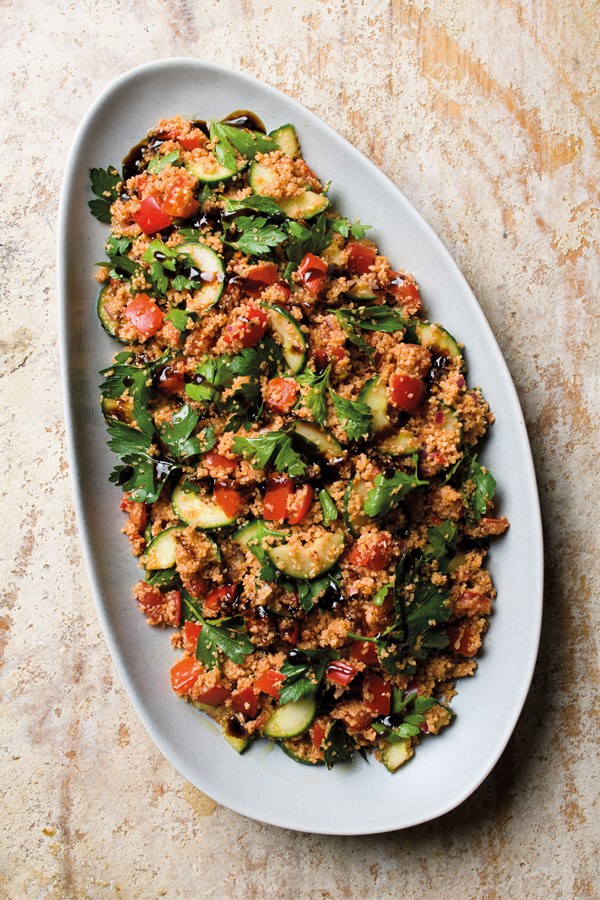 Bulgur salad with summer vegetables and pomegranate molasses
Add this recipe to your Bookshelf (click the blue +Bookshelf button).
Start to finish 30 minutes
Serves 4 to 6
1½ cups fine bulgur
1 small red onion, finely chopped
1 medium red bell pepper, stemmed, seeded and chopped
3 tablespoons tomato paste 1 teaspoon red pepper flakes
Kosher salt and ground black pepper
1½ cups boiling water
3 tablespoons extra-virgin olive oil, plus more to serve
2 tablespoons lemon juice
2 tablespoons pomegranate molasses, plus more to serve
2 ripe tomatoes, cored, seeded and chopped
½ English cucumber, halved lengthwise, seeded and sliced
¾ cup lightly packed fresh flat-leaf parsley
This tangy-sweet bulgur-based salad, inspired by the Turkish dish called kisir, requires no cooking other than bringing water to a boil. We toss chopped onion and bell pepper with the bulgur before adding the boiling water to hydrate the grain; this eliminates the vegetables' raw flavor and texture, yet allows them to retain just enough of their freshness and snap. Pomegranate molasses, a dark, sweet-tart syrup with fruity, floral notes, is a common ingredient in kisir. Look for it in the international aisle of supermarkets or in Middle Eastern grocery stores.
Don't use coarse or medium bulgur, as neither will soften properly. Also, don't use concentrated tomato paste, the type often sold in a tube. Its strong flavor will overwhelm the other ingredients.
In a medium bowl, combine the bulgur, onion, bell pepper, tomato paste, pepper flakes and ½ teaspoon each salt and pepper. Mix until no clumps of tomato paste remain. Stir in the boiling water and let stand for 15 minutes to allow the bulgur to hydrate.

Stir in the oil, lemon juice and pomegranate molasses. Add the tomatoes, cucumber and parsley, then toss gently. Taste and season with salt and pepper. Transfer to a serving dish, then drizzle with additional oil and pomegranate molasses.
Recipes excerpted from MILK STREET: TUESDAY NIGHTS MEDITERRANEAN. Copyright © 2021 by CPK Media, LLC. Photographs by Connie Miller. Used with permission of Voracious, an imprint of Little, Brown and Company. New York, NY. All rights reserved.
Special thanks to the publisher for providing two copies of this title of in our US giveaway. Entry options include answering the following question in the comments section of this blog post.
Which recipe in the index would you try first?
Please note that you must be logged into the Rafflecopter contest before posting or your entry won't be counted. For more information on this process, please see our step-by-step help post and this forum post. Once you log in and enter your member name you will be directed to the next entry option – the blog comment. After that, there are additional options that you can complete for more entries. Be sure to check your spam filters to receive our email notifications. Prizes can take up to 6 weeks to arrive from the publishers. If you are not already a Member, you can join at no cost. The contest ends at midnight on July 13th, 2021.
a Rafflecopter giveaway