Modernist Pizza Review and Giveaway
November 1, 2021 by Jenny
We are pleased to offer a US giveaway to win Modernist Pizza by Nathan Myhrvold and Francisco Migoya.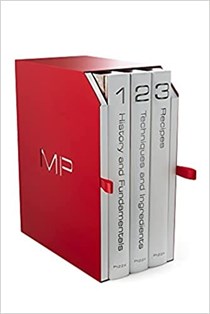 Over the last decade, the stellar team at Modernist Cuisine led by Nathan Myhrvold has published Modernist Cuisine: The Art and Science of Cooking, Modernist Cuisine at Home, The Photography of Modernist Cuisine, Modernist Bread: The Art and Science and most recently Modernist Pizza,
For their latest labor of love and dedication to food science, authors Nathan Myhrvold and Francisco Migoya, along with the Modernist Cuisine team, conducted extensive research and tested long-held pizza-making beliefs over four years, tasting over 2,000 pizzas. The Modernist Pizza ("MP") team covered 300 pizzerias in the US, Italy, Argentina, Brazil, Japan, Korea, and most of the countries in Europe for a total of about ten countries.
This set will help you master a wide range of styles from around the world, including al taglio, Argentinean, bar/tavern, Brazilian thin-crust, deep-dish, Detroit, grandma/New York Square/Sicilian, Neapolitan, New York, New Haven, Old Forge, pizza fritta, and pizza gourmet.
The recipes were developed so that you can make the best pizza possible, whether you're using professional equipment or honing your craft at home. There are over 550 step-by-step photos plus photographs that capture pizza from new perspectives in all its delicious glory.
This work consists of 3 hardcover volumes and one kitchen recipe manual. The plastic covered kitchen manual is easily portable (as the volumes are quite heavy) so that you can bring it into your kitchen to refer to the recipes without having to bring the gorgeous volumes along.
There are a total of 1,708 pages, 1,016 recipes and 3,700 images. Impressive does not adequately describe the work the Modernist Cuisine team puts forth in their past publications and in this current effort.
Our
takes you inside this collection of everything you will ever need to know about pizza. There are three partial recipes in the preview for:
This set of books has been indexed by individual volume number:
See the note in the Library record or add the individual volumes (above) to your bookshelf for a full index.
Martha Stewart and Nathan hosted an event that I was able to attend via zoom. What follows is a breakdown of some of the interesting details I obtained during this event.
When asked where some of the best pizza was eaten at: surprisingly that answer was Razza's in New Jersey. Note: Razza's Dan Richer has his first book published on Nov 9th, The Joy of Pizza: Everything You Need to Know.
Other top pizzas were eaten at Lovely's Fifty Fifty in Portland, Oregon; Pepe in Grani in Caiazzo, Italy; and Enzo Coccia's Pizzeria in Naples, Italy. Martha followed up and asked the best pizzas in NYC. Nathan replied again Razza – although it is Jersey City NJ and he mentioned the following pizzerias: Costa's and Uno Pizza Napoletana in NYC and in Brooklyn he ranks Ops and L'industrie as great pizza makers.
When asked what is the quintessential pizza and what is his favorite? Nathan replied that, of course, some combination of cheese and tomato. He stated it was hard to pick a favorite. He compared great pizza to the star runners in the Olympics where running times might be a hundredth of a second in difference. But, if you restricted judgment to one type of pizza, say margharita, the margin of comparison shrinks.
The MP team tasted about 2,000 pizzas. Entering pizzerias the team would tell them to make three pizzas and they would almost always send out five. They would say "mangia you eat". When asked if there were any pizzas that were surprising, the marinara pizza in Tokyo came up where half of the pizza is topped with oil.
Further to the topic of surprising pizzas, Franco Pepe from Pepe in Grani in Caiazzo, Italy made a shocking pizza. After creating amazing sounding and delicious pizzas, he came back with a pizza using canned tuna, celery and sheep's milk cheese which had been fermented for six months. To quote Nathan, it "stank more than any other cheese, but the pizza was fantastic. The celery made the dish." He was floored.
There is no limit to creativity in what you can put on a pizza. Pizza famously is the type of food where the makers have secrets. But Nathan stated that all the best pizzerias would share recipes and ingredients. They would let the MP team watch them make the pizza and allow Nathan to create as well in their kitchens.
Martha asked about doughs, where there any unusual flours? Nathan replied that "Some people go the complicated dough route. There is a pizzeria in Northern Italy that has 50 different doughs – on a rotation. The majority of pizzerias view the dough as the canvas or the marble for a sculpture." Pizza dough needs a strong flour like bread flour. The most important thing is that you let the dough rest overnight. If the dough is too strong and hasn't been rested it will stretch back after you stretch it.
There are many schools of thought on stretching dough. In Naples they slap the dough back and forth mainly to get the excess flour off as that excess flour can burn. But the most common is the hand over hand method (rotating the pizza like a wheel. ) Discussion ensued about "to rim or not to rim". Nathan talked about a new style in Naples – called canotto (Italian for inflatable boat) which is super puffy and really good and tasty.
There are 50 dough recipes in the book. A master recipe for a particular type of dough is set forth and then variations included in that total. There are flavored doughs where adding saffron or turmeric for color and taste is used. There is also a black pizza utilizing squid ink, a black sauce and black mozzarella cheese.
Sauce is an important component of pizza – the simplest sauce is not even really a sauce but pizza makers open a can of tomatoes and they mush it around. Typical NYC pizza is a cooked sauce with maybe oregano, basil and sometimes pepper flakes. Modernist Pizza has a whole section on how to adapt pasta sauces for pizza as well.
How did the team guarantee that these recipes would work in an American home kitchen? They had a team of recipe testers – but also COVID struck and the entire team were testing recipes at home.
Home ovens work fine for thicker crust pizzas but ideally thin crust pizzas need a higher temperature. When asked about an electric pizza oven – Breville was one that both Martha and Nathan liked. An outdoor pizza oven is great but gas is the recommended heating source. Nathan mentioned that there is all the rage about wood fired ovens in backyards but he stated that temperatures in those ovens are hard to remain constant unless you are an expert.
Modernist Pizza is for those who are passionate about pizza – the hows and whys of why things are done the way they are. There are instructions on how to scale a recipe, proofing times and temperature recommendations.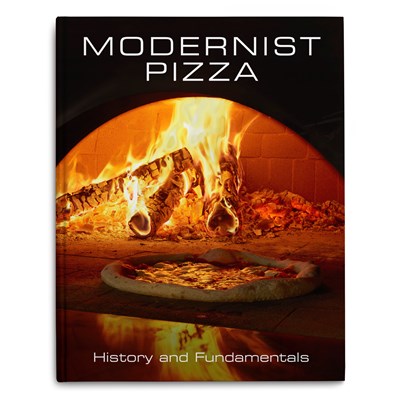 Modernist Pizza, Volume 1: History and Fundamentals is a deep dive into the history of pizza and the basics. It details their culinary journey of four years, 200,000 MP team hours and the making of roughly 12,000 pizzas. This volume lays out the foundation of what is to come. It extensively covers ingredients such as which flour is best for which type of pizza style and explores all components of a pizza crust – water, yeast, fats, sugar and dough improvers.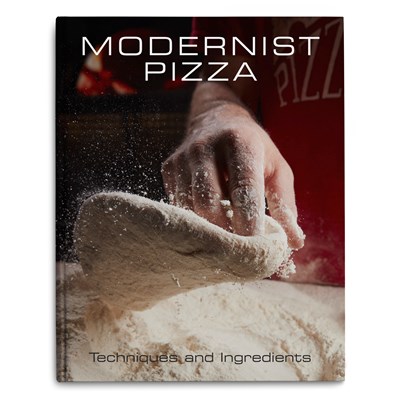 Modernist Pizza, Volume 2: Techniques and Ingredients covers proven techniques and ingredients including tools needed. Naming the parts of a pizza, quality characteristics, planning to make pizza, mixing, bulk fermentation, dividing and shaping and final proofing.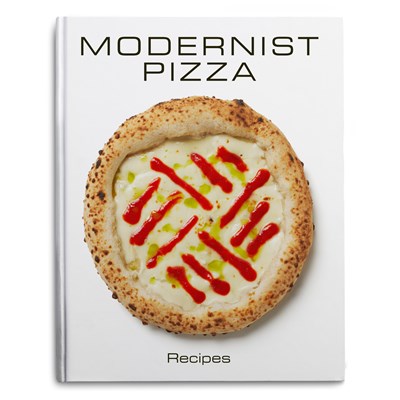 Modernist Pizza, Volume 3: Recipes: Volumes 2 and 3 cover the lion's share of the recipes with detailed information about the techniques for making pizza dough, sauces and cheese and how to prepare toppings. Serving and storage is also covered.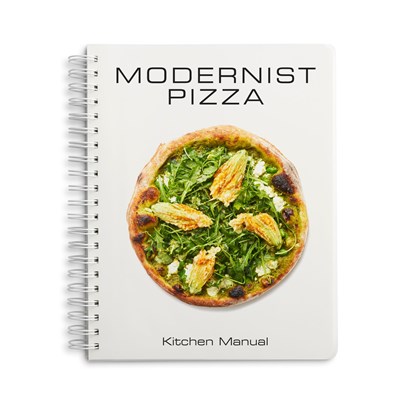 Modernist Pizza, Volume 4: Kitchen Manual: All the recipes made portable in a spiral bound volume with a plastic protective covering so that you may easily wipe tomato sauce away.
Special thanks to Modernist Cuisine for generously providing me with Modernist Pizza to review and enjoy as well as for offering Modernist Pizza to one US member in our giveaway below.
Modernist Cuisine is providing Modernist Pizza to one US member. Entry options include answering the following question in the comments section of this blog post.
What is one aspect of pizza making you would like to perfect?
Please note that you must be logged into the Rafflecopter contest before posting or your entry won't be counted. For more information on this process, please see our step-by-step help post. Once you log in and enter your member name you will be directed to the next entry option – the blog comment. After that, there are additional options that you can complete for more entries. Be sure to check your spam filters to receive our email notifications. Prizes can take up to 6 weeks to arrive from the publishers. If you are not already a Member, you can join at no cost. The contest ends at midnight on December 14th, 2021.
a Rafflecopter giveaway