My Cookbook Passion – Worldwide Giveaway
December 8, 2021 by Jenny
Enter our worldwide giveaway to win an autographed copy of My Cookbook Passion: Culinary History and Adventure in Exploring My Collection by Pamela Kure Grogan.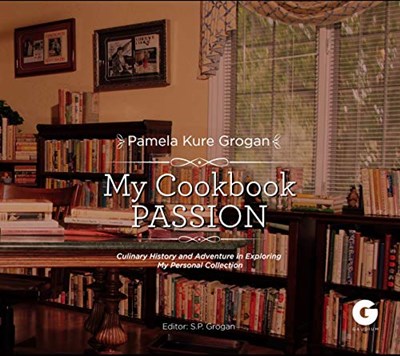 My Cookbook Passion: Culinary History and Adventure in Exploring My Collection is filled with Pam's lifetime of culinary work, photos of the covers and anecdotes about the books in her collection, snapshots of her life travels (meeting Julia Child, work with Chuck Williams and more) along with a selection of recipes. This is a cookbook lover's dream book but also could be a dangerous purchase. You may find yourself trying to track down some of these books in Pam's collection.
Reading about the titles along with Pamela's culinary adventures is a joy. The vintage cookbook covers and descriptions are lovely to have in one title and are a who's who of the cookbook world. Pam has done the work of making a cookbook lover's scrapbook that we can enjoy while curled on the sofa. Find out more about the author in our Quick Bites feature.
Please take a look at our
which gives you a wonderful idea of how special this book is. A quote from me appears on the back cover and a quote mentioning Eat Your Books is on the inside flap of the book jacket.
Eat Your Books members can take $5.00 off at checkout using the coupon code COOKING at Histria Books. The cost of the book will then be $34.99 plus shipping and handling of $5.99. Valid thru Dec 31st. I will keep track of any holiday sales for this title as well.
The editor of this title (and devoted husband of Pamela), S.P. Grogan, is also offering a bonus for two book buyers: the opportunity to win an autographed copy of the Mercedes the Cat poster. If you have ordered this book or will be ordering it – take a screenshot or photograph of your receipt and email it to info@cookbookpassion.com making sure to include in the subject line "Mercedes the Cat". He will then draw two names and notify those folks of their win. The deadline for entering the poster giveaway will be Dec 31, 2021 at midnight.
Special thanks to Pamela for providing one autographed copy of her book in this giveaway. Entry options include answering the following question in the comments section of this blog post.
Leave a comment telling us about your cookbook passion.
Please note that you must be logged into the Rafflecopter contest before posting or your entry won't be counted. For more information on this process, please see our step-by-step help post. Once you log in and enter your member name you will be directed to the next entry option – the blog comment. After that, there are additional options that you can complete for more entries. Be sure to check your spam filters to receive our email notifications. Prizes can take up to 6 weeks to arrive from the publishers. If you are not already a Member, you can join at no cost. The contest ends at midnight on January 27th, 2022.
a Rafflecopter giveaway