May 2022 New Cookbook Review
May 23, 2022 by Jenny
I keep longing for the month that I begin the cookbook review and not have to edit at least a dozen book records with new publication dates. I am keeping the 2022 preview post updated. In the next month, I'll prepare my fall/autumn preview post highlighting titles for our members.
This month's titles focus on outdoor cooking (barbecue season!) with an emphasis on vegetarian grilling along with books on salads and vegetable-centric cuisine. We have several titles that shine a spotlight on international cuisine such as Mexican (including meat-free Mexican), Korean, Balinese, Thai and Portuguese. We have a few wonderful baking titles to hold us over until the fall/autumn when that category of book will make a bountiful appearance and long awaited titles from Andy Baraghani, Nicole A. Taylor, and Kwame Onwuachi.
If you would like to order any of these titles (or preorder/order any other books or items) using our affiliate links below or BUY BOOK button on the book details page, earns Eat Your Books revenue as an Amazon Associate from qualifying purchases when using our links:
USA * Canada * UK * Australia * Book Depository
Please remember your local bookstores during this time – for preorders as well – and your local restaurants. We need to do what we can to make sure these businesses stay afloat.
If there is an
available for a cookbook, look for the orange icon in the blurb. Clicking on that link will take you directly to the preview. Lastly, if events are planned for particular books/authors, I have included a link. Be sure to check our Calendar frequently for new entries.
To jump to a particular country's listing, please click on the links below.
UNITED STATES
My America: Recipes from a Young Black Chef by Kwame Onwuachi with Joshua David Stein features more than 125 recipes in a celebration of the food of the African Diaspora, as handed down through Onwuachi's own family history, spanning Nigeria to the Caribbean, the South to the Bronx, and beyond. Sections are organized by culinary influence (i.e., Nigeria to the Caribbean) and the recipes are approachable for our home kitchens. From Doro wat (Ethiopia's national dish, a brick-red chicken stew) to Chicken and waffles, this book is a melting pot of cultures – an impressive title from a young chef that we all must have in our collection. Events
A Year at Catbird Cottage: Recipes for a Nourished Life by Melina Hammer: This seasonal cookbook is in a word "dreamy". Filled with over 100 recipes for upscale comfort food, a wealth of Hammer's knowledge in foraging and preserving and countless beautiful photographs – you will get lost in its pages.
Events
Eitan Eats the World: New Comfort Classics to Cook Right Now by Eitan Bernath is the debut cookbook from the culinary person behind the Drew Barrymore show. Each time Eitan tastes something, he immediately thinks, "How can I make this myself?" Eitan has obsessively created and recreated all the amazing flavors and textures he loves, and shares them with infectious energy and insatiable curiosity for millions of fans across social media. Here he shares eighty-five inventive and approachable recipes, paired with mouthwatering photography, many with a global influence. Overflowing with positivity, creativity, and the "You can definitely do this!" attitude that catapulted Eitan into the media spotlight, Eitan Eats the World will charm and inspire readers to get in the kitchen and start having fun.
The Cook You Want to Be: Everyday Recipes to Impress by Andy Baraghani: One of Bon Appétit's favorite talents shows us how to define and develop our individual cooking style – and become the cook we want to be – in 120 recipes. The imagery and dishes shared here are spectacular and not overly complicated: Spicy coconut chowder with toasted garlic; Tangy pomegranate chicken and Broken feta with sizzled mint and walnuts.
Events
Mi Cocina: Recipes and Rapture from My Kitchen in Mexico by Rick Martinez: Here the author travels to each of the seven regions in Mexico to explore 100 unique dishes, the recipe for each accompanied by stunning on-site photography. His recipes are based on his favorite home-tested version of each dish, veering from tradition when inspired. Rick always keeps availability of ingredients in mind and provides substitutions and replacements when needed. Another vibrant cookbook that will teach novices and experienced cooks alike the intricacies of Mexican cuisine with fun recipes and stunning photography.
Events
Watermelon and Red Birds: A Cookbook for Juneteenth and Black Celebrations by Nicole A. Taylor contains over 75 recipes, including drinks like Afro egg cream and Marigold gin sour, dishes like Beef ribs with fermented harissa sauce, Peach jam and molasses glazed chicken thighs, and desserts like Roasted nectarine sundae, and Radish and ginger pound cake. Taylor also provides a resource to guide readers to BIPOC-owned hot sauces, jams, spice, and waffle mixes companies and lists fun gadgets to make your Juneteenth special. These recipes and essays will inspire parties to salute one of the most important American holidays, and moments to savor joy all year round.
Green Fire: Extraordinary Ways to Grill Fruits and Vegetables, from the Master of Live-Fire Cooking by Francis Mallmann, an Argentine grill master, and author of Seven Fires and Mallmann on Fire, is known for his primal style of live-fire meat cookery – and, until recently, he treated vegetables as a condiment or side dish. Now, in the highly anticipated Green Fire, Mallmann shares 127 recipes and secrets for perfect grilled vegetables and fruits, creating dishes with the same elemental, rugged style for which he is world-renowned.
Pig Beach Cookbook: Smoked, Grilled, Roasted, and Sauced by Matt Abdoo and Shane McBride is a fun, deep dive into the world of delicious barbecue and how to bring it to your own backyard from two celebrated New York chefs (Abdoo of Del Posto and McBride of Balthazar) who gave up working in Michelin starred restaurants for Pig Beach. The book shares a little BBQ history; background on equipment; recipes for rubs, seasonings, sauces and marinades; then tackles recipes for ribs (and other meats); sides, sandwiches and snacks – and even dessert! Even if you don't have a grill or smoker there is enough in this book to make it worth a look – such as recipes for fried chicken, potato gnocchi, greens, cheddar cheese drop biscuits and more. Sssssh, don't tell any die-hard grill/pit masters – but I've made plenty of incredible barbecue in my oven.
Snacks for Dinner by Lukas Volger: The author of Start Simple redefines "dinner" in this creative cookbook that elevates snacks and grazing foods to main-course status, filled with 100 recipes and 75 color photos. Beer cheese gougères, Feta and jam tart, and Chewy-crispy tofu sticks with chili-ginger jam dipping sauce are a few examples of the dishes here. My favorite type of meal is often a favorite snack or two requiring no fuss or muss and food that can be enjoyed while catching up on Jeopardy or the latest cooking show.
Body Harmony: Nourishing, Plant-Based Recipes for Intuitive Eating by Nicole Berrie: Here, the author reveals how she personally transitioned from the partying years of her teens and twenties to the fast-paced world of fashion and media, eventually settling into a thriving and balanced life and career in wellness. Sharing recipes, advice, and thoughtful guidance, this book is an inspirational lifestyle manual and cookbook dedicated to those seeking the ever-elusive answer to how to nourish themselves with clean, plant-based foods while still indulging in the joys and delicacies of life.
Layer Up!: The Ultimate Glow Up Guide for Cakes by Yolanda Gampp: In her newest book the beloved celebrity cake master teaches us how to level up our cakes by layering in explosive flavors and delicious desserts. In this ultimate glow-up guide for cakes, Gampp plays with flavor profiles and shares twenty-one "stuffed-cake" recipes (plus seventy-two delicious stand-alone desserts, toppings, and buttercreams) to help you level up your cake game and prove that it really is what's inside that counts.
Food You Love: That Loves You Back by Rorie Weisberg transforms all your traditional favorites: pancakes for breakfast, pizza for lunch, schnitzel for dinner. You'll enjoy every bite and leave the table feeling full, energized, and confident that you've served and savored only the best. A beautifully photographed book that is ideal for the beginner cook as it is detailed and approachable.
The Kindred Life: Stories and Recipes to Cultivate a Life of Organic Connection by Christine Marie Bailey: In this collection of stories, photos, recipes, and gathering ideas from her home on Kindred Farm in Santa Fe, Tennessee, organic farmer Christine Bailey shares the moments that have shaped, challenged, and changed her. Through the lens of her farming journey, Christine shares how she learned to push through and find beauty in the midst of life's uncertainties. Follow along on the pages within and be inspired to join her in cultivating a life of simplicity, freedom, and adventure. Be equipped to unearth your very own kindred life – right where you are.
Vegan Richa's Instant Pot™ Cookbook: 150 Plant-based Recipes from Indian Cuisine and Beyond by Richa Hingle: The popular author is back with 150 recipes from a range of global cuisines highlighting an abundance of whole foods, vegetables, and legumes, minimal oil, and no processed ingredients. Richa teaches us how to use our Instant Pot for everything from breakfasts (Egg sandwiches) to desserts to fan-favorite regional Indian specialties. Complete with myriad adaptations, swaps for allergies and special diets, and full nutritional information, this title is our go-to guide for healthful, flavor-forward meals that are a breeze to get to the table.
Snackable Bakes: 100 Easy-Peasy Recipes for Exceptionally Scrumptious Sweets and Treats by Jessie Sheehan: Learn more about this fabulous baking title in our promotion/giveaway post. Events
Learning Korean: Recipes for Home Cooking by Peter Serpico: Seoul-born, Maryland-raised chef Peter Serpico offers readers a seat at his family table in his debut cookbook. Serpico's meals are personal, and distinctly American, drawing from decades of professional cooking experience and his own heritage to explore the extraordinary world of traditional Korean home cooking. Unlike the vibrant glossy books that are being published right now, Learning Korean is a simple (yet still colorful) lesson in Korean home cooking. There are a several step-by-step photo spreads that guide us through techniques such as knife-cut noodles; rice cake (duk boki) formation and the art of the rolled omelette. The design of the book and the recipes are clear and approachable.
Beef It Up!: 50 Mouthwatering Recipes for Ground Beef, Steaks, Stews, Roasts, Ribs, and More by Jessica Formicola: This focused collection of 50 recipes offers tasty ways to serve up protein-rich beef meals without a lot of fuss. Flavorful beef suppers and the classics are covered along with new recipes such as 20-Minute Mongolian-style Beef and Beef satay with peanut sauce. Photos provide the inspiration and confidence that cooks of all levels need to deliver on the promise of a great meal every time.
Just a Spritz: 57 Simple Sparkling Sips with Low to No Alcohol by Danielle Centoni: The iconic Italian export, the Aperol spritz, is a classic (and simple) makeup of fizzy prosecco, sparkling water, and a splash of the bittersweet, citrus-flavored liqueur. In this book, the author shares an inspired world of spritz variations. Add in sweet liqueurs and bitter amari, fresh juices, flavored kombuchas, and drinking vinegars to update the sparkling spritz. A spritz is quick to assemble and does not require a stocked pantry. Here there are more than 50 recipes (and numerous variations) organized by flavor profile and theme.
Men with the Pot Cookbook: Delicious Grilled Meats and Forest Feasts by Kris Szymanski and Slawek Kalkraut: Join the Men with the Pot and make a memorable meal! Learn to cook over the fire and enjoy a bit of bushcraft or use your grill for mouthwatering meats, rustic bakes, and more. People often ask the Men with the Pot "What's behind the name?" The answer is simple: when they started out, they were just two men with one pot who wanted to do something big! Their aim was to light a fire and inspire others to follow the same path – cooking whatever brings them joy. Kris and Slawek's eye-catching videos have done just that, propelling that humble idea into a concept reaching tens of millions of fans every month. Their debut cookbook brings that same spirit to the page, with their first collection of recipes in print.
The Book of Hops: A Craft Beer Lover's Guide to Hoppiness by Dan DiSorbo: The first fully illustrated guidebook for craft beer drinkers, pairing hyper-detailed photography with profiles of fifty of today's most sought-after hop varieties.
Other titles of interest (reissues, published prior in another country, or books I haven't reviewed as of this date):
CANADA
Great Scoops: Recipes from a Neighborhood Ice Cream Shop by Marlene Haley and Amelia Ryan: Compiled with love by the team at The Merry Dairy, Great Scoops features a cheerful collection of 80 easy, custard-style and vegan ice creams and delectable desserts. From hibiscus & passion fruit and bourbon black cherry to triple chocolate and caramel popcorn, this exciting new cookbook also includes recipes for signature sauces, toppings, and baked goods (say hello to chocolate chip cookies and meringue kisses). Best of all, the ice creams are nut-free, sesame-free, (and some even gluten-free).
The Artful Pie Project: A Sweet and Savoury Book of Recipes by Denise Marchessault and Deb Garlick: Featuring over 50 recipes covering the pie spectrum from galettes, to pastry dumplings and slab crumbles-plus French Canadian classics such as Tourtière and Tarte au sucre. Beyond pie, there are plenty of tips for dodging pie fails and creative ideas for using precious scraps of leftover dough. And because pies love company, there's a selection of accompaniments to partner with your favorite recipes. With mouth-watering photos and playful illustrations, this book is sure to charm, and disarm, even the most apprehensive baker.
The Two Spoons Cookbook: More Than 100 French-Inspired Vegan Recipes by Hannah Sunderani: While living in France, Hannah pursued her passion for vegan cooking. Inspired by the food, culture, and burgeoning plant-based scene, her blog, Two Spoons, was born. In her debut cookbook, the author shares 100 vegan recipes that everyone around your table can share.
Peak Season: 12 Months of Recipes Celebrating Ontario's Freshest Ingredients by Deidre Buryk explores the simple idea of eating fresh and celebrates Ontario's seasonal bounty. As you cook your way through this beautiful collection of 100 recipes, you'll learn how to perfectly prepare fiddleheads in April, to then add to a Garlic mushroom fiddlehead frittata; or peel what looks to be an intimidating, knobby celeriac on the coldest December evening, which will transform into Creamed celeriac & potatoes. A lovely book filled with inspiring imagery and tempting recipes.
Good for Your Gut: A Plant-Based Digestive Health Guide and Nourishing Recipes for Living Well by Desiree Nielsen teaches us how to fuel gut health with anti-inflammatory plant-based foods and lifestyle strategies – from movement to managing stress – for a truly holistic approach to health and wellness. Featuring over 90 beautifully illustrated plant-based recipes created to protect, heal, or soothe your gut, with meal plans for each core area of digestive health. All the recipes are packed with flavour and delicious to eat, even if you don't have tummy troubles, and are ideal for a healthy plant-forward lifestyle.
UNITED KINGDOM
Meat Free Mexican by Thomasina Miers, owner of award-winning restaurant group Wahaca (with over 25 branches across the UK) is back with her newest cookbook, sharing 100 Meat-Free Mexican recipes – simple, easy, and delicious! While meat and fish are important components of Mexican cooking, more often than not it's the salads, vegetables and pulses that are the stars. Plant-based Mexican food has so much to offer! From Sweet potato and mushroom tacquitas to a Mexican tetela – a burrito packed with seasonal vegetables, black beans, avocado salsa and cashew crema; and from Tacos loaded with plantains and squash to Fresh corn and black beans with mixed leaves dressed with a tongue tingling lime and chilli salsa, Meat Free Mexican has something tasty – and vegetarian – for everyone!
Sea Salt: Unlock the Flavour – Perfect Your Cooking by Lea-Wilson Family: After 20 years of making an award-winning sea salt the Lea-Wilson family have put together a collection of recipes on how to showcase this often misunderstood and misused ingredient. Correct seasoning is what separates a good meal from a great one.
The Seasonal Baker: Baking All Year Round by Michelle Evans-Fecci: The former GBBO contestant shares a collection of recipes straight from her kitchen to yours – from quick-and-easy bakes to others that are a bit more challenging – with an emphasis on special events such as Easter, Halloween and Christmas. It also includes ways of being thrifty, and hints and tips on how to grow your own food.
Feel Good: Quick and easy recipes for comfort and joy by Melissa Hemsley shares 100 satisfying recipes for effortless everyday cooking, packed with veg and goodness. Whether it's a quick dinner after a long day, cook-ahead lunches to power you through the week or warming bowl food for when you need comfort, these are tasty, uncomplicated recipes to bring joy and help you feel your best.
Bread & Butter: A Taste of Nostalgia from Granny's Stove by Ciara McLaughlin is a nostalgic tribute to the simplicities of home-baking. The recipes reflect an Irish food heritage, with basic local ingredients and fresh produce. Celebrating the skill to make a lot from a little, the story of our ancestors is told through the food they created to nourish their families and the many visitors associated with life on the farm, conjuring a romantic insight into a loving home, with the stove at its heartbeat.
Curry Guy BBQ: 100 Curry Classics to Cook Over Fire or on your Barbecue by Dan Toombs brings you his best-ever recipes for cooking outdoors and on a barbecue. Curry dishes and flavors work exceptionally well for grilling and live-fire cooking. As well as familiar meals like kebabs and skewers, naans and tandoori chicken, Dan has come up with original recipes using ribs and British-Indian burgers based on fast food, as well as one-pot curries that can be cooked over the fire. It's the ultimate crossover – Curry Guy meets BBQ!
Berber&Q: On Vegetables: 100 Recipes for Grilling, Roasting, Smoking, Pickling and Slow-cooking Veg by Josh Katz shares countless options to cook every type of veg, from a quick scorch in the pan and a flash of heat from the grill, to a low and slow roast, as well as methods for how to season and flavor using simple marinades, dustings of spice and deliciously sweet and sour dressings. Taking inspiration from his travels, from London to North Africa and to the Middle East, Josh's flavor combinations are unusual and create memorable dishes that everyone will enjoy. And with conventional cooking methods included for every dish, there is no reason not to try something new. Featuring over 100 recipes, there are endless possibilities for how to transform everyday vegetables into delicious, easy to prepare dishes that don't compromise on flavor.
Around the Kitchen Table: Good Things to Cook, Create and Do – the Whole Year Through by Sophie Hansen: A giftable and inspiring source book for easy-to-integrate-into-a-busy-life projects and inspirational ideas to bring more little moments of joy into our lives. Sophie includes 97 seasonal recipes, creativity prompts, craft and seasonal planting and garden ideas – making this a book that will appeal to many readers.
Bake With Jack: Bread Everyday: All the Best Breads and Simple, Step-by-step Recipes to Use Up Every Crumb by Jack Sturgess: The young author states that most breads – including the fancy ones – don't need loads of the hard work. In his debut cookbook, he shares his tips and tricks with us. Master 30 breads, including classic sandwich loaves, bloomers, rolls, rye, ciabatta, focaccia, fruit breads and sweet buns, pitta and bagels, sourdough and pizza dough. He also includes epic sandwiches and the best things on toast to hearty meals like easy spaghetti meatballs that use up stale bread, salads and soups with the crunchiest croutons, and doughnut offcuts served with gloriously gooey chocolate and marshmallow dip!
The Weekend Cook: Good Food for Real Life by Angela Hartnett: An invitation to supper at Angela's house is a real treat. Nestled in the middle of Wilkes Street, in London's vibrant East End, you know you're going to get delicious food, great company and a relaxed atmosphere that is as far removed from the high-octane stress of a professional kitchen as it is from the awkward social anxiety that many of us face when hosting a dinner. Angela knows the secrets to throwing the most relaxed and enjoyable dinners for friends and family – sometimes mad, but always magical evenings that people talk about for months afterwards – and in this book she's going to share them. Great flavours and 80 simple recipes abound in these pages, each one a joy to cook and eat, from satisfying one-pot dishes and comforting risottos to perfect party food and bakes to feed a hungry crowd.
The Year of Miracles: Recipes to Save Your Life by Ella Risbridger: This new title by the author of the magnificent Midnight Chicken (& Other Recipes Worth Living For) is her journal and storybook of cooking, sharing 68 recipes – where the food is so good you want to lick the bowl. It's also a cookbook-of-life where friends throw open the door and seduce you into laughing.
Kin Thai: Modern Thai Recipes to Cook at Home by John Chantarasak: KinThai translates as "Eat Thai" and is a collection of 80 delicious recipes featuring Thai food we know and love. Chapters are structured by type of dish, from snacks and relishes to curries, stir-fries, and salads, so you can easily find your favorites. As well as using ingredients native to Thailand, John explores the origins of the western ingredients, explaining their place in Thai cuisine, and how the home cook can use them to achieve Asian flavors.
Jeremy Pang's School of Wok by Jeremy Pang celebrates fast, furious and fresh Asian cooking with over 80 recipes from the award-winning culinary institution, School of Wok. Bringing together the best Asian flavors from across the continent, this book is a combination of quick-fire, easy meals that take as little as 15 minutes to cook. From lavish suppers for lavish weekend suppers to family feasts with a bit more flare, Pang's School of Wok contains the tips and tricks you need to make the world of Asian cooking easily accessible so you never have to resort to a takeaway ever again.
Portugal: The Cookbook by Leandro Carreira celebrates Portugal's vibrant, globally-influenced – and influential – food culture via more than 550 classic and contemporary recipes. With its diverse cuisine and intriguing culinary history, Portugal is a top travel destination for food lovers worldwide. Portugal: The Cookbook gathers together dishes from every region of the country, including fish and shellfish dishes from the Algarve coast, hearty stews from the Douro Valley, and the famous and beloved pastries of Lisbon. Acclaimed chef Carreira has researched more than 550 traditional recipes for home cooks that encapsulate the breadth and diversity of the food of Portugal, a country whose immense culinary influence has spread far beyond its borders.
Hot Fat by Russell Alford and Patrick Hanlon: The two authors are fried food aficionados – they are absolutely obsessed with anything that can be put in a deep fryer or a pot full of dripping. They've taken familiar favourites, chipper classics and the flavours we can't get enough of these days and have created the ultimate version of every recipe, from the perfect chips to spice burgers, corn dogs and Korean fried chicken. Their style is all about fun, casual and approachable food, which is exactly what this book delivers. This is one of a new series of books from Blasta – series 1 includes four books for 2022 and you can save 10 percent by purchasing all four of these vibrant titles at the same time. Similar to the Short Stack volumes – these concise little titles are filled with delicious recipes. Tacos was published in Feb and upcoming books in series 1: The United Nations of Cookies (Aug) and Tacos (Nov).
Fast Feasts: Quick, Easy Recipes with a Middle-Eastern Twist by John Gregory-Smith promises to put flavour firmly back into the kitchen with a selection of quick and easy recipes, all featuring John's signature Middle Eastern twist, which will make you feel excited about cooking again. As well as full recipes, John includes cheats on how to make a simple meal sing, from jazzed-up mayos, quick sauces and zingy spice mixes that you can keep on hand for later or whip up in a few minutes as needed. Chapters include mid-week lifesavers, working from home lunches, banging brunches, easy entertaining and more. So whether it's killer comfort food, tasty mid-week meal or a fuss-free dinner for friends that you're after, this is the book for you.
Outside: Recipes for a Wilder Way of Eating by Gill Meller is a thoughtful celebration of the joys of cooking and eating outdoors. From his rural home overlooking the sea, Gill is perfectly placed to write about open-air cooking, whether it's a simple campfire on the beach or a barbecue in the garden, evoking pictures of summery platters on laden tables, and slow, gentle picnics in fields. Meller's books are always impressive and this one is a keeper.
Salads Are More Than Leaves: Salads to Get Excited About by Elena Silcock brings salads center stage, showcasing dishes that are big on flavor, texture and impact. You'll never see salads in the same way again. With sections on building a salad, maximising flavor and plating the salad to impress, this title includes over 80 recipes for salads to get excited about. Each recipe includes substitutions for vegan and vegetarian variations, suggestions for pairing salads and ways to get ahead when you're short on time.
The Magnificent Book of Vegetables by Alice Hart: The author knows the importance of vegetable-centric, wholefood eating, but at the same time understands that most of us lead busy lives and shop at our local supermarkets. As such, many of the recipes in this book are uncomplicated yet big on flavour, and really make the vegetable the hero of every dish. Alice shares advice on the best way to plan your shop throughout the seasons so that nothing goes to waste, even suggesting tinned, pickled or frozen swaps where possible. Featuring do-ahead elements to make your meal preparation easier, tips on when certain vegetables are in season, and fad-free advice, this title will prove that, with the right recipe, even a humble cabbage or beetroot can be exciting and delicious.
Tea at the Palace: 50 Delicious Recipes for Afternoon Tea by Carolyn Robb: Published to tie-in with the Platinum Jubilee of Queen Elizabeth II, this brilliant collection of sweet confections and savoury nibbles will inspire and entice bakers and lovers of afternoon tea, of all ages.
Postal Bakes / Sweet Deliveries: Over 60 Cakes, Cookies and Other Treats to Send by Mail by Lucy Burton: Here the Leith's-trained chef shares over 40 easy yet decadent recipes, all made to be sent through the post, and small enough to come through your letterbox if you're not home. Lucy will debunk the myth that modern, stylish baking needs to be complicated – this book will use just one tray and simple, accessible ingredients to guide you towards delicious desserts. Best of all, Lucy shares guidance on how to pack the cakes, to make sure they look beautiful and arrive in one piece. (Postal Bakes is the UK title; Sweet Deliveries the US version which will be published next month).
The Last Bite: A Whole New Approach to Making Desserts Through the Year by Anna Higham: Here the award-winning pastry chef encourages us to approach creating a dessert as you would do savoury cooking: by engaging your senses, tasting, seasoning, and letting your ingredients shine.
Exploring key ingredients season by season, Anna helps you to really understand the "how" and "why" of dessert cooking, showing you how to work with fruit, grains, fats and chocolate, how to construct a dessert, and how to interrogate seasoning, structure, and texture to magnify flavour and taste. Featuring more than 150 innovative and inspiring recipes, this beautiful inspiring title celebrates a whole new approach to modern dessert.
Live Fire: Seasonal Barbecue Recipes and Stories of Barbecue Traditions Old and New by Helen Graves showcases the very best of barbecue. Using seasonal produce including lots of vegetables alongside the meat and fish, Helen also interviews chefs and home cooks from the multiple diaspora communities cooking with live fire in Helen's native South London, exploring the techniques that define and unite the way we grill. Helen's talent for combining evocative writing with bold flavours make this a truly immersive, practical book that will have even the barbecue novice running for the coals.
The Wellness Principles: Cooking for a Healthy Life by Gary Deng presents the doctor's unique, highly respected wellness approach, which is supported by scientific evidence and beloved by his patients. Taking into account his learnings after years in clinical medicine at the world's premier cancer center, combined with his passion for nourishing home cooking, Deng's authoritative guide to balanced and mindful eating and living includes both 100 recipes and expert advice beyond the plate. It incorporates traditional and holistic medical philosophies as the path towards optimal health and is the ideal book for anyone who wants to eat healthier, enjoy fresh ingredients, be guided to a more holistic lifestyle, maintain health, or look for the ideal nutritional path to wellness.
Other titles of interest (reprints, etc.)
AUSTRALIA
The Backyard BBQ Bible: 100+ Recipes for Outdoor Grilling by Oscar Smith is your guide to getting the best out of your barbecue – whether it's a modest charcoal stand-alone or a gas-burning beast with all the bells and whistles. Inside you'll find more than 100 recipes designed for cooking in the great outdoors. We've covered the very best ingredients that taste even better when cooked over a grill – chicken, beef, lamb, pork, seafood and veggies, as well as options for side dishes and even desserts.
The Green Barbecue Cookbook: Modern Vegetarian Grill and BBQ Recipes by Martin Nordin is a collection of mouthwatering vegetarian recipes, all of which are cooked with fire. From grilling directly onto fire to cooking with indirect fire, it covers everything that you need to know about making great food over the flame.
Maggie Beer's Autumn Harvest Recipes and Summer Harvest Recipes by Maggie Beer are being reissued this month.
Basics to Brilliance Kids: New Edition by Donna Hay: A new edition of Australia's favourite cookbook for kids and the modern family who love to eat, cook, celebrate and have fun together, from Australia's #1 bestselling cookbook author, Donna Hay. Featuring over 175 fantastic, fun-filled, simple, family-friendly recipes, the new edition of Basics to Brilliance Kids gives you and your kids endless ideas for birthday parties, picnics, school fairs and bake sales, family and celebration dinners, brilliant breakfasts, beach days, backyard movie nights and sleepovers.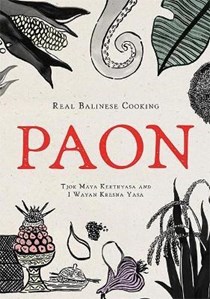 Paon: Real Balinese Cooking by Tjok Maya Kerthyasa and I Wayan Kresna Yasa shines a light on the depth and diversity of Balinese cuisine by sharing native recipes and ingredients from across this widely beloved island. The insightful cookbook includes more than 80 recipes through seven chapters: Paon (the traditional kitchen); Foraging & Farming; Food from the Hills; Food from the Sea; Food from the Fields; Food from the Pasar; and Ceremonial Food. It also considers the links between food and worship in Bali, sacred fare (food for medicinal and spiritual purposes), and zero-waste cooking (because the traditional Balinese kitchen has always been a sustainable place). Their food focus is equally wide ranging, from elaborate ceremonial cuisine to dishes that rely only on the simplest ingredients enjoyed at their unadorned best.
NEW ZEALAND
Yum! by Nadia Lim covers food from the newborn stage to school-aged children. It is guaranteed to have the most easy-to-make, fuss- free, delicious recipes that babies, kids – and adults – will love. But on top of that, Nadia wanted to ensure that it contains the most up-to-date and credible paediatric nutrition and feeding advice, so she brought on board two of NZ's leading paediatric dietitians, Jenny Douglas & Lisa Daniel as consultants.
The Fish + Game Cookbook by Angelo Georgalli: This is the third cookbook from the author of The Game Chef and Angelo's Wild Kitchen. He lives in Kingston, Otago where he indulges his passions for fishing, archery, hunting and getting into the great outdoors. Often drawing on his Mediterranean heritage, the recipes he creates for New Zealand's wild fare always honour his ethos of respecting wildlife and living in balance with nature.